How Does German Public Transport Work?
Does the local transit system here in Germany seem like a riddle to you?
We'll guide you through answering the question how does German public transport work? We demystify the whole concept for those whom it is completely alien and confusing. The public transport system here is, on the whole, extremely efficient, safe and reliable with well-maintained, clean vehicles and a very logical ticketing system. At least once you know the vagaries of how it works!
How is the system is set up? How does the zoning principle work which governs ticket costs and validity. How to buy a ticket, the different ticket types and provide a brief overview of how buses, trams and trains all fit into the system in an integrated way, each complementing one another as they seamlessly work within the same network.
Cheap it most certainly isn't, nonetheless, some of the day tickets and special offers certainly offer exceedingly good value for money, especially the regional group tickets which deserve a call-out on their own.
Travel Zones (Waben)
To begin to answer how does German public transport work requires a quick crash course in the concept of travel zones.
Central to the system and one of the first things to get your head around is the Waben, or zoning which is the foundation upon which ticket charges are based. The whole system is integrated, meaning that one of the basic principles when considering how does German public transport work is that each transit company operates within an alliance (or Verkehrsverbund in German). They must each offer and accept the same types of tickets across the network. Pricing and ticket types are determined by the alliance. The ticket you buy on a city bus is therefore also valid for completing your journey on a tram or underground train (IMPORTANT: As long as you remain within the zone for which the ticket is valid. If you venture outside of the zone for which the ticket is valid, you could be fined if you are caught). The same goes for different bus or train operators within the same zone (or zones, if you have a ticket which crosses into another zone).
When you buy a single ticket, it is typically valid for a 60 or 90 minute period and you are free to use any type of public transport available within the network to complete your journey.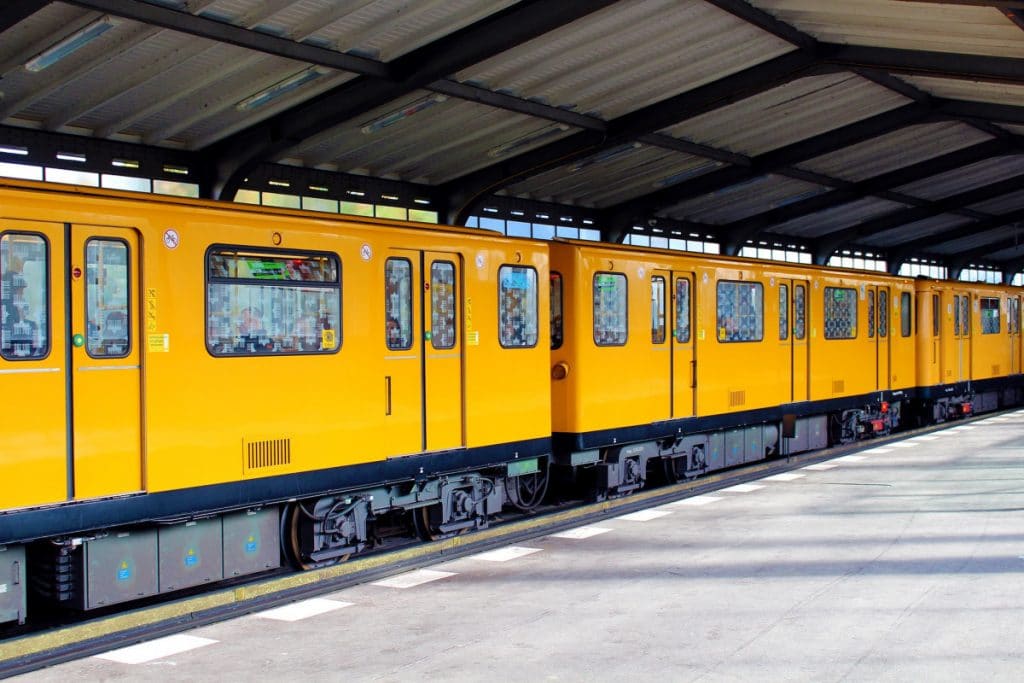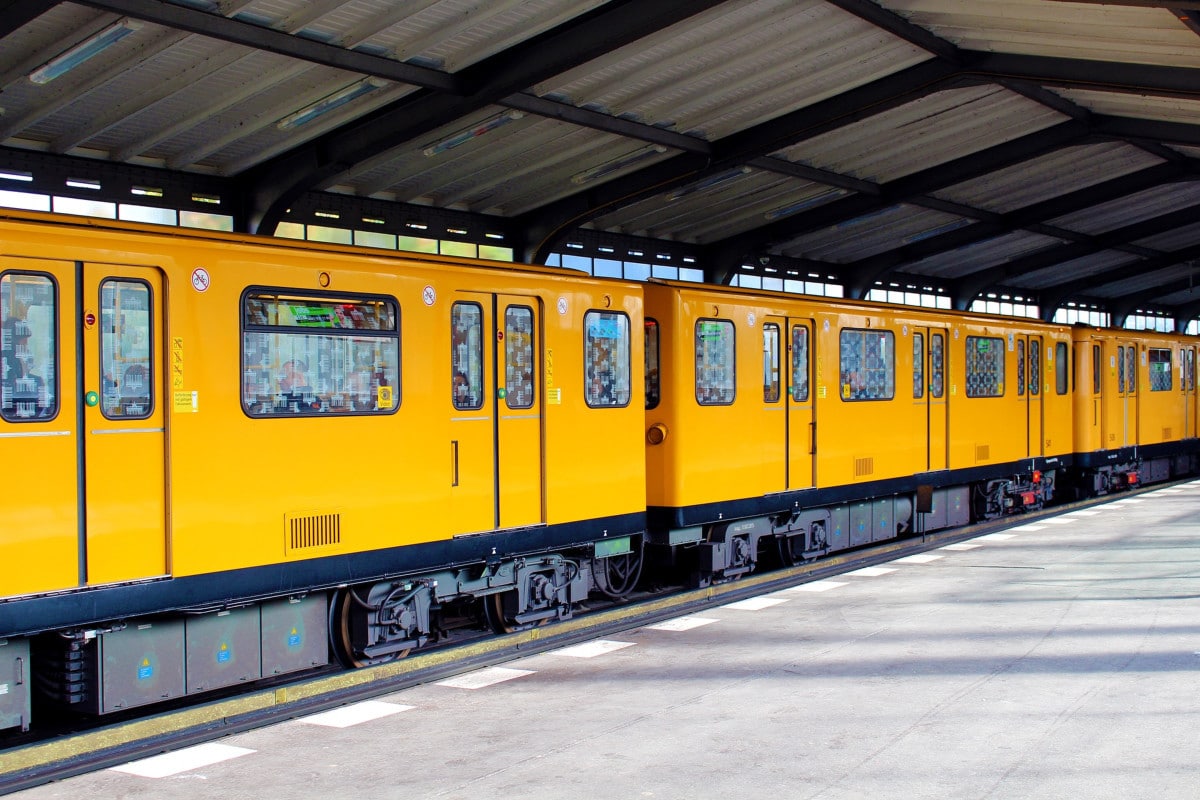 Integrated Transit Systems (Verkehrsverbunde)
Each area of Germany is represented by a Verkehrsverbund. Within each of these integrated public transit alliances, buses, trams and trains all operate within the network, often through by different companies or municipal networks, all working under the same tariff rules. which are governed by the alliance. The Verkehrsverbunde covering the major metropolitan areas are linked to below. Where they have an English web page, I have linked to this. However, in almost all cases the German site is more comprehensive and contains much more information. Just click to German on the page if you can't find what you're looking for.
Berlin
Hamburg
Cologne / Bonn
Dusseldorf and Ruhrgebiet Cities
Frankfurt / Mainz / Wiesbaden / Darmstadt (Rhein-Main)
Mannheim / Heidelberg / Ludwigshafen (Rhein-Neckar)
Stuttgart
Munich
Nuremberg
Leipzig (in German only)
Dresden
How to buy a ticket
Automated ticket machines can be found at major bus stops / intersections and at all tram, U-Bahn and S-Bahn stations. These usually have instructions English, as well as sometimes other languages. Paying by (German) debit card is usually possible. Like most things in this country, most German public transport ticket machines will not take credit cards or contactless payments. This will change over time but at the moment it is a hangover from the banking system being very antiquated in comparison to most developed countries, coupled with an infuriating stubbornness amongst German business owners to only accept cash.
Luckily, most of the Verkehrsverbunde nowadays have a downloadable app for iPhone and Android which enables ticket purchases online which are debited at the end of each month and are cached in the app as proof that you have a valid ticket in case an inspector boards your train. Ticket machines will take notes up to €20 but will only give you change in coins. Often 1, 2 and 5 cent coins are not accepted.
Depending on the Verkehrsverbund, some of the tickets will require a validation before, or upon, boarding a bus, tram or train. There is no hard and fast rule for this and it is regulated by the individual transport authorities. It can also be dependent upon where you purchase your ticket.
An example in my local area is that a day ticket purchased from a bus driver does not require validation because it comes with the date and time stamp of issue pre-printed on it. However, if you have a strip of 5 tickets which are blank and require validation before travel, you have to stamp these in the machines either on the buses or on the train station platform.
The best advice here is if in doubt, ask. You will usually be able to find somebody in the ticket office who speaks English. Bus and train drivers less likely so.
Ticket Types
Here is a rundown of the most common types of ticket available for instant purchase:
Short Trip (Kurzfahrt / Kurzstrecke)
Usually only valid for 3 or 4 stops on a bus or tram. Not valid on the S-Bahn or U-Bahn.
Single Ticket (Einzelfahrt)
Single ticket valid for a set time period, in most cases 90 minutes. Unlimited transfers are permitted within this time as long as you stay within the zone(s) for which the ticket is valid. This will be clear to see if you have a look at the network map displayed on the bus or train you are travelling.
Day Ticket (Tageskarte)
Same as the single ticket except the ticket is valid for either the day in question or a 24 hour period, depending on the network. It will usually state this on the ticket (Tageskarte or 24-Stunden-Karte). Some day tickets are also valid for services which run until 1 or 2 a.m. the next morning to ensure that passengers can get home from an evening out without having to purchase a complete new ticket.
Week Ticket (Wochenkarte)
Same as the day ticket but valid for 7 days. For tickets with a longer validity than a week, generally you will need to show ID and purchase these from an official ticket office. This is to avoid family members or housemates sharing the same ticket.
Group Day Ticket (Gruppentageskarte)
Group day ticket which is valid for up to 5 people travelling together. Otherwise is governed by the same terms and conditions as the regular Tageskarte. These tickets often represent great value for money and make sense if you are travelling in groups of 3 or more.
Ticket Inspection
The German public transport network runs on an honesty principle, meaning that there are no station barriers as are commonly found in other countries, for example on the London Underground and Paris Metro. There is nothing physically stopping you from boarding a bus, tram or train without a valid ticket (although buses may only allow passengers through the front door at night and the driver may ask you to show a ticket upon boarding).
Getting caught is not much fun though.
The term for being caught without a valid ticket is Schwarzfahren and it usually comes with a €60 fine. If you are unable to pay this to a ticket inspector on the spot, you will have to show ID and give your address so as they know where to send the summons if you decide to ignore the fine….Ask yourself, what is the point risking a €60 fine for the sake of purchasing a ticket which probably only costs around €3? We've all done it on the odd occasion for 2 or 3 stops when it starts raining and you realise you have no change for the ticket machine. Sooner or later though, you'll get caught, I can guarantee, especially if you do it regularly to cheat the system.
Buses, Trams & U-Bahn
Buses
Buses are the mainstay of German public transport in more rural areas, often being the only link between 2 towns. In the major urban areas, buses cover the less busy routes which are not on the tram or U-Bahn (underground) network. Bus routes within a city will have stops approximately every 300 metres. Bus (and tram) stops are signified by signs with a green circle with the letter H, which stands for Haltestelle, literally translated as stopping point.
Trams (Strassenbahnen)
Trams are kind of a mix between a bus and a U-Bahn. They carry a higher volume of passengers, the stops are typically a bit less frequent than for buses (approximately every 500 metres) and obviously they run on rails. Their American name, Streetcar, actually describes perfectly what they are. Trams run on tracks but often share the street with regular traffic, thus progress is at a similar pace as buses and more prone to delays than a U-Bahn. Some of the newer tram lines and those further out from the urban core will often run on separate lines away from traffic, making them similar to U-Bahn trains.
U-Bahn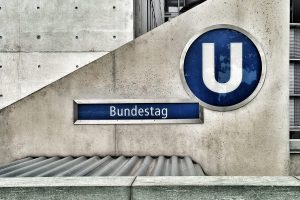 The name U-Bahn is a German abbreviation for Untergrundbahn, and is what Brits would call the Tube or the Metro and Americans the Subway. This, however, is something of a misnomer, as many U-Bahn lines actually run above ground outside of the city centre. In that regard, there is little which separates them in terms of functionality from trams running on purposely built tracks.
The stopping frequency is similar, at about every 500 metres, although this becomes less frequent as the U-Bahn radiates out of town. Often a U-Bahn line will run to further flung suburbs than a tram does, in many cases going beyond the city limit, albeit not as far out as an S-Bahn line. The major difference then between a U-Bahn and a tram is the passenger density. Some cities only have either a tram (Dresden, Leipzig) or a U-Bahn (Stuttgart) in addition to their bus network and the S-Bahn.
S-Bahn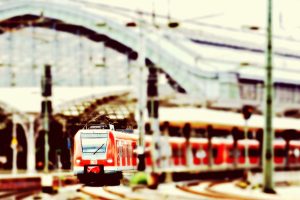 The S-Bahn is an abbreviation for Schnellbahn and is a faster suburban rail service, primarily aimed at commuters and residents of satellite towns and suburbs on the edge of major urban areas. S-Bahn trains run on the federal rail network belonging to Deutsche Bahn and routes typically run up to about 50km outside of an urban core, which is usually centred around the main train station, or Hauptbahnhof of the major city of the urban area which it serves.
The S-Bahn Rhein-Main, for example, radiates out of Frankfurt Hauptbahnhof and the stations within the central loop of the Frankfurt rail system. All S-Bahn services passing through the centre of the city serve these stations and the network branches out from here. The lines then run to key towns elsewhere within the Rhein-Main metropolitan region.
S-Bahn trains also have dedicated sections of usually the front and rear carriage for bicycles, although these areas during peak commuter times are often taken up by passengers who make use of the flip-down seats. If you're planning to commute to work by bike with the help of the S-Bahn, better do a dummy run to understand how viable it is to find somewhere to stow your bike on the way to work, especially if you are using a busy route.
RegionalBahn & RegionalExpress
The RegionalBahn (RB) and RegionalExpress (RE) trains typically travel longer distances than the S-Bahn or they serve further outlying areas. This is not necessarily the case though; especially away from the major urban centres, the RB also covers much shorter distances.
These routes are also run by private operators, in which case the traditional RB and RE declensions from Deutsche Bahn may not be applicable when you look at the service description from a departures board or platform real-time information. A good example of this close to where I live is the regional train service along both sides of the Rhine between Mainz/Wiesbaden and Koblenz. The private operators use their own descriptions for the services but for all intent and purpose they are operating a RB or RE service under a private franchise.
The trains may be a different colour than the ubiquitous Deutsche Bahn red but that doesn't mean you need a specific ticket. The ticketing rules and regulations, as well as any Deutsche Bahn-issued day tickets or flat rate tickets are all valid on these services.
Long-Distance Travel
Long-distance (intercity) travel is a separate topic which is beyond the scope of this post. We look at alternatives to the train for long-distance trips for those interested in exploring beyond local transport.
SaveSave
SaveSave