Learn German Apps: 15 Great Resources To Help You
The final part of my "Learn German" series of blog posts, this one covers the final piece of the jigsaw and concentrates on Learn German Apps. If you have Podcasts, Apps and a bit of motivation along the way, the only missing ingredients are an environment in which to speak the language regularly, or as a minimum to listen to news or radio in German. Admittedly, "German for Germans" is more useful tool for intermediate and advanced learners but even for beginners, it will give you a feel for the structure and sound of the language. Even if you do not immediately notice it, subconsciously it will embed itself in your brain's thought process and you will over time pick up words which you didn't think you understood.
So with that said, here are the Learn German Apps with which I believe satisfies a broad spectrum of levels and needs. I have tried to pick something for both beginners and more intermediate learners, as well as a mixture of pure reference databases as well as Apps which encourage more interactive language learning rather than merely acting as a grammatical or vocabulary reference point. Let's get started.
NOTE: The screenshots are from my App Store account in Germany. I assume that all of these are available on Android but I have not checked every one of them. Please leave a comment if any of them are not so as I can update the article. Every day is a school day. Thanks 🙂
Featured Learn German Apps
1. German English Dictionary +
Cost: Free
In-App Premium Features for €9.99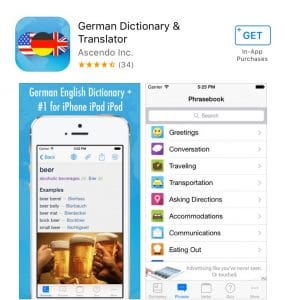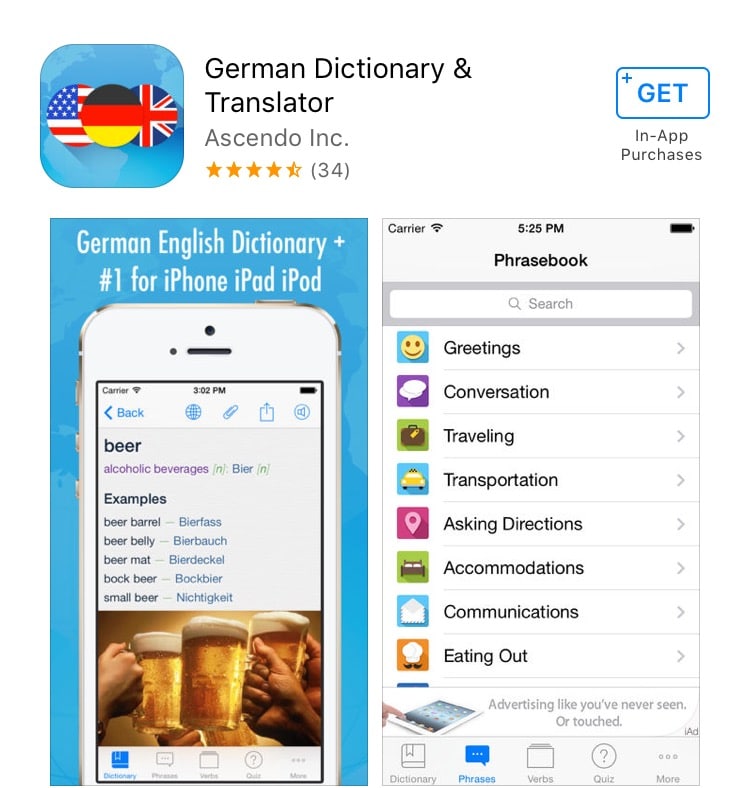 I am happy to promote German English Dictionary +. I find it such an innovative idea in such a crowded space. Of course, some of the Apps listed below do certain aspects of what this App does more comprehensively, as you might expect, but to have everything in one place is really powerful. Not to mention that all of the In-App extras in total cost less than €10 in the App Store. When you consider that a phrase book, dictionary and verb conjugator in a traditional bookstore will probably cost you at least double, probably triple that, and then you add in the convenience of having everything in one App on your smartphone, I really think this is a great value product. The team at VidaLingua gave me access to all of the In-App premium extras and I was really impressed. As a fluent German speaker, I tested it to see its limits and can conclude that it is very solid. I've used some pretty awful App dictionaries on holiday in the past and have been let down on several occasions. Unless you need a C1/C2 level dictionary (in which case, buy number 3 below – there is a reason for the cost difference), this will not let you down.
2. Phrase Mates
Cost: Free
Another great, innovative App, particularly useful to those of you who will be travelling beyond Germany, perhaps on a long weekend to a neighbouring country, and want to have useful phrases at their fingertips in more than one language. A lot of these features are only available online, so it will use up your data, but with roaming charges soon to be a thing of the past within the EU, this will become less of an impediment. A neat feature is that it allows you to request a phrase from the community of online users if it is not already in the database.
Dictionaries
3. dict cc
Cost: Free online version
In-App Purchase for offline access €9.99
This is an online dictionary which is free for the basic version but once must be online to access it. The offline version comes at a premium of €5,99 through an in-app purchase. Clearly this is not the academic reference manual that Langenscheid is. However, if you are looking for a solid dictionary and are not fussed about using data to access it if you're not within wifi range, this is a very solid product.
4. German English Speaking Dictionary – Nifty Words
Cost: €2.99
I have personally used this app since 2010 and I think it's great value at €2.99. For 90% of my needs I find that the word range covers my requirements. Very rarely do I have to refer to my big thick German dictionary on my bookshelf. If you don't need offline access then dict cc is the best choice as a "freemium" product, otherwise I fully recommend this App as the best value-for-money product.
5. German <> English Talking Dictionary
Cost: €29.99
If you're really serious and not just learning for a hobby, then you eventually will need something like this if you don't have a thick, paper dictionary. Cheap it ain't, but if you want an all-singing-all-dancing resource that you will definitely use interactively, then this is the one to go for.
Vocabulary and Declension
The bread and butter of every language. If you don't know any nouns and adjectives then you can't conjugate the verbs to go with them!
6. 6000 Words – Learn German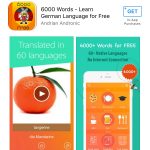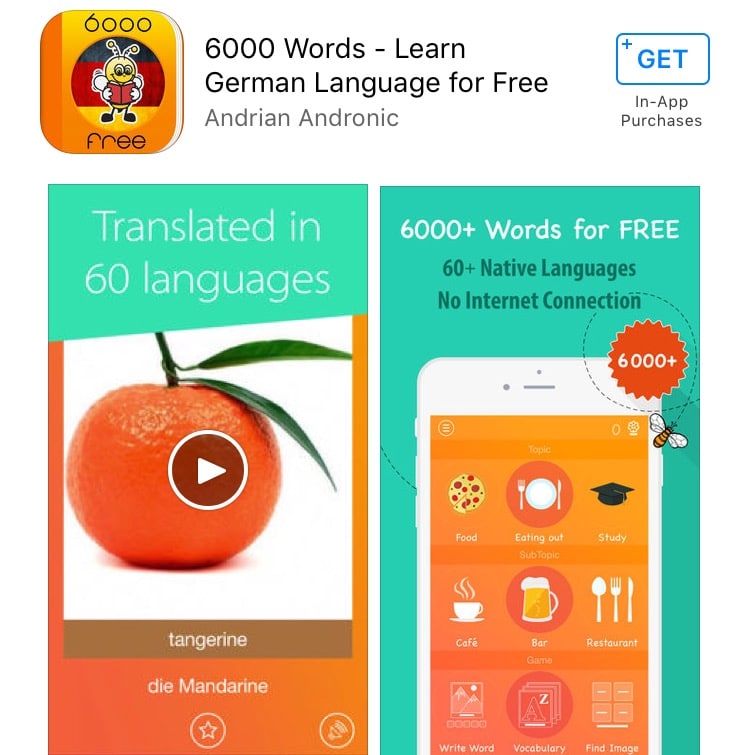 Cost: Free
In-App Purchases from €5.99 to €13.99
No frills or fancy stuff, this one is a pure vocabulary builder. Take it with you on your commute to work or even when you're sitting on the loo (!)…OK, maybe that one is only for the lads…and try to learn 20 words a day. That's 140 a week. Do it for a year, giving yourself a few skipped days here and there and hey presto! You will have learnt them all. It sounds achievable doesn't it when you break it down?
7. Learn German Nouns – Der Die Das
Cost: Free
To native English speakers, the declension of German nouns into masculine, feminine and neuter is one of our biggest challenges. It is an aspect of our language which has almost died out. This App gives a simple, interactive platform to practice your declensions and get your der / die / das right for the most commonly used words in German.
Listening And Speaking Practice
8. German By Nemo – Free Language Learning
Cost: Free
This offers native speaker audio which enables you to perfect your pronunciation. Something which is more important than you think in Germany, where often people will stare at you blankly if you cannot pronounce something at least semi-comprehensible to them.
9. Speak & Translate – Free Voice to Text Translator
Cost: Free Online version
Offline
The great thing about this App is that it is free. The downside is that they don't offer an offline version, even as an In-App Purchase. Which is a shame, really, because it is a really innovative product.
Grammar Exercises
Grammar is a necessary evil when learning languages. Yes, you can make a hash of your grammar and still be understood to a certain extent, but there are also instances where if you use incorrect grammar, your sentence or phrase will be nonsense. So, dull as it may seem, there are Apps which can help you and even make the learning process more enjoyable…
10. German Grammar Free
Cost: Free
Premium Version €4.99
Great tool for beginners for those seeking something more interactive. It consists of a series of 7 multiple choice questions and you can choose from levels 1 to 6. Even level 6 is not getting anywhere near intermediate level, so beginners who aren't complete novices would also feel comfortable with this. From what I can tell, the only difference between the Free and Premium version is that you eliminate the rather annoying request to sign up for their Facebook group at the end of each exercise.
11. Deutsche Pro Grammatik
Cost: Free
Premium Version: € 2.99
A useful course and reference in basic German grammar for beginners, covering the stuff which is typically required for A1/A2 level. Unlike the App above, you do have reference tables to refer to before taking the quizzes. Because it is 100% offline, this is convenient if you want to learn somewhere without a wifi connection without using up your data. Again, as far as I can tell, the Premium version just means ad-free and no difference in the content.
Verbs
Verbs are tough in German. There are a lot of irregular verbs and many of them do not follow any logical structure. Old-fashioned as it may sound, my teacher at school forced me to commit around 50 German verbs to memory. It worked and it is necessary. If you're going to live here, I would say you need a minimum of 100 in your "verb bank", at least for the most common forms and tenses, if you are ever to achieve a degree of fluency. The good news is that there are some fantastic tools to help you.
12. German Verbs Conjugator
Cost Free
Premium Version (without ads) €0.99
All I can say is, respect to the guy who created this. It is a free App with ads and to upgrade to get rid of them is the price of a chocolate bar.  It covers a whopping 1,500 German verbs in all of the most important tenses. You will not find much better value than this in the App Store for language learning. It is a fantastic resource, especially as a quick reference guide for intermediate and advanced learners who just need to check a tense or refer to a verb table which they may have forgotten.
13. German Verbs Trainer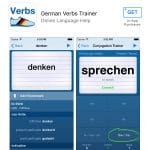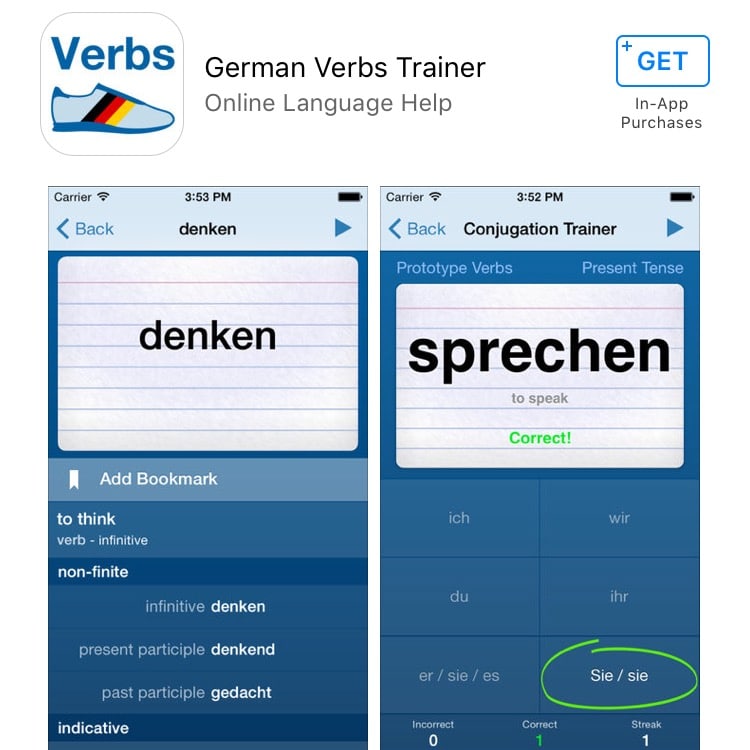 Cost: Free
Audio and Quiz as In-App Purchase for €4.99
This actually covers less verbs than the App above, however, the App has been put together much more interactively and it facilitates language learning through its audio and quiz function in a more fun way, as opposed to commit-to-memory learning. My advice would be, if you want a simple reference point or a freebie, download the German Verbs Conjugator listed above. However, if you're looking for a true learning experience, go for the premium version of this App.
Generic Language Learning Apps Featuring German
14. Duolingo
Cost: Core Content Free
Duolingo is the darling of the tech start-up scene and has been featured on a few business podcasts, as well as being labelled as "Essentials" in the Apple App Store and claiming to be the most downloaded education App. The format and layout is very innovative and conducive to incentivisation, focusing on trying to get you to spend 5-10 minutes per day learning. Yes, there are In-App purchases but yet it is fundamentally a free app. A good friend of mine is a modern languages teacher at a secondary school back in the UK and he also speaks very highly of it.
15. Busuu
Cost: Basic Content Free
Various In-App Purchases from €6.99 to €64.99
Busuu has a social feature which allows you to get your exercises corrected by a native speaker. I had barely been online 5 minutes when i had a request from somebody in Colombia asking me for assistance with English. If you're happy to take the time to reciprocate, this is a fantastic tool. The main drawback to Busuu is that, unlike Duolingo, the free stuff is quite limited and you need the premium version to get the most out of it. Rolling monthly subscription is €9.99, which drops substantially to €5.42 per month if you subscribe for a year and pay the €64.99 in advance. Otherwise it is a worthy competitor to Duolingo with an interactive, user-friendly interface.
What's your favourite? Is there an App which you use that you can't live without and isn't on this list? It would be great to keep updating the content as new products get launched so as readers can keep referring to the article. Please comment and share and good luck with your learning!