Cycling is hugely popular in Germany, both for leisure and as a means of urban transport.

With well-maintained cycle path networks and stunning scenery, Germany offers a great environment for cycling.
The urban cycle infrastructure is well equipped to handle your daily commute, especially in some of the super bike-friendly university cities in the country. And for touring and exercise it's great too.
With all this in mind, it's no surprise that bikes are hugely popular in Germany.
But unfortunately, so is bike theft.

How can I avoid bike theft in Germany?
SaveSave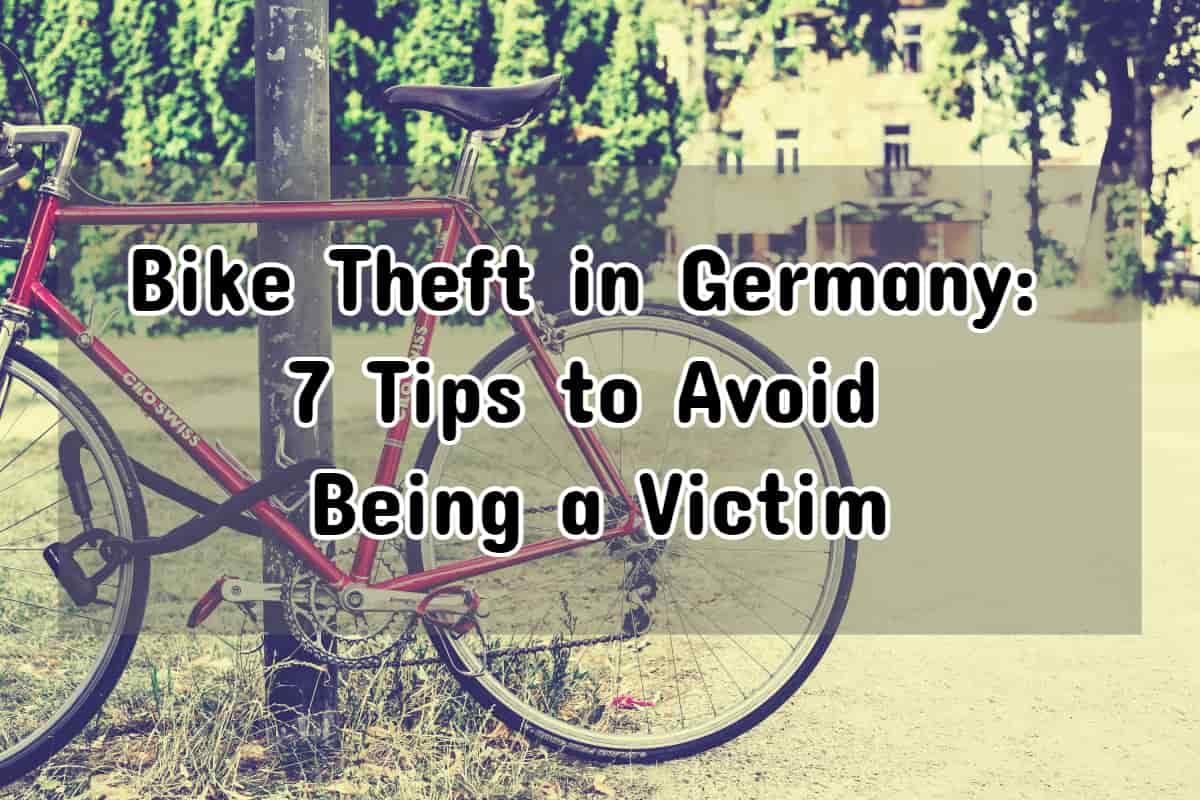 How common is bike theft in Germany?
Cycle theft in Germany is sadly very common, although it does seem to be in slight decline in recent years.
According to police figures released in 2019, The number of bicycles stolen in Germany fell by 17 percent between 2015 and 2019. However, in 2019, the number of thefts was still over 271,500!
This decrease could well be because people are finally wising up and taking better precautions. Or it could simply be because people don't bother to report it because the police rarely manage to recover stolen bikes.
So, how can you enjoy the advantages of being in a cyclist-friendly country without falling victim to having your beloved wheels stolen?
SaveSave
1. Get your bike insured 
Insuring your bike is the most surefire route to peace of mind.

Though, of course, this won't help to prevent your bike getting stolen, a good bike insurance policy can cover the cost of a replacement should the worst happen.
What does cycle theft insurance cover in Germany?
A good bike insurance policy should include:
– Cover for bike theft
– Cover for vandalism
– Cover for parts theft, including bike lock and/or other accessories
– Cover when travelling abroad (if you need this)
– 24 hour cover.
Given that most bike thieves operate at night, this last one is particularly important. 
Be sure to check that whichever insurance you choose, the locations where your bike could theoretically be stolen from and 24-hour cover are included.
As for the cost of German bike insurance, this will depend on the value of your bike and possibly the area in which you live. Such things are worked out on a sliding scale, according to your personal needs and circumstances, along with how susceptible your neighbourhood / city is to bike theft based on national crime statistics.
Does my home contents insurance cover for bicycle theft?
Most home contents insurance policies will cover bike theft. However, many will only cover it if the bike is in your apartment building, courtyard or cellar when stolen.
For the greatest peace of mind when leaving your bike outdoors, we'd recommend taking out bike insurance separately.
SaveSave
2. Use a high quality lock
Forget about thin cable locks, as they can easily be cut by any roaming bike thief with a pair of bolt cutters. 
Combination locks are similarly unsafe, as it's surprisingly easy to work out the combination – either through trial and error, or listening for telltale 'click' when a correct digit falls into place.
D-locks, or U-locks as they're sometimes called (based on the shape of the lock), are considerably more secure.
However there are some downsides to these too: They can be mechanically unreliable and prone to seizing up (it's no fun having to call out a locksmith to free your bike from outside a supermarket, trust me!)
Also, these locks are somewhat cumbersome to use, making it harder to secure your bike in certain circumstances.
It may seem like a crude option, but a strong reinforced chain with a padlock is a massively safe option that gives you maximum flexibility.
Securing your bike is a top priority. So whichever lock you choose, don't cheap out!
We'd recommend that you spend roughly 20% of the value of your bike on a lock. This may sound like a lot, but if you've got an expensive bike it's well worth the investment.
If you can afford it, Smart Locks are now available that communicate with your phone whenever your bike is on the move. Some even come with the option to trigger an alarm from your phone, in the case of theft. 
SaveSave
3. Protect your wheels 
It's more and more common for bike wheels to come with a 'quick release' lever.
While this is great for on-the-spot maintenance and changing wheels quickly, it's terrible news if you intend to leave your bike unattended outdoors.
I've lost count of the amount of bikes I've seen with their frame securely locked to a railing, but their front wheel missing.
You can solve this problem either by opting against quick-release wheels, or by remembering to lock up your wheels, not just your bike frame.
If you're using a U-lock, consider packing several, or attaching them to your bike in such a way that you can safely lock your wheels to your frame.
If you're using a chain, be sure to pass the chain through your wheels when securing your bike. 

SaveSave
4. Consider a second bike
This is particularly worthwhile if your bike is expensive or specialised.
If you ride a high spec mountain bike on the weekends, or enjoy breaking your personal best Strava times on a super-efficient lightweight road bike, ask yourself this:
Do I need to ride this bike all the time?
If you're riding your pride and joy every time you commute or visit the supermarket, you're giving thieves more opportunities to both see your bike, and to steal it.
Consider buying a cheap, generic commuter bike for your day-to-day needs, and saving your dream machine for your hobby. Let's face it, most of the time you're riding for fun won't be in the areas where bike theft in Germany is rife.
Yes, it might not be as cool, but it could save you a serious heartbreak down the line.
SaveSave
5. Bring your bike indoors, especially at night time.
It might feel like your bike is most at risk when you leave it outside the shops, or your place of work. But in reality, most thieves don't want to operate in crowded areas in the light of day.
Your bike could actually be at much more risk if you leave it locked up overnight in the courtyard of your building, or worse still you leave it unlocked in your stairwell or communal area of the cellar.
Thieves prefer to operate under cover of darkness, and they can easily slip in and out of your block, especially if it's a large house or complex.
If you don't have the space to do this, and you have to leave your bike outside overnight, then try to think of ways to make it as unattractive as possible to steal:
Leave it in a well-lit area with high visibility. Consider removing wheels and bringing them inside, so a thief can't simply ride your bike away. Or hide your bike behind bulky, noisy-to-move objects such as bins. 
Sometimes, making it harder to steal than other bikes nearby is enough of a deterrent, especially if it's not an expensive bike.
SaveSave
6. Make sure your bike is identifiable 
If your bike does get stolen, you'll improve your chances of getting it back if it's easy to identify.
You can use customisable features like a unique paint job, or differently coloured accessories to make your bike stand out. And let's be honest – this is fun to do anyway.
This is even more important if your bike is a common, generic model.
If you see the same bike as yours around town often, this suggests that  identifying your bike in particular would be much, much harder if it does get stolen.
Such bikes are also much safer and easier for thieves to resell on online marketplaces, so they may well be on the lookout for these models in particular.
SaveSave
7.Take note of your serial number / register your bike online
Taking note of your bike's serial number is another great way to improve your chances of recovering it after theft. The more information you can give the police, the better.
Noting your serial number is particularly important if you ride a common model of bicycle, as mentioned above.
There are also websites such as Berlin-based Bike-ID, which allow you to register your bike online. Simply enter your bike's details and serial number into the site's database, and should someone try to resell your stolen bike, they could be in for a nasty surprise…
SaveSave
Conclusion 
Reducing your chances of having your bike stolen in Germany really involves a mixture of a few measures to act as deterrents, as well as taking out the right insurance in case you do ever fall victim. 
If you're from a country where cycling (and bicycle theft) isn't so common, we hope this has shone a light onto how to take the necessary precautions.
SaveSave
Disclosure: Some of the links contained in this article are affiliate links, meaning we receive a small commission for any sales which result from these clicks. This does not in any way affect the price you pay for of any of the products or services. Thank you for supporting us - we appreciate it!
Looking for helpful content on another topic?