Buying a used car in Germany usually starts with searching online. The two most popular used car trading portals are mobile.de and autoscout24.de. These both allow you to search by postcode, make, model, year of registration, mileage and several other popular criteria. So you've narrowed down your search. Now starts the real work!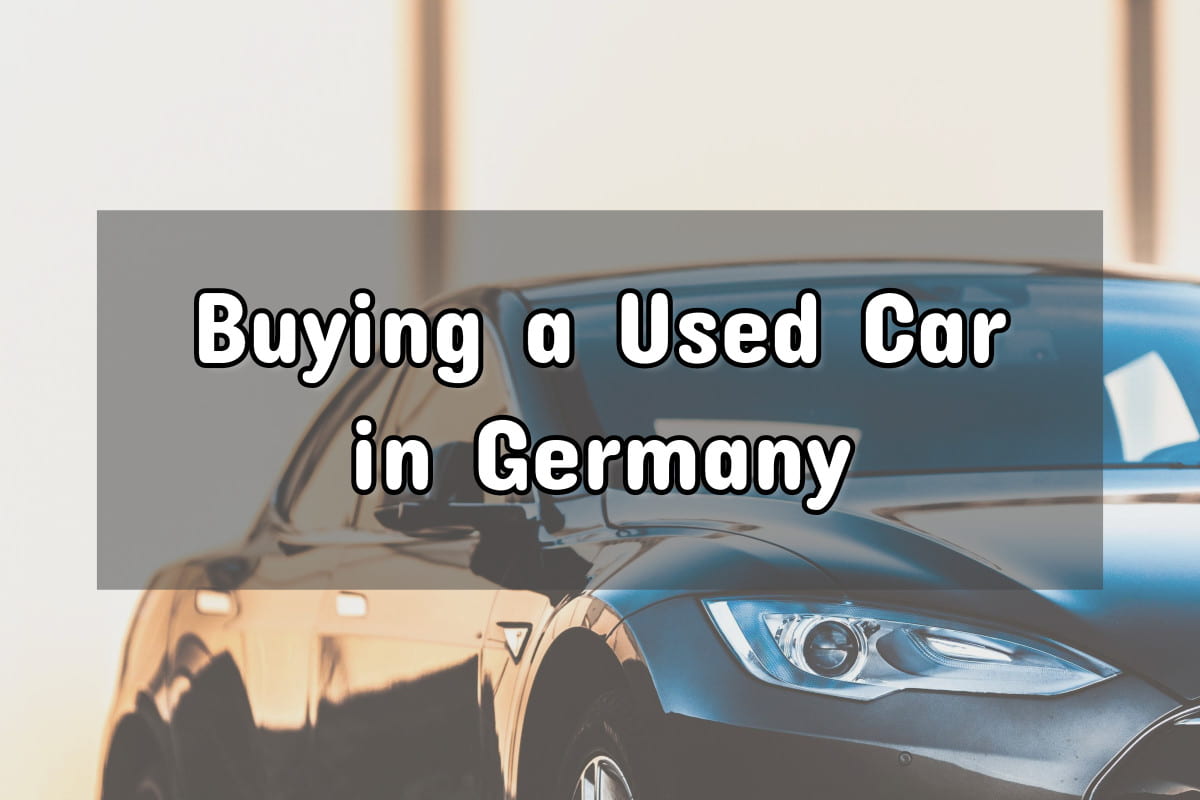 Basics for buying a used car in Germany
The process should be largely familiar to your home country when it comes to the purchase itself but – perhaps unsurprisingly – the administrative process is somewhat more complicated in Germany.
But be aware!
Used car salesmen seem to universally have a bad reputation, and in Germany it's sadly no different. The usual tricks are also evident here, from fiddling the mileage to covering up accident damage.
You should also be aware that the German used car market not only serves domestic buyers but also many of the countries to the east. This is due to the size of the German market, the variety of vehicles available and the comparatively good mechanical standard you can expect when buying a used car in Germany.
It's not unusual to see Poles, Bulgarians and Romanians at the car registration office, registering cars they have purchased here for export. If you've ever experienced the standard of the roads in many Eastern European countries then it's easy to see why!
"Nearly new" may be a better option
But what if you want something newer? Well, of course you could buy a new car, but this is rarely a good financial decision.
Buying a nearly-new car is a better idea.
There are a couple of terms you should now when looking for a nearly-new car:
Jahreswagen
Usually ex-fleet cars which have been driven by employees of major car manufacturers, or ex-rental cars from the major rental chains.
Vorführwagen
These are cars used for demonstration and test-driving by the car dealerships. Because these cars have been registered and thus can't be sold as "new", there are significant discounts to be had.
Essentials to consider during the buying process
So you've found a car you like, now what?
How normal is it to negotiate?
It's normal to negotiate the price, although perhaps not as much percentage-wise as is common in your home country.
Major dealerships are generally more open to negotiation because they have targets to hit when it comes to shifting inventory.
Can I get a finance deal?
Bear in mind that you're unlikely to be eligible for credit or hire-purchase if you've only just moved to Germany and do not have much credit history.
Unless you have a permanent employment contract (and have completed your initial "Probezeit" or probationary period of typically 6 months), it's also unlikely that you'll be offered credit.
So for many of you the only option will be to pay outright, either by cash or credit card.
Get a mechanical check for piece of mind
Before signing a purchase contract, or paying a non-refundable reservation deposit, it's wise to have the vehicle put through a mechanical inspection check via an independent third party.
The most popular provider of such checks is the nationwide chain DEKRA.
All dealers are obliged by the law to give 12 months' mechanical warranty (Gewährleistung).
Not to be confused with a guarantee (Garantie), which some of the big dealers may also offer, sometimes as an extra cost.
But don't let this make you too complacent – there are still plenty of pitfalls to watch out for…
Other important considerations before you buy
Here are a few other considerations you should weigh up and take into account as part of your decision of whether or not to purchase.
Buying from a private seller
This can often be a much cheaper option than buying through a dealer but comes with additional risks.
What if you buy from a private seller, only to discover a problem that wasn't documented at the time of purchase?
German law states that during the first six months, any such problem will be considered a pre-existing condition. You can pursue compensation but you'll most likely need to enlist a lawyer to get this done.
TUV inspection
Be sure to check when the car's next TÜV inspection is due.
The TÜV is an inspection of roadworthiness, similar (although somewhat more comprehensive) to the British MoT test, and consisting of two parts: The HU (Hauptuntersuchung) or main inspection. And the AU (Abgasuntersuchung) emissions test.
Typically this costs around €100 for both HU and AU, which are usually collectively just referred to as "the TÜV".
The TUV is valid for 2 years. In the case of a newly registered car, its first TÜV is due at the end of the month when it becomes 3 years old.
Vehicles without registration or papers
This is a really bad sign.
Cars without registration papers could be very old, may not be roadworthy, or could even have been stolen!
The most charitable scenario to imagine here, is that maybe your seller just lost these very important documents. But would you trust someone this disorganised to have looked after their car?
Seasonal Plates
Seasonal plates are registration plates with a date printed on them (usually to the far right hand side). Cars with seasonal plates can only be driven during the months specified.
Seasonal plates are great if you only spend your summers in Germany and want to save money during the rest of the year.
But they're terrible if you buy a used car, only to find you can't drive it all year round.
The green sticker (Umweltplakette)
Most major urban areas of Germany (such as Berlin and Frankfurt, for example) require cars to comply with certain emission standards.
If you live in an environmental zone, your car must have one of these stickers.
They are not expensive to buy, but you should check that your car belongs to class 4 or higher to be sure you don't have any issues.
Insurance
To legally drive a car away, you will need a confirmation of insurance coverage (Deckungskarte).
Quotes and confirmation of coverage can be obtained online. You'll need key data pertaining to the car, found on its small registration document (Zulassungsschein).
Ask for a photocopy of this paperwork so you can check insurance premiums before committing to buy.
You will need insurance to drive the car to the vehicle licensing office (KFZ-Zulassungsstelle) for registration.
Most dealers will offer to do this for an additional fee, if you want to avoid the hassle. 
Note that VAT is only payable on trade sales – buying from private sellers does not include sales tax because the seller is not a registered business.
Insurance can be broken down into three major types:
Third party liability (Haftpflicht)
Fire & Theft (Teilkasko)
Fully Comprehensive (Vollkasko)

If you have a current, valid no-claims bonus (Freiheitsklasse) accumulated in an EU country, this should be transferable to Germany.
You will need evidence of this from your insurer in your previous country, and have it translated into German.
Documents you must receive when buying a used car in Germany
With all of the above considered, it's finally time to make that purchase!
Once you've paid, you should receive the following documents. Make sure that these are all present, as you'll need them to register your car.
Sales Contract
The sales contract should conclude basic details about your car. It should cover the vehicle's condition, and detail any known mechanical issues. It's important that you get one of these. If the seller is reluctant to provide this, then that should ring serious alarm bells.
Registration certificate, part 1 (Zulassungsbescheinigung Teil I)
German registration certificates come in two parts. This fist, smaller part folds down to the size of a credit card and must be kept with you whenever you drive.
Registration certificate, part 2 (Zulassungsbescheinigung Teil 2)
This second part of the registration certificate is a larger sheet of paper, and does not need to be carried on you when you drive.
Owner's manual
This is not an essential, and there's no obligation for sellers of used cars to provide this. But it's a very nice thing to have, and should inspire some trust in your seller if they can provide this.
Maintenance and service record (Scheckheft)
These are papers relating to any work that's been done on the car, as well as the results of any routine vehicle inspections or minor trips to the garage. It's important to have these documents as they prove that the vehicle you're buying has been well maintained.
How to register your car in Germany
To register the car, you will need to take the following documents to your local vehicle licencing centre KFZ-Zulassungsstelle.
Registration certificate (parts 1 and 2)
Your Passport or National ID card
Confirmation of insurance (eVB Number)
Valid TÜV report (for used cars only)
Depending on what type of registration you are requesting, it will typically cost around €40.
On top of this you will need around €20 to buy your registration / license plates from one of the various stands situated directly next to the KFZ-Zulassungsstelle offices, who will metal stamp them on the spot.
So, after all of that, congratulations!
You're finally good to go and tackle the Autobahns with your own set of wheels.
Just be sure to drive carefully out there, or you may need to check out our post on parking fines and speeding tickets…
Looking for helpful content on another topic?