Cars and driving in general are hugely popular in Germany. But that's becoming less so among the younger generation, especially city dwellers.
Despite their love of the car as a symbol of independence, Germans in major urban centres especially are embracing the benefits of car sharing. 
It seems car sharing is here to stay in Germany. But the statistics suggest that this is more down to it offering more convenience versus public transport, rather than being seen as a truly viable alternative to buying a car .
Car sharing in Germany explained 
SaveSave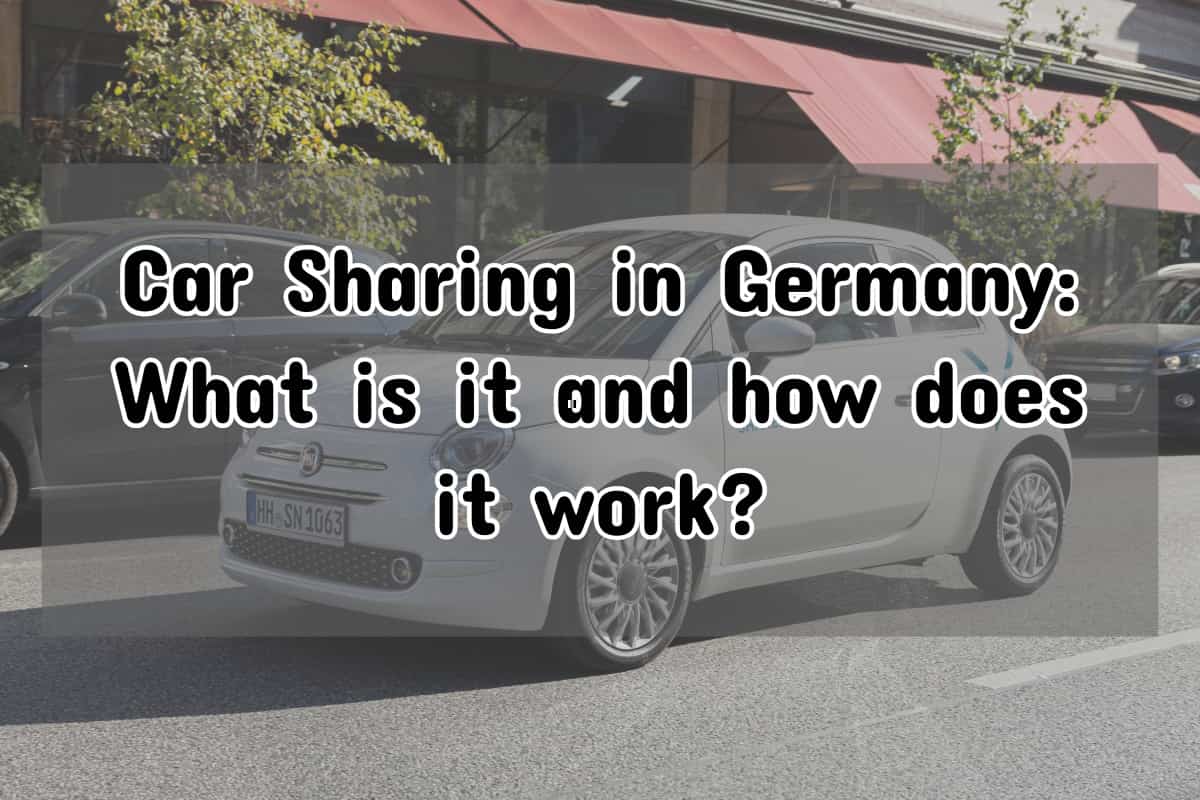 What is car sharing? 
When we talk about car sharing, we don't mean carpooling (or ride-sharing for US readers). Nor do we mean using ride hailing apps like Uber and Lyft, not that these have been able to gain much of a foothold in Germany.

For our purposes, car sharing means renting a shared-use vehicle from a car sharing company. This is marketed as a cheap, convenient, and greener alternative to buying a car.

Car sharing companies manage rentals using apps, allowing customers to quickly access vehicles on the go. Fees are generally charged based on the duration of the rental and the mileage driven, but some providers operate using different business models. 
We explore these below.
SaveSave
What types of car sharing are there in Germany?
Car sharing companies fall into three categories:
Classic car sharing (Stationary Car Sharing)
This traditional model is the most common across Germany. Classic car sharing companies operate from stations or terminals at specific locations.

You use the provider's app to book your choice of car, rental period, and specific station in advance. Then head to the location, pick up the car, and return it to when you're done.

This model tends to be the cheapest, not least because providers usually factor in a mileage allowance for getting to and from the station itself.
Flexible (non-stationary) car sharing
This model doesn't use fixed locations.

Instead, you can pick up – or drop off – a car at any convenient spot within a specified area (usually a city or town's main business district).

You might see such cars parked around town, and you can access them right away using the provider's app. Simply log in, unlock the car, and drive it away with no need to book in advance.

You can also use the app to track down the nearest available vehicle to your location.

Though this model is easier and more immediate than classic car sharing, this convenience usually comes at a higher price. 

Private car sharing
Alongside the larger, professional companies, there are also websites which allow private car owners to rent their car peer-to-peer to others.

Sites such as SnappCar, Turo, and Drivy  facilitate this approach to sharing, which is proving particularly popular in rural areas.

Private car sharing can be an economical option, but you do have to roll the dice when it comes to the quality of cars available. Don't expect them to be as modern or well-maintained as those available through more traditional car sharing companies.

SaveSave
Which car sharing companies operate in Germany?
There are a huge number of  car sharing companies operating all over Germany, but many of the smaller local providers actually fall under the banner of a handful of national companies.

We'll look at some of the biggest car sharing companies, then explore the options available in Berlin, Munich, Hamburg and Frankfurt.

If you want to compare all of Germany's car sharing companies in more detail, the Federal Car Sharing Association homepage has a wealth of information available.
Stadtmobil 
When it comes to car sharing in Germany, Stadtmobil claims the title of market leader. It's the largest provider in Germany, with a fleet of around 2800 vehicles in over 180 towns and cities.

Stadtmobil isn't technically a single company. It's actually a group of seven regional providers, working under one banner for the purposes of marketing and making bookings.

Tariffs and services differ between these regional providers.
Nevertheless, it's safe to say that Stadtmobil has great coverage across Germany, and its service is straightforward and easy to use – as explained by this informative youtube video.
DB Carsharing – Flinkster
Flinkster is operated by the German railway and logistics company Deutsche Bahn.

While Flinkster's own fleet of vehicles is relatively small (under 1000 vehicles), this company partners with smaller regional providers to offer over 4000 available vehicles nationwide, with stations in more than 400 towns and cities.

There are two ways to pay for car sharing with Flinkster:

The city tariff has relatively low usage fees in terms of mileage, but requires a 10€ monthly subscription.

The nationwide tariff comes with no subscription cost, but higher usage fees.

You can also enjoy discounted rates if you're already a Deutsche Bahn customer with a BahnCard.
Teil Auto
Teil Auto was founded in 1992 as a way for a group of friends to share a single Skoda Favorit.

With over 2000 vehicles available in 20 towns and cities, this once humble company is now a real competitor in German car sharing.

There's a wide array of vehicles available, from large transporter vans to small city cars.

Prices vary depending on your choice of vehicle or tariff. Teil Auto's tariff structure is similar to Flinkster's, but with the addition of a 30€. "frequent driver" tariff with even lower usage costs.

Teil Auto is also one of the greener options available: It was the first German car sharing company to join the 2010 "Cleaner Car Contract" (CCC) initiative, and won the Blue Angel eco- label in 2011.
Cambio
The car sharing companies Bezirk-Auto Aachen, Stadt-Auto Bremen and Statt-Auto Köln merged in the year 2000 to form Cambio, a major provider serving both Germany and Belgium.

It's now ranked as the second largest car sharing company in Germany, according to the The Federal Association of Carsharing.

Cambio offers classic car sharing from over 600 stations across 28 German cities. 
Cambio also partners with Stadmobil, allowing you to book cars from either provider using just one card.
SaveSave
Other notable car sharing companies
Sixt and ShareNow are two other increasingly popular companies, available in most major German cities.

Sixt markets its services with a clear, no-nonsense approach to app-based flexible car sharing.

ShareNow (incorporating DriveNow and Car2Go) has the unique selling point of offering delivery. They'll drop a car right to your location.
SaveSave
Car sharing in major German cities
Which car sharing companies operate in Berlin?
As you might expect from a capital city, there are a huge number of car sharing options available in Berlin. National providers like ShareNow, Stadtmobil, Sixt and Flinkster, all have a presence here.

Berlin also plays host to the company Miles Mobility, with its unique model where customers pay only for kilometres driven, not the rental period.
There's more information on car sharing in Berlin available via Berlin's official website.

Which car sharing companies operate in Frankfurt?
Frankfurt is a little quieter than the other cities when it comes to competing providers. Alongside the ever-present Stadtmobil, one of Frankfurt's most popular providers is the Deutsche Barn subsidiary Book-n-Drive, with it's particularly economical "city flitzer"deals.

The Frankfurt Rhein-Main-Verkehrsverbund (RMV) offers its customers who are holders of an annual ticket a special service. You can then rent a car at a discount from certain cooperating partners at over 90 locations in numerous nearby cities and municipalities.
Which car sharing companies operate in Hamburg?
ShareNow and Sixt have cars parked all over Hamburg, so you'll never be far from a rentable ride.
If you're looking to make savings on travel in Hamburg, check out the new HVV Switchh App from Hamburg's public transport company HVV. For a monthly fee, this offers you a combination of free driving minutes and discounts with ShareNow and Cambio.
Note: This service is currently being overhauled. At the time of writing (April 2021), some car sharing services haven't yet been re-integrated, but are promised soon.


Which car sharing companies operate in Munich?
Munich is served by several car sharing companies. Stadteilauto and Stattauo offer a more traditional, station-based service, while companies like ShareNow can deliver your share car right to you!

Munich is also home to Drive – an innovative car sharing company using exclusively electric cars.
Sixt also operates in Munich, with vehicles to be found all around the city's business district. 
SaveSave
Conclusion – Is car sharing in Germany working?
Whether or not car sharing is 'working' in Germany is up for debate.

According to market analysis by Kearney.com, 67% of Germans who use car sharing services do so more than once a month.

However, there's been no comparable decrease in Germans driving their own cars. Instead, there has been a decrease in people using public transport.

This was not exactly the intention behind car sharing, from an environmental point of view!

SaveSave
Disclosure: Some of the links contained in this article are affiliate links, meaning we receive a small commission for any sales which result from these clicks. This does not in any way affect the price you pay for of any of the products or services. Thank you for supporting us - we appreciate it!
Looking for helpful content on another topic?