This is a constantly changing marketplace, and there are always new deals and products on the horizon.
We do our best to keep this article up-to-date! For complete transparency, check the date at the top for when we last updated the article.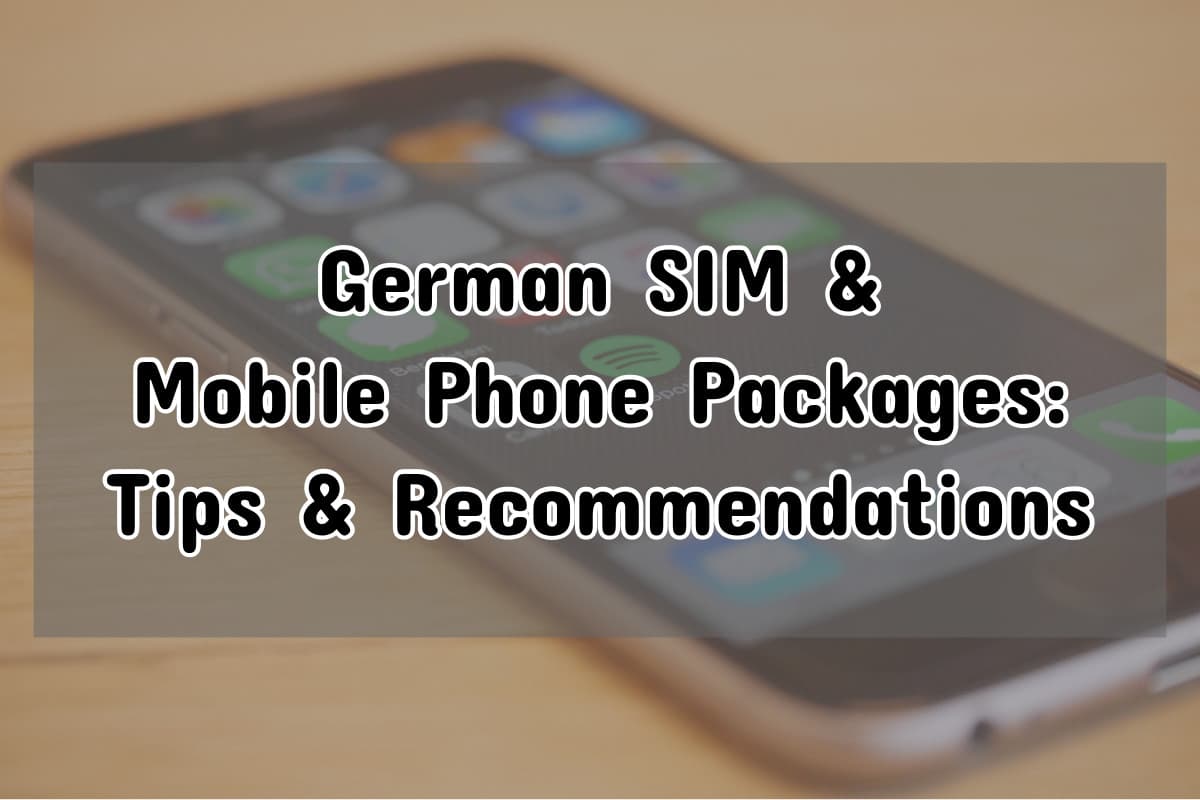 What is the right German mobile phone package for expats?
We recommend that expats in Germany don't sign up for minimum term contracts with a cellular provider. These contracts for German mobile plans are notoriously inflexible and can't be cancelled at will. It's therefore best to opt for a SIM-only rolling monthly plan (sometimes called postpaid). You'll pay via direct debit, but can cancel with just one month's notice. This affords much more convenience than pay-as-you-go, while at the same time offering greater flexibility than a fixed contract.
Our recommendations for the best German cellular packages
We'd recommend the following two providers as the best mobile phone plans in Germany:
These offer the best deals in the vast majority of cases for their respective networks, depending what you're looking for.
Whether you're a light or heavy user, they both offer a small number of easy-to-understand monthly packages.
Both providers are constantly offering weekly deals or special offers.
Even though their websites are in German, you'll be able to follow pretty easily!
Link to freenet Mobile website
Link to winSIM website
Why do we recommend winSIM and freenet Mobile?
We've chosen these two providers because they keep things simple and offer great value for money.
Both offer the best deals in the vast majority of cases for the networks they use.
Whether you're a light or heavy user, they offer a package to suit almost everyone.
Their packages are simple to understand, with no hidden or confusing charges.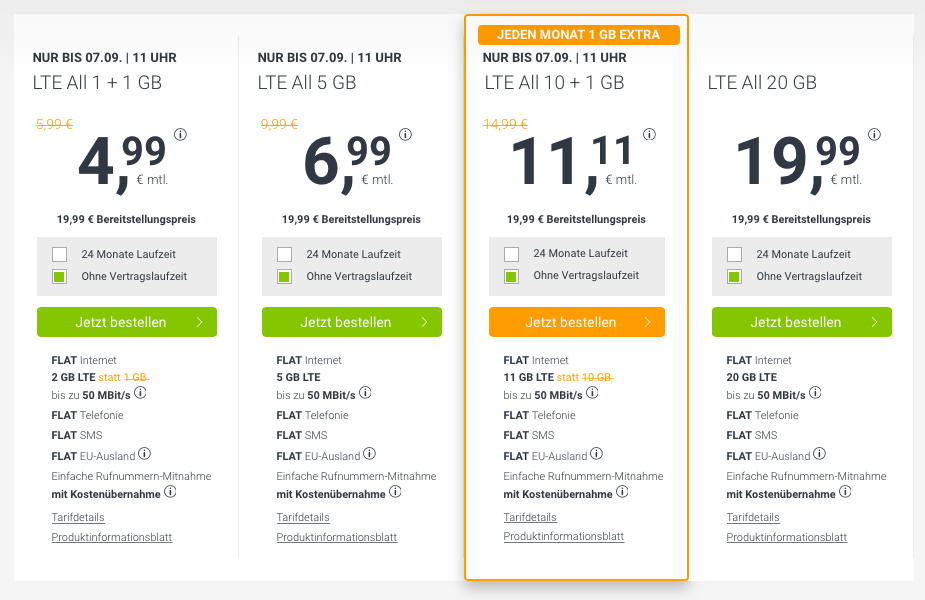 To be sure you're not viewing options for a 24 month contract, make sure you have the switch as displayed below.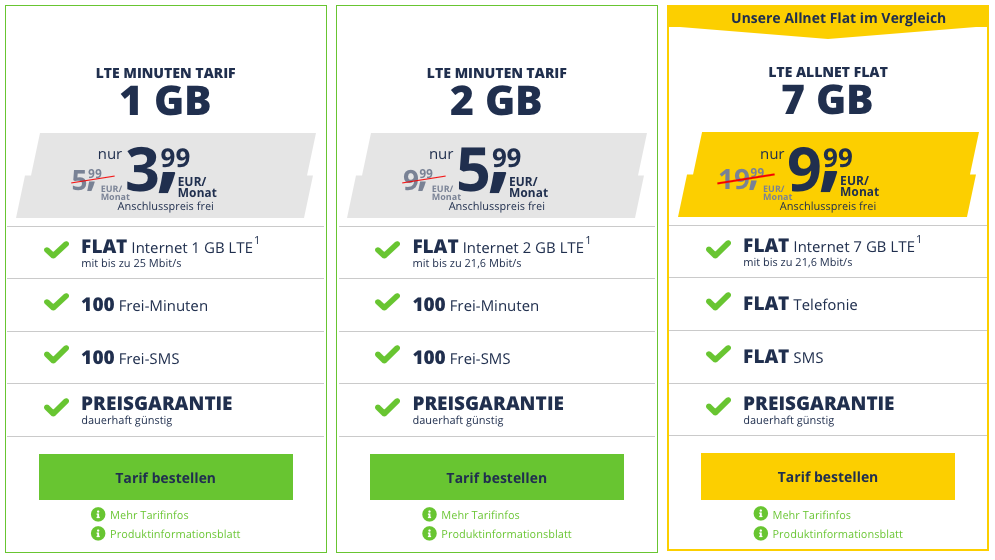 To be sure you're not viewing options for a 24 month contract, make sure you have the switch as displayed below.

What you need to buy a German SIM card
You can't just walk into a shop and buy a SIM for your mobile phone, like you can in many countries.
You must be able to give a valid address in Germany in order to buy a prepaid SIM card for your cellphone.
There are ways round this, even if you've not found a permanent address yet, or you've not yet registered i.e. done your Anmeldung with city hall. You could use a PO box, the address of your empoyer, or a friend who can act as a care-of address for the SIM's delivery, for example.
If you're not signing up to a prepaid plan, you'll also be subjected to a credit check on top of this.
A smarter move if you're coming to Germany from another EU country could be to buy a SIM card there before you travel to Germany. This could tide you over for a few weeks while you get your other paperwork in order.
How are the terms for German mobile phone networks different?
Their websites to sign up are in German.
We walk you through signing up on winSIM's website in the video below.
Let's get the bad news out of the way first:
Contracts. A standard German cellular plan comes with a 24 month contract. Worse still, you have virtually no opportunity to cancel at your convenience.
And it gets worse.
If you don't cancel before this 24 month period is up, most contracts have an automatic renewal clause which immediately ties you in to another 12 months!
We therefore STRONGLY recommend not to sign a long-term contract.
Go with pay monthly options instead.
They are automatically debited (so you don't have to keep buying prepaid cards or top up online). But, importantly, they allow you to cancel with 1 month's notice.
In the past, German mobile data plans were pretty poor compared to neighbouring countries. In the 3 years since we first published an article on SIM cards and cellular packages in Germany, the gap has narrowed substantially.
You'll DEFINITELY pay a lot less than you would on a similar plan in the US and Canada.
Which German mobile networks have the best coverage?
There are 3 main German cellular networks:
Deutsche Telekom
Vodafone
O2 (Telefónica)

 
All of the other third party providers of German SIM cards and call / data plans are renting airtime from one of the above three providers.
Deutsche Telekom's T-Mobile network and Vodafone both run off the network with the best coverage, known as "D-Netz".
O2 (which is owned by Spanish telecoms giant Telefónica) offers less comprehensive coverage on the network known as "E-Netz".
Usually, providers who use the O2 network tend to be the cheapest, with those using the Vodafone network slightly more expensive. There are fewer providers renting airtime from Telekom, and they tend to be more expensive than the other two.
Of our recommended providers, winSIM uses the O2 network and freenet Mobile uses the Vodafone network.
As long as you don't sign up for a long-term contract, then there aren't really any watch-outs to consider.
If you have issues with one provider, just switch with a month's notice.
How to check available network coverage on O2's website
The app on O2's website is really easy to use and distinguishes between coverage indoors (blue) vs. coverage outdoors (tan).
Just use the arrows to zoom in and out to find your desired location.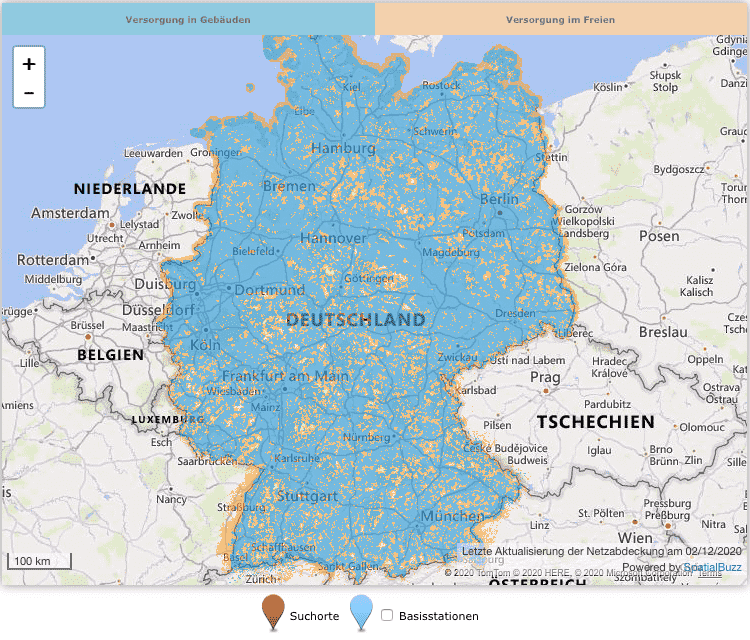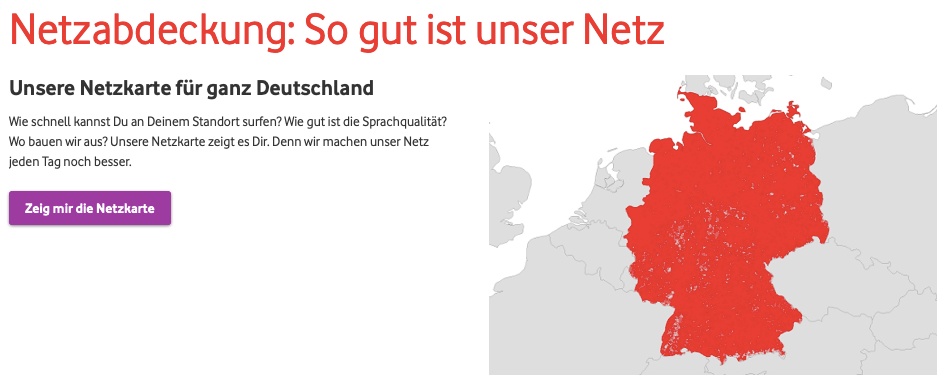 Type in your address of postcode into the white box at the top of the graphic.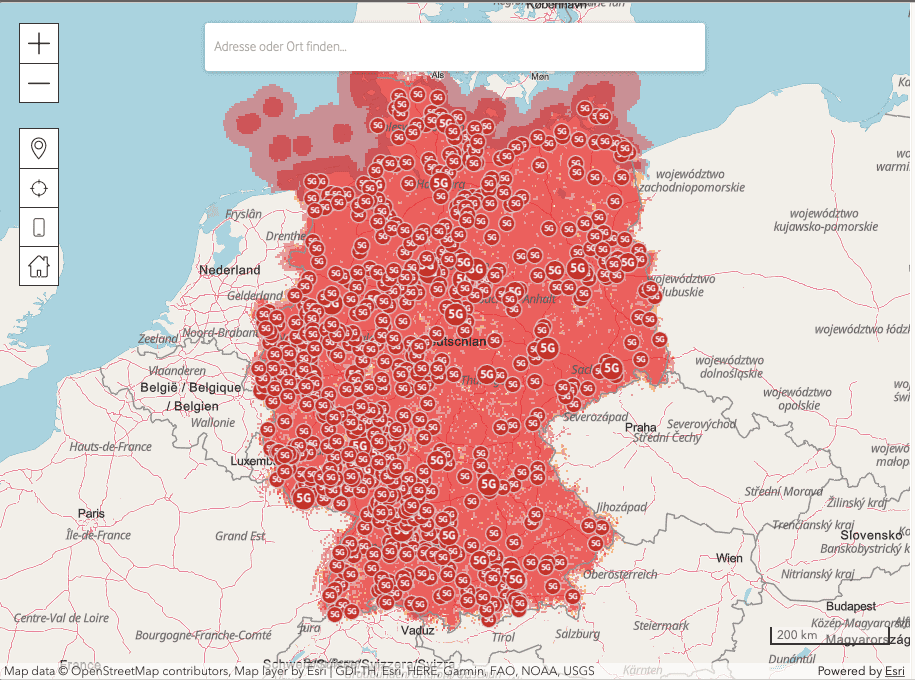 Zoom in, zoom out and select which types of network (2G, 3G, 4G and 5G) you want to overlay.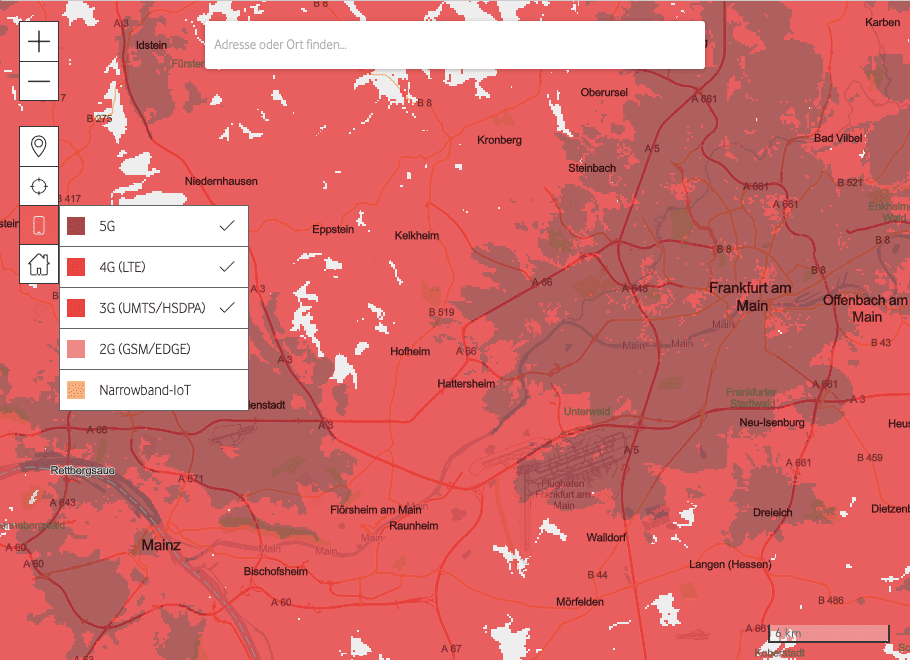 How to check available network coverage on Telekom's website
Navigate to Telekom's network coverage widget.
Enter your address or postcode into the box.
Then select which types of networks you wish to check for (2G, 3G, 4G, 5G).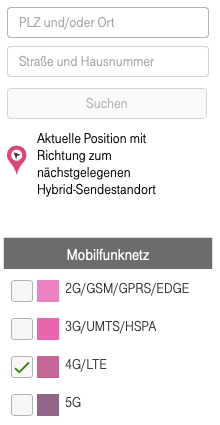 Zoom in and out as required.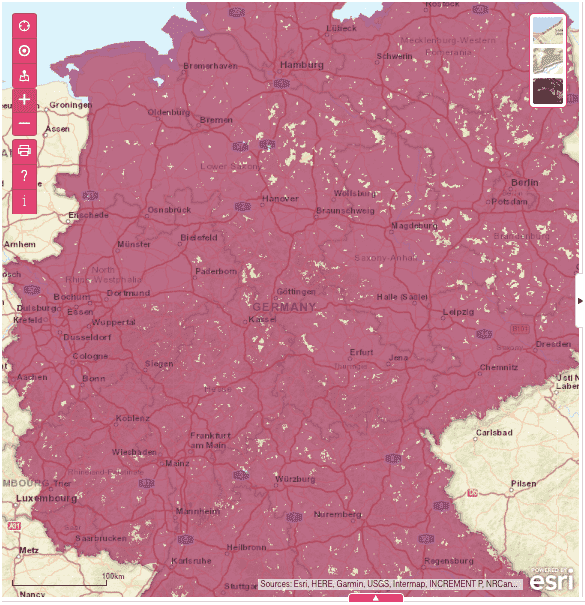 Can I take my existing number with me if I switch provider?
Yes, you can.
As long as you're switching from an existing German cellphone provider, you have the legal right to port your current German mobile number to your new plan.
This can often take a few days to administer though, so is best to do this while you still have a couple of weeks left on your old plan, otherwise you could end up high and dry if you don't allow enough time.
When you sign up, they will ask you whether you want to carry over your existing number, and who the provider is.
How can I save money on my German cellphone plan?
1. Avoid fixed term contracts
They might seem like a good deal now, but trust me, they won't be in 24 months time. German contracts in general are extremely hard to get out of. Think very hard before signing up to a contract.
It's usually cheaper to buy the handset separately and to find the best German SIM card depending on your call / data volume requirements.
2. Easily upgrade or downgrade to a different plan with your provider
Prepaid and postpaid plans give you the flexibility to switch to a different deal with one month's notice. You can upgrade or downgrade as you wish.
It's usually just a few clicks within your personal account section on their website to do this.
You also get to keep your existing number if you remain with the same provider but just change tariffs.
3. Make use of free video call apps
Use services such as Skype or WhatsApp to make international calls, especially video calls.
Using your phone minutes for these can be extremely expensive, especially if you're dialling international numbers outside of the EU.
4. Read the small print
Don't sign a contract that you don't understand.
This is especially important if a salesperson is pushing you to sign up for a "special deal".
If you're not confident speaking German to question some of the aspects of the deal, they probably see you as an easy target.
Buyer beware.
No more roaming charges within the EU
Since June 2017, roaming charges have been abolished between different providers within the EU.
However, some of the cheaper SIM only cellphone plans in Germany specifically exclude roaming. Study the small print if you're not sure.
The packages from winSIM and freenet Mobile (as shown in the screenshots above) all include EU roaming within the monthly flat fees.
Conclusion: The best German SIM for you?
The packages we've listed above represent the best prices on each network for the different levels of usage.
For most people based in larger urban areas, winSIM's packages will be the best value option.
Regularly travelling by intercity train or on the Autobahn and in need of reliable phone reception? Then you should definitely consider a plan that runs on the Vodafone or Telekom networks, such as those from freenet Mobile.
If you live in a small town or a rural area, check each provider's network coverage to be certain whether or not you'll have decent coverage where you live.
Disclosure: Some of the links contained in this article are affiliate links, meaning we receive a small commission for any sales which result from these clicks. This does not in any way affect the price you pay for of any of the products or services. Thank you for supporting us - we appreciate it!
Looking for helpful content on another topic?