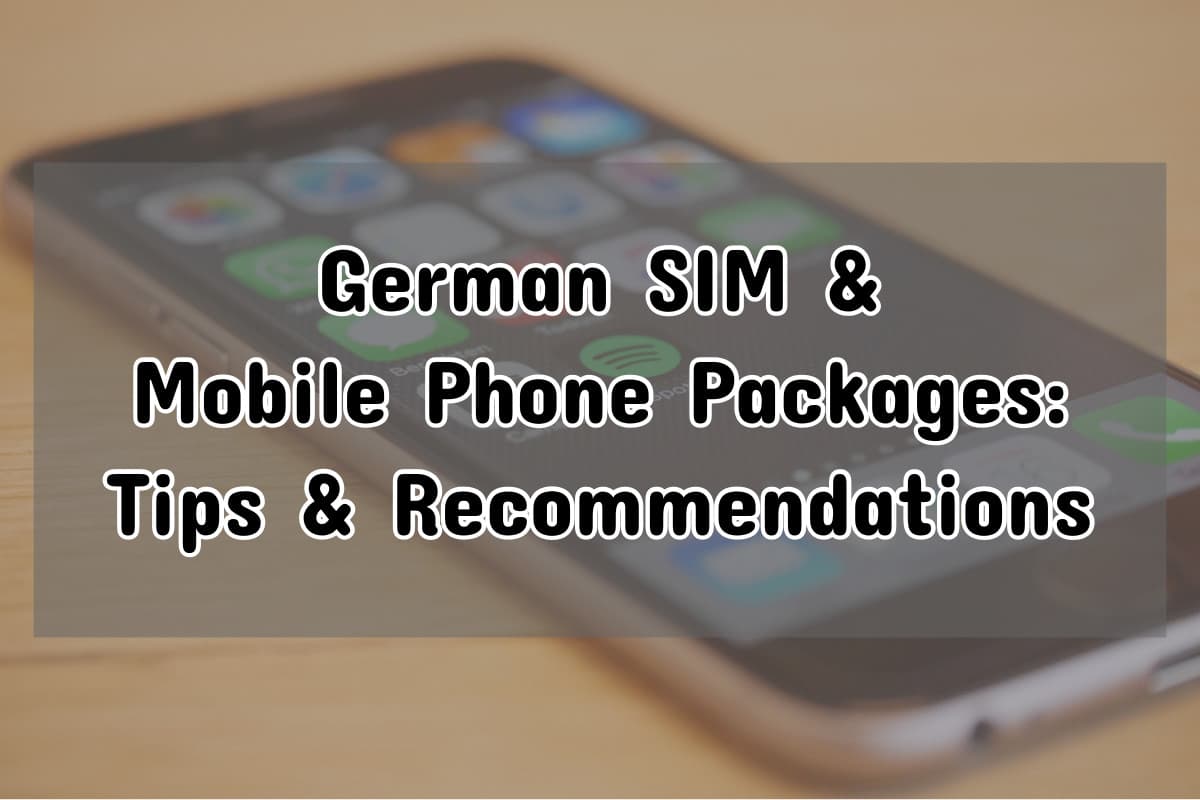 Last Update: 22.10.2019
Before we begin, there are a few things to bear in mind:
This is a constantly changing marketplace, and there are always new deals and products on the horizon. We will endevor to keep this article up-to-date! For complete transparency, I've indicated the last time the article was updated.
Our recommendations are a couple of paragraphs below, if that's all you came for and you need a quick answer without reading the whole article!
What is the right German mobile phone package for expats?
This guide's been put together with the needs of expats in mind.
With this I've made the assumption that internationally mobile people are less likely to want to bind themselves into long contractual commitments.
As such, I've not included fixed-term contracts here. After all, moving house can be the difference between great signal at home and one useless bar of patchy reception. And that's not something you'd want to commit to for 2 years.
It's worth noting that German mobile phone contracts are notoriously inflexible (much like German contracts in general). It's very hard to cancel them, even if you're leaving the country and can prove it.
With this in mind, I would strongly advise that you opt for a SIM-only plan. These are usually paid via direct debit, but you can cancel them with only one calendar month's notice, affording much more flexibilty than an iron-clad contract.
As such, all the call and data recommended below are SIM-only.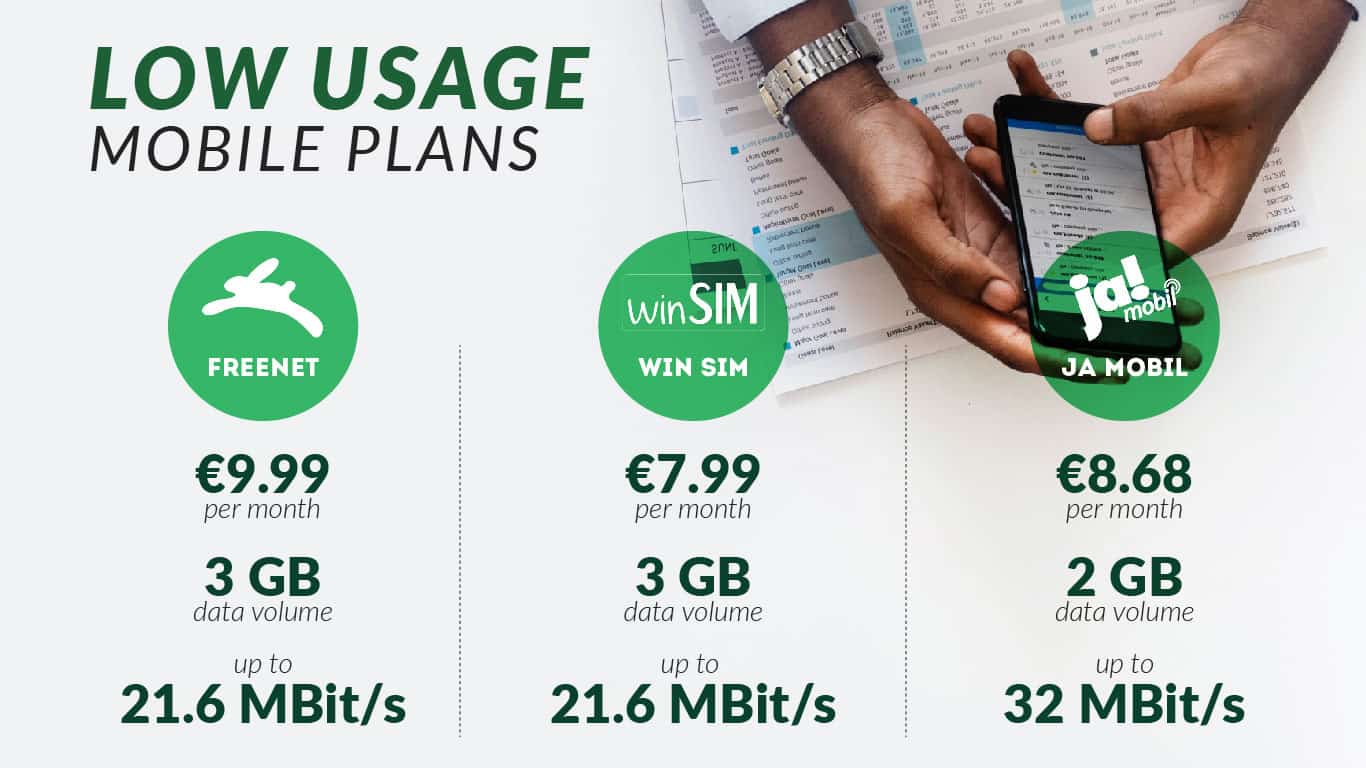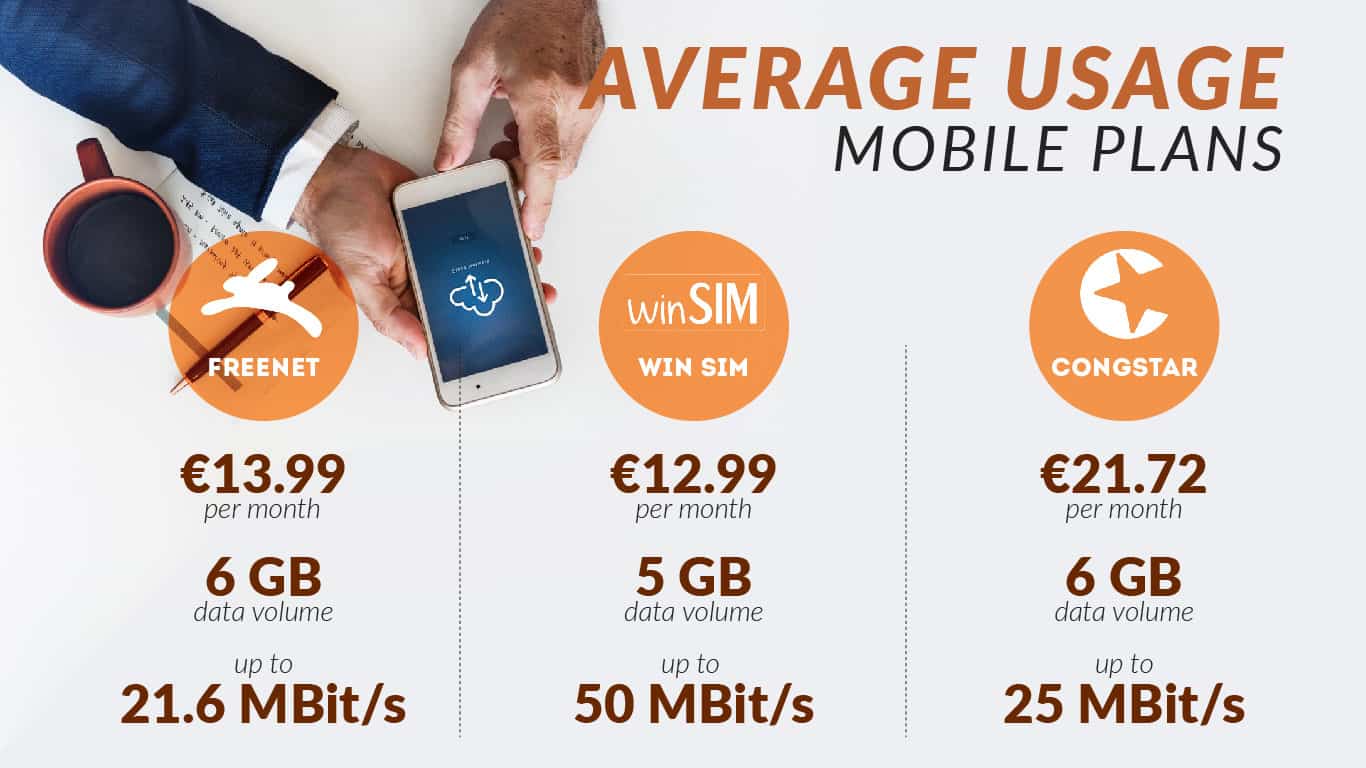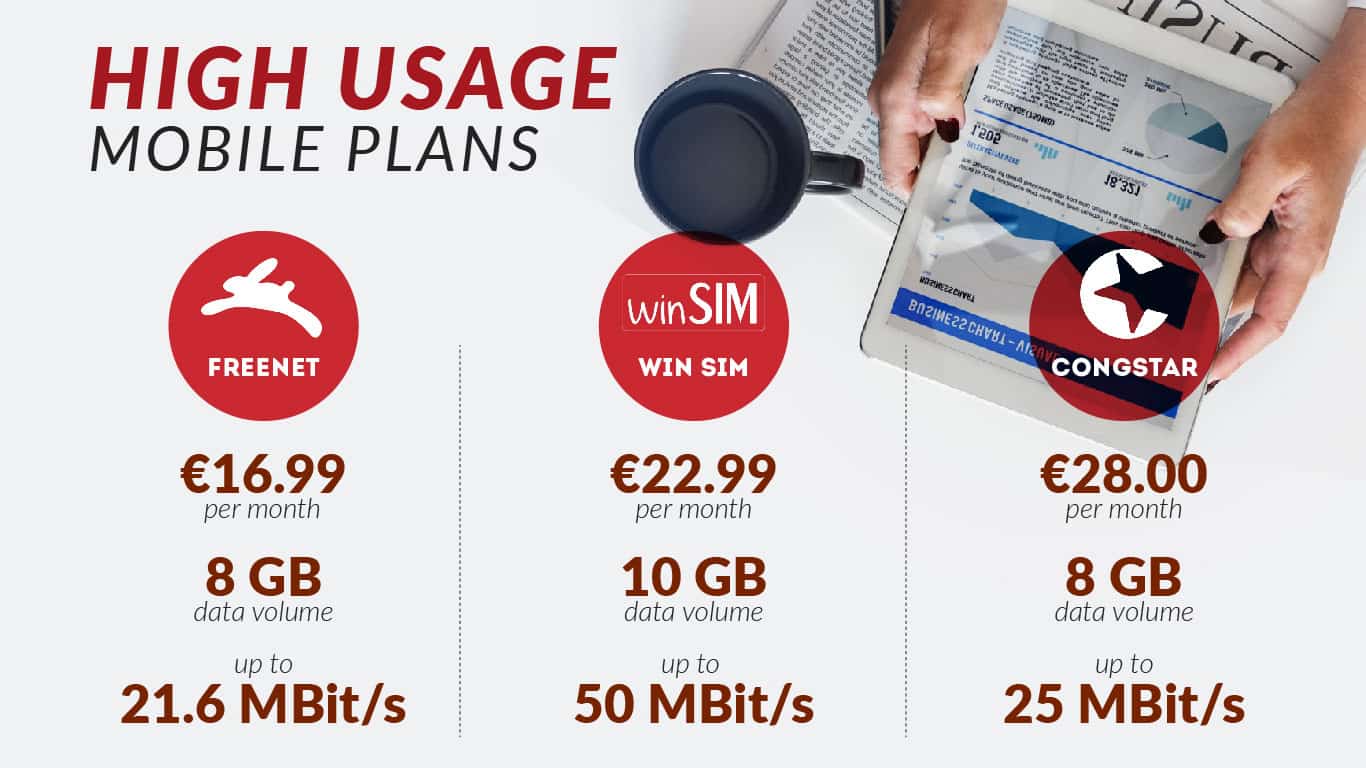 What you'll need
You must give a valid address in Germany in order to buy a prepaid German mobile phone SIM card.
There are ways round this, even if you've not found a permanent address yet, or you've not yet registered i.e. done your Anmeldung with city hall. You could use a PO box, the address of your empoyer, or a friend who can act as a care-of address for the SIM's delivery, for example.
If you're signing up to anything other than a prepaid plan, you'll also be subjected to a credit check on top of this.
A smarter move if you're coming to Germany from another EU country could be to buy a SIM card in that country before you get here. The rules probably won't be as strict as in Germany to get your hands on a SIM card, and this buys you a couple of months to get settled and sort out all the admin required to get set up with a German mobile phone package (up to 60 days roaming is considered "fair usage", so this should be ample).
How are German mobile providers different?
Well, first of all, their websites to sign up will all be in German. We walk you through signing up on winSIM's website though in the video below.
Now let's move on and get the other bad news out of the way first:
Compared to other countries, your German mobile phone package probably won't seem that great (unless you're coming from the US or Canada!)
This is particularly so when it comes to contracts.
A standard German cellular contract is 24 months, with no opportunity to cancel at your convenience.
And it gets worse.
If you don't cancel before this 24 month period is up, most contracts have an automatic renewal clause which immediately ties you in to another 12 months!
We therefore STRONGLY recommend not to sign a long-term contract and to go with post-paid options instead.
This is a pay monthly plan, automatically debited (so you don't have to keep buying prepaid cards or top up online). But, importantly, it allows you to cancel with 1 month's notice.
Unless you're making a lot of business calls to German landlines or mobiles, trust me, it really doesn't make sense to sign a fixed-term contract.
In addition, the price of data bundles with a German calls and data package tends to be more expensive than other EU countries.
No more roaming
As of June 2017, roaming charges have been outlawed for anyone with a SIM from an EU country traveling to another EU country.
Other terms and conditions set out by your network provider still apply, wherever you roam to. So if you have perks such as unlimited airtime, or inclusive minutes and data, then these still apply when recieving or making calls abroad.
That being said, some of the cheaper SIM-only plans out there specifically exclude the abiltiy to roam with your SIM. So it's always best to study the small print if you're not sure.
Pros and Cons of the different German mobile  providers
There are hundreds of SIM card providers and deals available in Germany, which may seem daunting.
It simplifies things hugely to know that they all purchase airtime from one of the 3 main German mobile networks:
Deutsche Telekom
Vodafone
O2 (Telefónica)

 
Deutsche Telekom's T-Mobile network offers the best coverage, closely followed by Vodafone and then finally O2 (which is owned by Spanish telecoms giant Telefónica) offers the patchiest coverage.
Perhaps unsurprisingly, the pricing of these three main providers mirrors their quality:
T-Mobile is the most expensive, followed by Vodafone, with O2 coming in as the cheapest. There is no single best answer to which network is best for you. It depends on your budget and how much you travel outside of major metropolitan areas.
Whether or not you actually need to spend more for a SIM running on Telekom's network largely depends on your location.
For example, if you live in a large city like Berlin and rarely leave the city to visit more rural areas, you'll probably be fine using O2.
It's probably best to give a cheaper network a try first, and then switch if you find the coverage to be poor.
It's pretty straightforward to take your existing number with you (except for business customers). This another benefit of SIM-only's flexibility.
On the other hand, if you're going to be making lots of calls from rural areas, or on an intercity train or from your car on the Autobahn, then I can pretty much guarantee that an O2 SIM will be useless.
Interestingly, even though O2 has by far the worst network coverage, their bandwidth for data appears to be the best. They're the only network offering an LTE speed similar to what you might expect from standard fibre optic broadband via a landline.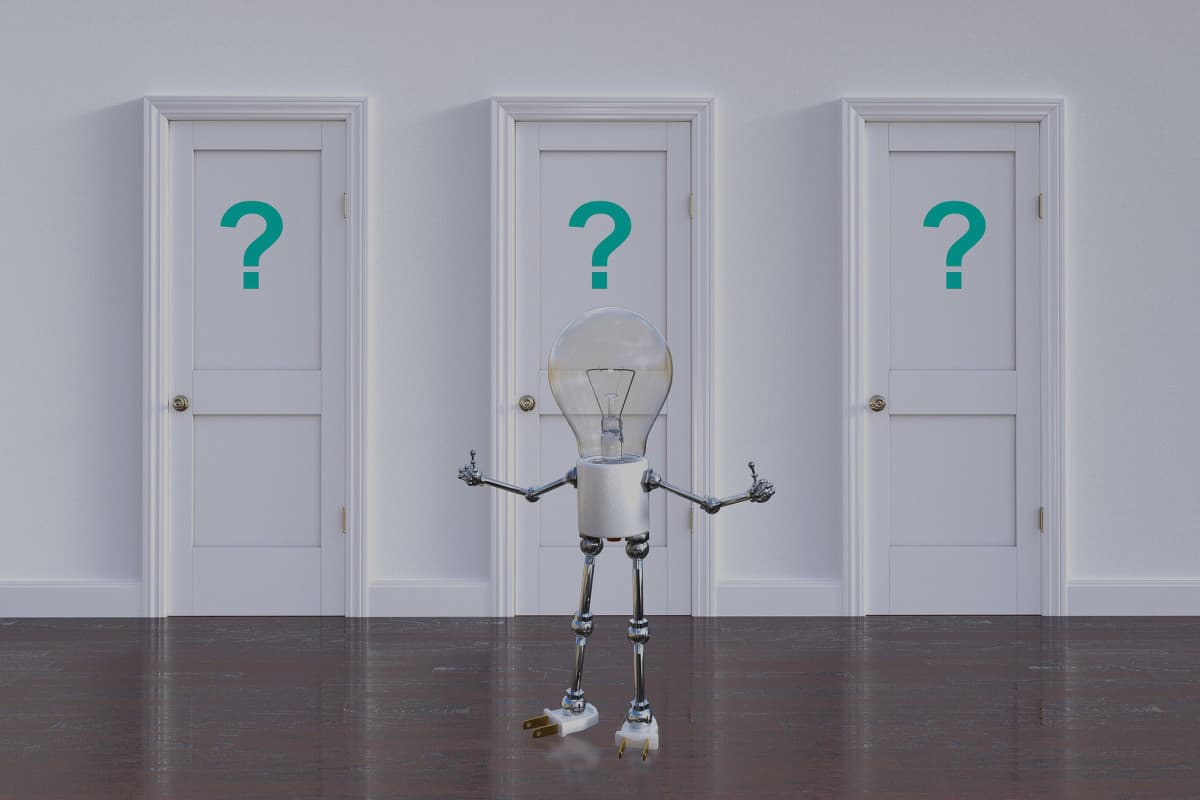 Conclusion
As you can see, there are no clear cut winners and losers.
The packages we've listed above represent the best prices on each network for the different levels of usage. Which is the right plan and provider will depend on your circumstances and individual needs.
For most people, winSIM's packages will be fine, but you should consider something else if you need to make calls regularly outside of major urban areas or need a higher data volume.
The simplest way to make a saving when choosing your German mobile phone package is to seriously consider your data needs. Heavy data usage and fast download speeds are the things most likely to increase your monthly bill.
If you need more than 10GB of data on the fastest download speed and with the best network coverage, then you're likely to spend upwards of €35 a month.
In contrast, if you don't use your device much for data-intensive activities like watching YouTube, streaming music and making video calls, then you can find a good package for as little as €7 per month .
I hope that in no time you're happily enjoying cat videos on Facebook with your new German SIM!
Disclosure: Some of the links contained in this article are affiliate links, meaning we receive a small commission for any sales resulting from these clicks. This has no bearing on the price of the product or service. Thank you for supporting us - we appreciate it!
YOU MAY LIKE THESE ARTICLES TOO…