One thing pretty much everyone coming from other developed nations finds is that the prices in mainstream German supermarkets are generally lower than in their homeland. That's the big plus point.
The downside of this is that the amount of choice when grocery shopping in Germany is more limited, especially compared to the UK, US, Australia and Canada.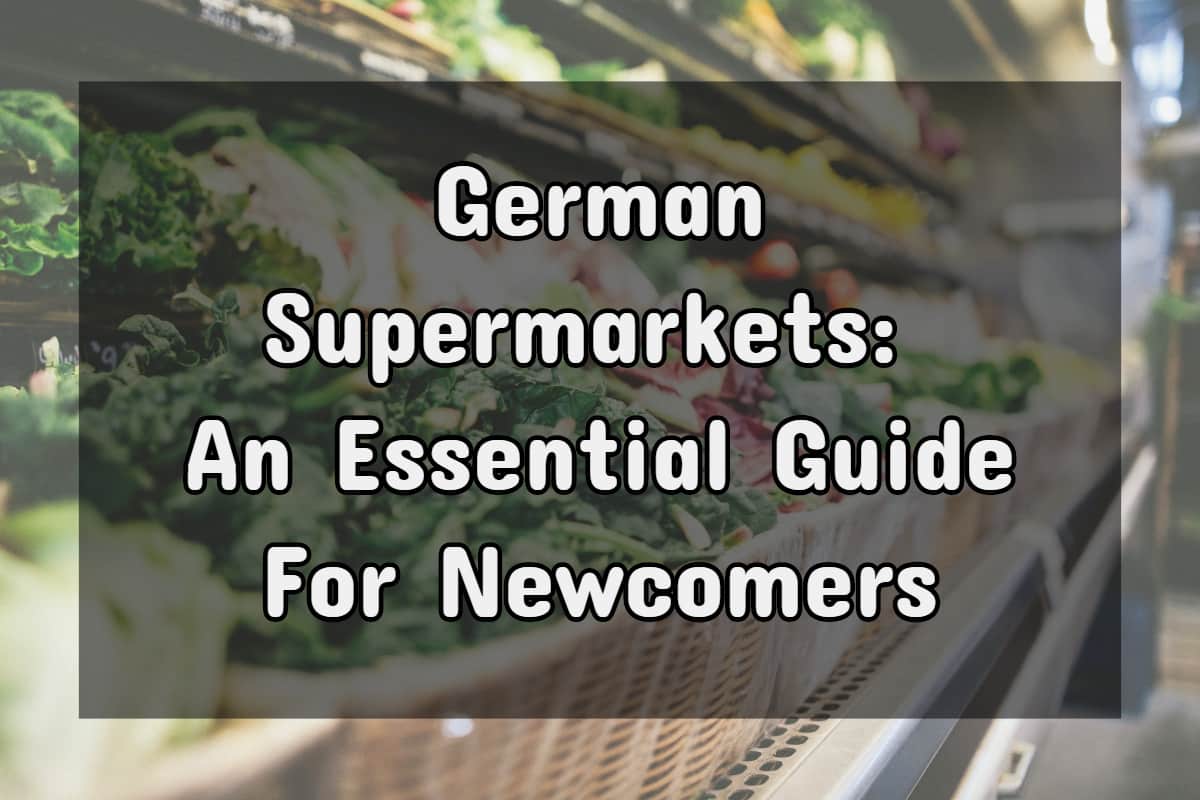 In some ways this could be seen as an advantage. It's relatively common knowledge that all of those brands you see in the supermarket are owned by a handful of conglomerates, and there is, in fact, little actual difference between the products once you get past the packaging and branding.
While that may be the case, nonetheless, certain ranges of products and foodstuffs can be a little trickier to find when grocery shopping in Germany, due to the fact that supermarkets typically sell fewer items and are smaller in surface area than what we're used to.
Let's take a brief look at the different options:
German Supermarkets: Navigating the different choices
Discounters
Major Chains: Aldi, Lidl, Netto, Penny, Norma
These are the mainstay of grocery shopping in Germany. Pretty much nobody moves to Deutschland and never sets foot in one of these stores at some point.
All of the above chains are similar, insofar as their business model is "pile it high, sell it cheap". Lidl and Aldi are the most ubiquitous of the five.
These stores sell very few branded goods and typically these contain only 3 or 4 aisles. Most of the items they stock are private label "house brands", with a non-food section in the middle selling all manner of random stuff, depending on what is on offer that week.
The quality of the items can vary from top quality to fairly average.
Their cost cutting model, however, generally does not impact the quality of the produce; rather it is more skewed towards the actual shopping experience itself (staffing levels, product packaging, appearance of stores) as well as them being renowned for notoriously brutal procurement practices.
Regular Supermarkets
Major Chains: Rewe, Edeka, plus some smaller regional players
These German supermarkets are similar in size and location to the discounters, the main difference being the price bracket and the prevalence of branded items in comparison. Rewe is everywhere in Germany, whereas Edeka tends to be more concentrated in southern Germany.
These stores will also almost always have cheese and deli counters, sometimes also meat and fish counters. The discounters, on the other hand, do not have this and only have pre-packaged offerings.
Large, Out-of Town Hypermarkets
Major Chains: Real, Globus, Kaufland, HIT
Similar to what you might expect from a Tesco, WalMart, Meijer, Safeway, Coles, Shoprite or Carrefour, depending on where you're from.
These are your typical one-stop-shop places, except, well, they're often not that for expats in Germany. While there is no dispute that the range of products are way more comprehensive than the smaller stores and discounters, German pallettes are not as accustomed yet to some of the ethnic foods that most of us are used to seeing in our supermarkets.
If you're looking for beansprouts, more exotic vegetables used in Asian cuisine, poppadums, curry paste, or certain spices for example, there is a fair chance you won't find them here and you'll need to hunt these down in a specialist Turkish or Asian store.
It's also difficult to find lamb in German supermarkets. You'll probably have to go to a Turkish grocery store.
Vegetarians & Vegans
Germany may be the land of all things pork and deli but it's also very well catered towards vegetarians and vegans, at least in terms of product choice in German supermarkets (restaurants, however, can sometimes be a different story, especially in smaller towns).
It's not hard to find ready-made veggie products, even in the discount supermarket chains. The organic (bio) supermarkets will offer even more choice.
Organic Supermarkets
The Germans are an environmentally conscious nation of shoppers and organic (bio) products are big business here.
Major German grocery stores all have a good organic range but if you're looking for something more specific, you'll need to visit an organic store. Every major city will have a few of these and most reasonable sized towns will probably have one.
The most common chains nationwide are Denn's and Alnatura.
Ethnic Stores
Major metropolitan areas in Germany are pretty multicultural, and as such, ethnic supermarkets are commonplace.
Turkish and Italian supermarkets can be found pretty much everywhere, even outside of major urban conurbations. Asian stores, usually owned by Thais or Vietnamese, are also commonplace in larger cities. These will sell everything including Chinese, Indian, Korean, Thai, Japanese and Indonesian foodstuffs.
In the former GDR, Vietnamese greengrocers who also sell some Asian ethnic groceries are common. Turks have by and large assumed this role in the former West Germany, also similarly selling products from their homeland alongside standard fruit & veg.
Karstadt Food Court
Germany's most common department store, found in city centres, Karstadt also contains a food court, usually located on their ground floor or basement.
Not dissimilar in size or offering to Marks & Spencer (for the Brits), Karstadt's food court offers high-end and specialist national products and delicacies from different countries.
It used to be one of few places to buy some commonly loved international products which were (still are in some cases) impossible to find in regular German supermarkets.
If you're missing something from home, there's a fair chance they will sell it here if you can't find it in a "normal" grocery store or supermarket in Germany.
General Tips for non-Europeans
For non-Europeans reading this, the following will also definitely come in handy:
Shopping trollies (carts) are chained up
You'll need to insert a 1€ coin to release one. If you don't have a 1€ coin handy, you can ask a cashier to give you change.
They may even give you a small plastic token instead which serves the same purpose. When you leave the supermarket, you simply lock your trolley back up and when you insert the key, your coin / token will pop out and return to you.
Baskets are provided usually just inside the entrance if you're just going in to grab a few things.  
Plastic or reinforced paper carrier bags aren't free
They usually cost around 15 cents each, due to laws introduced to reduce plastic waste and encourage recycling. Most shoppers actually take reusable carrier bags made of cotton with them each time they go grocery shopping. A small rucksack can also serve the same purpose!
There is nobody there at the checkout to pack your groceries
This is one reason why grocery shopping in German supermarkets is cheap!
The German philosophy tends to be to keep costs down when it comes to the number of staff required to run a supermarket. This is also the case even in more higher end supermarkets.
In a similar vein, you won't see lots of staff hovering around asking you to sample new products. Supermarkets in Germany are run on skeleton staff, even for the larger superstores by international standards.
Checkout operators scan items at lightning speed, so be prepared!
The packing area at the end of the checkout belt after the cashier has scanned your shopping seems tiny. You'll either need to learn to pack extremely quickly or just throw everything back into your shopping trolley and pack at a leisurely place once you've left the checkout area!
Looking for helpful content on another topic?