Driving is practically a German national pastime.
With the Germans' love of cars, the automotive industry pedigree and the amazing driving opportunities offered by the derestricted Autobahns (at least the ones which aren't clogged with traffic or construction zones!), it's no surprise.
So if you've recently moved to Germany, getting a driver's license could well be a top priority.
But how is this done?
Can your driving licence from home qualify you to drive in Germany?
Well, it depends. We'll look at the steps required to get yourself legally behind the wheel, regardless of where your license was issued.
Note that the scope of this article does not include obtaining a motorcycle license in Germany. These have their own similar, but seperate, application process.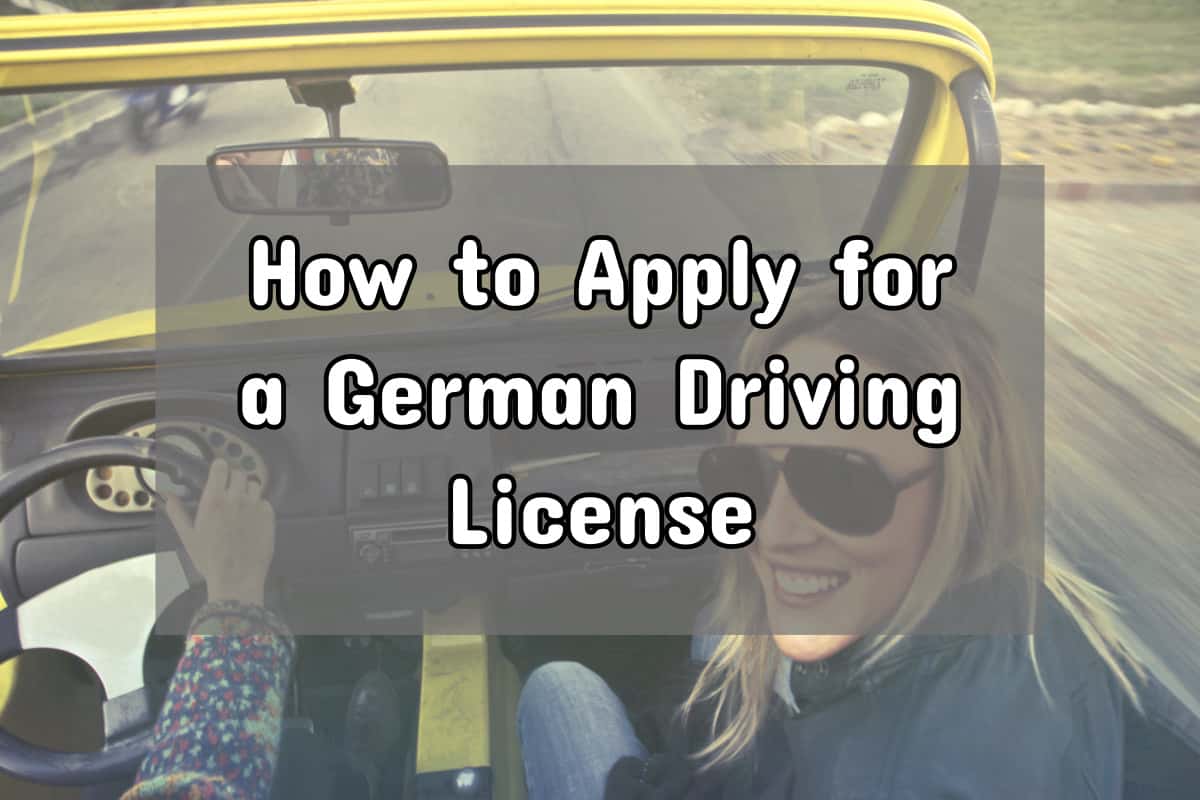 Applying for a German Driver's License (for existing foreign license holders)
We'll take you through the process step by step, but first of all, a quick note.
We speak in general terms throughout this guide, but be aware that requirements may differ slightly. It's always worth checking at your local Führerscheinstelle, or looking online, to be certain. There is no central DMV (US) or DVLA (UK) processing centre responsible.
But with that in mind, here's a brief overview of how to get a German driving license:
Have your license and other relevant documents translated.
Complete any additional requirements that may apply, such as an eye test, or first aid course.
Take your documents to the Führerscheinstelle.

Complete your application.
Wait three to six weeks for license to arrive.
But let's break this process down, and explore whether you'll need to take any extra steps.
Swapping your existing license
To apply for a German driving license, you'll need to visit your local vehicle licence office, or in German: Führerscheinstelle.
Usually this will be at your local Rathaus (city hall), or Bürgeramt (municipal citizens' office), but you can of course look up the exact location online for your town or city.
Before you go, be advised that you'll need to bring quite a few things with you, some of which might be surprising.
Documents needed to swap a foreign license for a German Driver's License
One photograph, 35 x 45mm.
A valid driving license from your country of origin.
A German translation of that licence.
Your passport, or German ID card if you're a German citizen (Personalausweis).
Proof of how long you've had your current license (if this isn't displayed on the license).
Recent proof that you've had your vision tested.
Proof that you've completed a first aid course.
Confirmation that you're resident in Germany (Meldebescheinigung).
For certified translations, simply order this online via our partners LingoKing. Calculate the price for your translation now. I've used them in the past to translate my birth certificate and their service is great. Quick and efficient, everything is done online!
German driving license cost:
A standard application, without the need to pay for extras such as driving classes, cost EUR40.
Eye tests:
Can be booked with your doctor, but be advised that this must apply to an existing driving licence no more than two years old.
First Aid Course:
Enrol in the mandatory first aid course via your local Deutsches Rotes Kreuz (Red Cross). This course normally takes eight hours to complete.
License translation:
Via our partners at LingoKing.
Exactly how much of this process you need to complete depends on your country of origin:
Drivers from EU/EEA member states don't need to take the eye test or first aid course if they want to exchange their existing documents for a German driving license.
You should only need to provide an up-to-date eye test in order to exchange your license if it was issued in the following territories:
Andorra
Bosnia and Herzegovina
French Polynesia
Guernsey
Isle of Man
Israel
Japan
Jersey
Monaco
Namibia
New Caledonia
South Korea
San Marino
Switzerland
Singapore
Even if you're using a valid foreign license, you'll still be subject to German licensing checks and regulations when it comes to things like speeding tickets, licence suspensions and withdrawals.
In case of serious penalties, you may be required to re-apply for a new German driving license via the official channels.
How long does it take to get a German driving license?
Once you've gathered the required materials and made your application you should expect to wait at least three to six weeks for your license to arrive.
However – as is often the case with bureaucracy in Germany – things may not be quite that simple.
Depending on your country of origin, the process may be a little more complicated. Let's break down how it works depending on the country your license was issued in.
EU and EEA licences
If your country of origin is in the EU or EEA, then you can use your original license to drive in Germany (and indeed any other EU member state) for an unlimited period up until it expires.
This also applies to the International Driving Permit, or IDP. But once this expires, you will need to get a local license in Germany.
Health-related stipulations (such as wearing prescription glasses while driving) will still need to be rigorously adhered to.
Always ensure you keep your licence with you when driving too. In the event that you are stopped and your license called into question, don't panic.
The usual procedure is that you'll receive an official letter before any kind of fine needs to be paid. At this stage you'll have an opportunity to appeal your case, or explain any mitigating circumstances.
US Licenses
You can legally drive in Germany with your US driver's license for up to six months, regardless of the state it was issued in.
After this six month period, you'll need to go through the steps above to apply for a German driving license.
There is one exception to this rule: If you're planning to stay less than a year (up to a maximum of 364 days), you can keep driving using your US license, but you must report that you want to do this before the initial six month period is up.
Be sure to bring an official translation of your US license with you to the Führerscheinstelle when you do this.
You'll also need tangible proof that you intend to leave Germany within a year, such as a temporary work contract, or a return plane ticket home.
For everyone else, once the initial six months is up you'll need to secure a German driving license, and this can mean in some extreme cases (see those listed as "no reciprocity") having to sit a full German driving test.
States with full reciprocity
Worked out between the US Embassy and the American Chamber of Commerce in Germany, these agreements mean you can skip the need for testing.
If you're lucky enough to come from one of these states, then trading your US license for a German driving license simply takes going through the bullet-pointed list of admin tasks in the previous section.
Alabama
Arizona
Arkansas
Colorado
Delaware
Idaho
Illinois
Iowa
Kansas
Kentucky
Louisiana
Massachusetts
Maryland
Michigan
New Mexico
Ohio
Oklahoma
Pennsylvania
South Carolina
South Dakota
Texas
Utah
Virginia
West Virginia
Washington State
Wisconsin
Wyoming
Puerto Rico
States with partial reciprocity
This means you won't need to take a practical driving test or any mandatory lessons, but you will still have to sit a written theory test and provide the documentation listed in the bullet points at the beginning of this guide (first aid certificate, proof of a recent eye test, etc..).
Connecticut
Indiana
Florida
Minnesota
Mississippi
Missouri
Nebraska
North Carolina
Oregon
Tennessee
District of Columbia
States that don't have a reciprocity agreement
If your state isn't on either of the above lists, then I'm afraid you'll need to take a German driving test (yes, in a stick shift).
You're not required to take any driving lessons before your test, but it is highly recommended that you at least take a couple, just so you know what you'll be tested on.
The test is definitely more rigorous than driving tests in the US.
It can get pretty expensive for American drivers in Germany, with administrative costs averaging as much as EUR 435. And that's without the driving lessons on top, which also aren't cheap.
Canada, Australia, New Zealand, South Africa
If you're from Canada, Australia, New Zealand, or South Africa you should be able to easily transfer your existing paperwork into a German driving license by following the bullet points outlined at the start of this guide.
There shouldn't be a need to take further practical or written examinations, or to take driving lessons in Germany.
If you're coming to Germany from any Australian state other than South Australia, Tasmania and Victoria, the process should be the same as it is for drivers from EU/EEA member states (i.e. no additional eye tests or first aid training required).
India
If you're moving to Germany from India, we're afraid to say there are significantly more steps required to obtain a valid German license.
First, you'll need to register at a driving school.
This generally cost between EUR 80 and EUR 160. You may also need to buy study materials to get you up to speed for the theory exam, which should cost anywhere between EUR 50 and EUR 160.
Next, you'll have to attend twelve compulsory theory classes. These should give you a solid grounding in everything you need to know. It may sound simple, but there are a lot more rules to obey when on the road in Germany compared to in India.
Next, as explained above, you'll need to pass an eye test, and attend a first aid class.
Once these steps are complete, you'll be able to register for a driving licence at your local transportation department or Führerscheinstelle at a cost of around EUR 60.
Once your driving is confident that you've learned enough driving theory, they'll advise you to begin practical driving lessons, called Fahrstunden in German.
These lessons tend to be under an hour long and cost around EUR 30. There's no official minimum or maximum amount of lessons, but you shouldn't be surprised if it takes as many as 30 of these before your instructor feels like you're ready to move on.
With your Fahrstunden complete, the next step depends on whether you already have an Indian driving license or not.
If you don't, you'll then have to take 12 additional mandatory driving lessons known as Besondere Ausbildungsfahrten. These provide specific training on different types of roads, under the supervision of a qualified instructor.
These classes cost around EUR 45 each. It may take more than 12 lessons if your instructor still isn't confident in your driving.
As a general rule, you'll only be allowed to take your test when the instructor is very confident that you'll be able to pass.
If you do have an Indian driving license, you're permitted to skip this step, as long as you can get your original license translated (as described in the bullet-pointed list at the beginning of this guide).
However, we'd recommend at least taking a few of these, especially when it comes to familiarising yourself with the Autobahn. It can be a very daunting prospect for those with no experience.
Once all of these steps are complete, you can finally register for the practical exam. Although this does seem like an awful lot of work (not to mention money), it's recommended not to take your test too hastily.
Failure can set you right back to the beginning of this process and end up costing you even more time and funds.
Conclusion
In summary, getting a German license is a relatively straightforward (albeit bureaucratic) process for EU / EEA nationals, Canadians, Aussies, Kiwis, South Africans and certain US States.
For other countries, it depends on the reciprocity agreements.
To see the complete guide from the German Ministry for Transport and Digital Infrastructure which details the validity of foreign drivers' licenses in Germany, access the PDF here.
Disclosure: Some of the links contained in this article are affiliate links, meaning we receive a small commission for any sales which result from these clicks. This does not in any way affect the price you pay for of any of the products or services. Thank you for supporting us - we appreciate it!
Looking for helpful content on another topic?