Renting in Germany will usually mean paying apartment service charges for utilities and communal charges.
The way the German system administers them can feel utterly confusing to the unsuspecting expat, especially the first time they receive their first annual statement from their landlord or the property management company.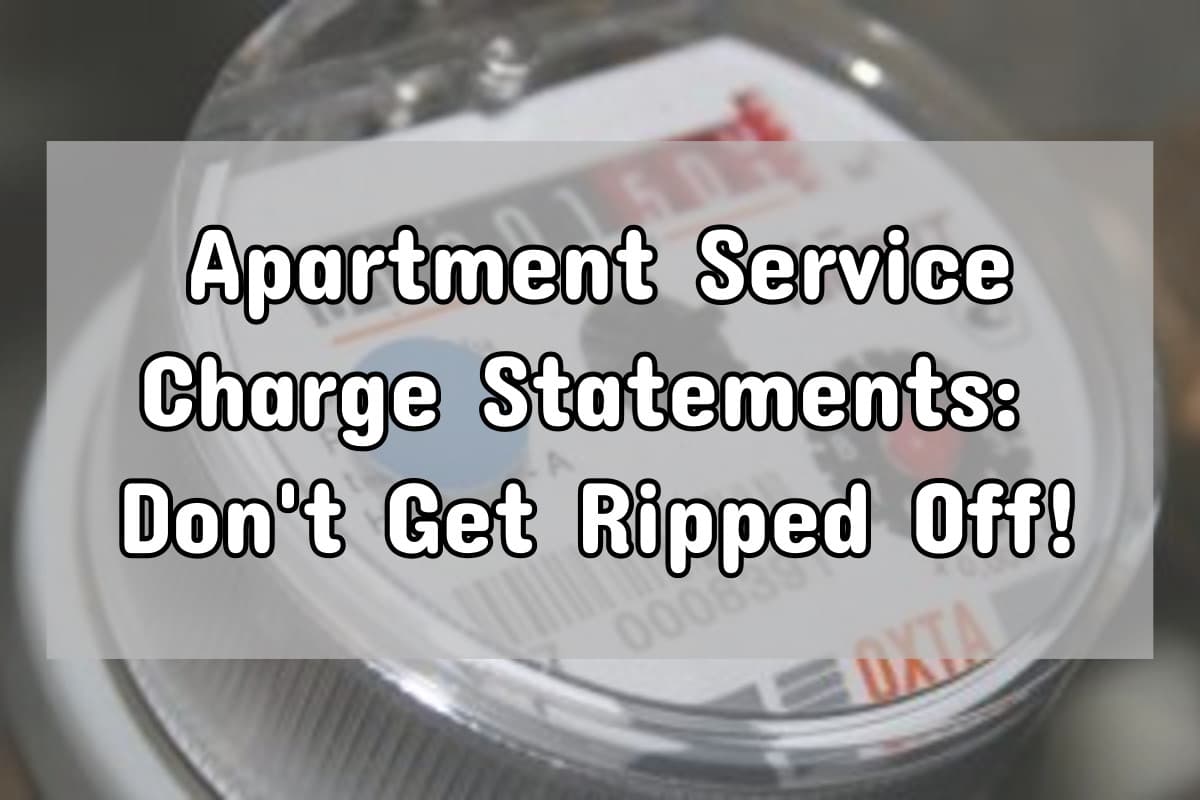 Renting in Germany: Be prepared for the dreaded Abrechnung!
These annual statements are known in German as the Betriebskostenabrechnung or Nebenkostenabrechnung (try saying that after a few beers!) It's a statement of credit or debit for all of the services you have paid in your Warmmiete, or in other words, the difference between your basic (cold) and inclusive (warm) rent.
The annual document bamboozles most native German speakers, let alone expats who are renting in Germany and have no clue about how the system works and what to look out for in their service charges.
Here, we give an overview of what to look out for and when it may be worth getting some extra help to query anything suspicious. 
Make sure you also remember to get covered with some home contents insurance.
We recommend Coya

and Lemonade

. They are both distruptive startups who have entered this space, offering fully flexible home contents insurance, without the need to sign a long-term contract.
German tenancy law can best be summarised in 2 points:
1. It's extremely complicated and it answers in the most minute amount of detail issues that surely only the Germans (OK, maybe the Swiss too) could debate in such depth in court!
2. It's overwhelmingly in favour of the tenant in almost all cases. So, if you suspect your landlord may be taking advantage because you're an expat who doesn't understand the law, then it's definitely worth querying it and getting a second opinion.
Background: What are these service charges?
If you're renting in Germany, or even if you own your own place, then you have to pay service charges, known in German as Nebenkosten. These are paid to the company or organisation which administers your building's maintenance and upkeep. It includes the supply of most utilities (see below).
This company or organisation is known as the Hausverwaltung (literally translated as "house administration", but more akin in English to the term "property management company"). In some smaller houses which only contain 2 or 3 apartments, this may be administered by the landlord himself, or perhaps a lawyer on his behalf.
The monthly Nebenkosten you are paying are basically the difference between your Kaltmiete (basic rent) and Warmmiete (inclusive rent), both of which should be clearly stipulated in your rental agreement. Ask your real estate agent when looking for an aparetment, if you're unsure.
How does it work?
You pay this amount automatically every month as part of your rent payment (Warmmiete) to your landlord. The sum of your monthly Nebenkosten is determined in your tenancy agreement.
The landlord in turn is responsible for paying this amount directly to the Hausverwaltung. As a tenant, your landlord is your contractual partner and you will not have any financial transaction with the Hausverwaltung directly.
What you pay is based on an estimated consumption of utilities, plus your share of the expected service and maintenance costs associated with the apartment block for that given year. The budget for this is calculated by the Hausverwaltung, and is agreed upon and signed off at the Annual Owners' Meeting (Eigentümerversammlung) during the previous year.
If you are in a new tenancy, then the utilities consumption is either based on the previous tenant's bills or in the case of a first tenancy in a new build, based on the expected consumption for an average tenant in an apartment of that size.
We look at exactly what you are paying for and how this is split between the different apartments in your building in the next section.
As already mentioned, the Betriebskostenabrechnung is the annual statement of account. The Hausverwaltung takes all the service charges each tenant has been paying in Nebenkosten over the past calendar year, and works out an individual statement for each apartment unit.
The result is that you will either be in credit or debit versus the actual costs incurred.
These costs are checked and signed of by the Hausverwaltung. These statements of account are also examined and signed off by 2 nominated apartment owners as committee members, which acts as a second step to both prevent the Hausverwaltung from fiddling the accounts, and as a check mechanism to spot any possible errors.
What do your payments cover?
Normally your Nebenkosten payments cover the following:
Individually Calculated Statement
Heating
Hot Water
Share Of Communal Charges
Maintenance and upkeep of the building's communal areas
Rubbish disposal
Janitorial services
Gardening
Cleaning of communal areas
What is not covered in your Nebenkosten?
Electricity
Cable TV
Landline phone & Internet connection
TV licence tax (Rundfunkbeitrag)
Who should receive an Abrechnung?
Anyone who has a regular tenancy agreement in their name should receive an annual statement of account from their landlord.
This does not apply if you are staying in a serviced apartment or are paying an all-inclusive rate. All-inclusive rents without the split between Kaltmiete and Warmmiete are usually only applicable for short-term rentals of furnished apartments, or in some cases for sublets.
Sublets usually will not receive a statement. It is fairly normal practice to pay the person you are subletting from an "all-in" rate and then he / she carries the risk that your utility bills could be higher than what has been factored into your agreed monthly rent payments.
The possible exception are the rare cases where the sublet is longer term i.e. 1 year plus in duration, and it has been agreed between the tenant and the landlord that you as the sub-letter will be responsible for any credits / debits due on the service charge statement.
Flat shares (Wohngemeinschaften or WG for short in German) will receive an Abrechnung, but this depends on how the tenancy agreement is set up, and whether the charges are to be applied equally between all flatmates or whether it's split based on the size of the respective rooms each tenant is renting. If there is one flatmate who has been there the longest, it is fairly normal for the landlord to issue the Abrechnung to this person and for him/her to settle it between the other tenants.
Shared housing is difficult to summarise because there are many different scenarios on how this could work, based on the length of the tenancy of each of the tenants and how the tenancy agreement is set up.
When should I receive my Abrechnung?
If only life were so simple!
It is usually standard practice for the Hausverwaltung to settle these statements during Q2 of a given year. The charges run on a calendar year basis.
However, because the property management companies are dependent on third parties to provide statements for heating and water consumption on an individual apartment unit basis, they cannot issue the statements until they have all of these readings completed.
In most cases the company will come round to read your water and central heating meters during February or March, and you should receive your statement around May / June time, as soon as the Hausverwaltung has has time to receive and process all of these for each individual apartment. At least that has been my experience during my 12 years of living in Germany. This has been the case for different places I have lived in as both a tenant and an owner-occupier, and also for an apartment I rent out as a landlord.
Bear in mind that to provide statements for heating and water, the utility company which measures the consumption must access and read the meters for every apartment in the building. So, if they require access to everybody's apartment to make a physical meter reading, then they are dependent upon everybody granting access in a timely manner. As a result, they can obviously complete this faster in most cases for smaller buildings and complexes than for residences containing 20+ apartments.
It is also interesting to note that by law, your landlord must issue your Betriebskostenabrechnung before 31st December of the following year to have the right to demand any settlement for the balance of charges. So, for 2018 costs, they have to write to you with a statement before the end of 2019 if they legally want to invoice you for any retro payments.
If your landlord fails to do this, you are within your rights to refuse to pay it.
What to expect when you get your Abrechnung?
Your annual service charges statement will typically contain these points:
1. Summary of what you have paid vs. actual costs incurred on your behalf by your landlord, who settles this with the property management company.
2. A individual statement of your heating and water consumption based on your actual meter readings.
3. Your total statement of what you owe or are due back.
4. The budget for the Wohngemeinschaft for the next financial year, based on the estimated costs put together by the Hausverwaltung.
5. A summary of costs which are deductible against income tax law §35a. This is a really important part of your Abrechnung and many tenants don't know that this is actually tax deductible. Without going into too much detail, this summarises any manual labour incurred by the property management company (common examples are gardening and janitorial services). These can be deducted on your tax return at 20% of the total costs incurred.
The €2.50 per m2 rule: When to suspect something may be wrong
As a very rough rule of thumb, your entire Nebenkosten (the difference between your Kalt- and Warmmiete) should be around €2.50 per square metre, per month.
This will be a bit less if your building is brand new, or recently renovated to current building standards.
It will likely be a bit more if you live in an older building with higher ceilings and poor insulation, or somewhere with large communal grounds or a lift (elevator).
So, for an average 70m2 apartment, you should pay around €175 per month.
Take €2.50 per m2 and multiply this figure by 12 to get to what, roughly speaking, your annual bill should be. If the total on your service charge statement is significantly more than this figure and your landlord is asking for an extra payment to cover the balance, it's definitely worth questioning and seeking further assistance.
Disclosure: Some of the links contained in this article are affiliate links, meaning we receive a small commission for any sales which result from these clicks. This does not in any way affect the price you pay for of any of the products or services. Thank you for supporting us - we appreciate it!
Looking for helpful content on another topic?