Podcasts are a fantastic resource simply because they are so versatile.
We'll cover a range of podcasts for beginner's German as well as resources for more advanced learners of the German language.
Due to podcasts being (obviously) skewed towards listening, there are more resources out there for intermediates and advanced German learners than there are podcasts targeted at absolute beginnners.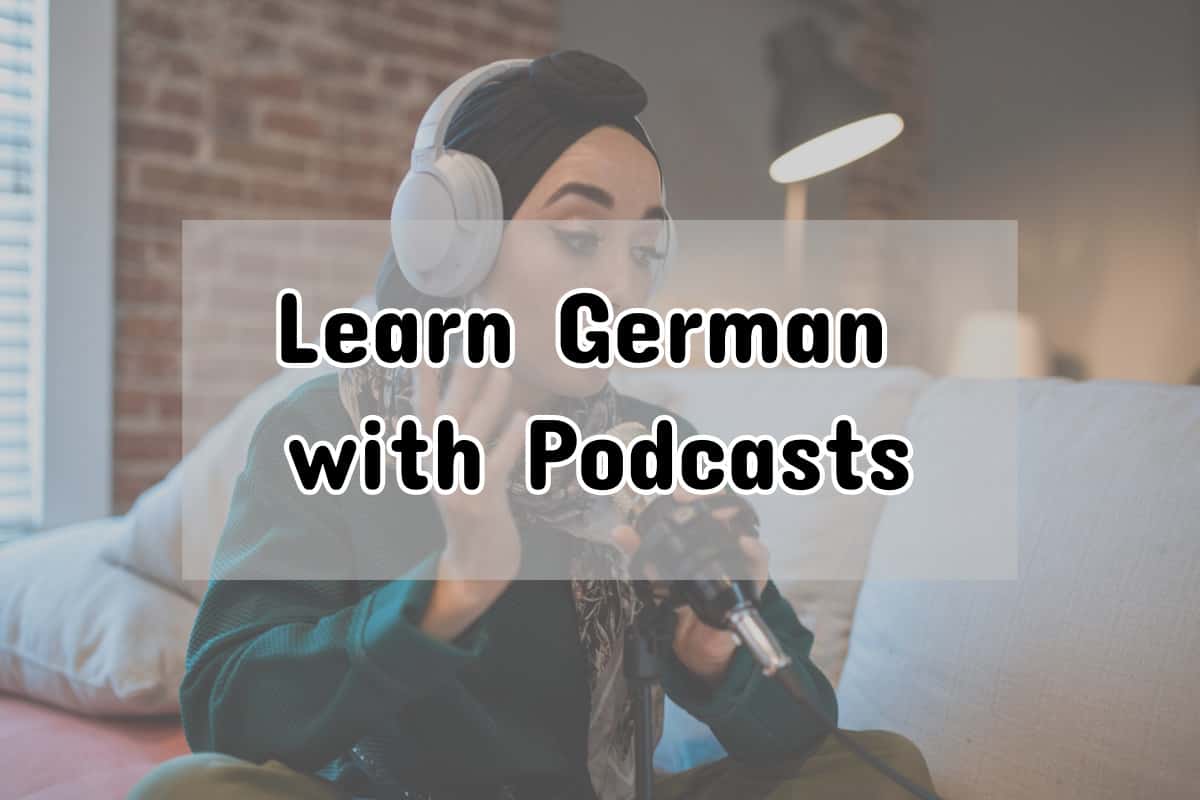 Learn German by Podcast For Beginners
These resources range from those for absolute beginners, to a couple for those who already have a basic grasp of the language.
1. German GrammarPod
For most language learners, grammar is the toughest challenge.
German can be pretty unforgiving for native English speakers, with several grammatical structures which seem completely alien to us.
This is a good resource as an introduction to some of the common topics you'll need to grasp in German grammar if you want to be clearly understood, especially in written communication.
It can be a bit dry at times but the concepts are well explained in an easy to understand way.
Not on Spotify
2. Learn German (German Pod 101)
The 101 series is a popular podcast series also available in several other languages. This is great for a quick bite-sized portion of German on your way to work.
Also contains some episodes with videos. A good mixture of vocabulary, grammar, and trending topics.
Not on Spotify
3. A Flavour of German
Brought to you by the same people behind One Minute German, this looks at more idiomatic phrases in the German language, and is also aimed at complete novices.
Not on Spotify
4. Deutsch-Trainer: Wortschatz zum Mitnehmen / Vocabulary to Go (Deutsche Welle)
One of many fantastic learn German podcasts which Deutsche Welle offers for learners of all levels.
Their resources are head and shoulders above anything else you can find on the web for learning German free.
Probably not surprising when you consider their budget and public funding.
Another learn German podcast aimed at complete beginners, concentrating on helping you to expand vocabulary in certain situations.
Episodes are short, and in a "listen and repeat" type of format.
5. Audio Tutor – Learning German (from Deutsche Welle)
This podcast covers a broad range of basic grammar and useful vocabulary for everyday situations. Aimed at beginners.
6. Learn German by Podcast
This podcast, although aimed at beginners, is more suited to those with a little bit of immersion and practice.
Perhaps those already living in Germany with a grasp of some simple vocabulary and verb conjugation.
The content here goes beyond simple phrases and is more geared towards basic conversations.
Only 20 episodes, and no longer publishing.
Not on Spotify
7. Harry, gefangen in der Zeit (from Deutsche Welle)
An older podcast series of 100 episodes from Deutsche Welle.
You'll either love the format or hate it from the outset.
It tells the story of a tourist named Harry who is stuck in a timewarp with his life on repeat.
Mixing English and German together, it starts off pretty basic (but not for absolute beginners) but the later episodes tend to target more intermediate learners.
8. News in Slow German
Listening to news is a great way to learn German by podcast.
Why? Because you're likely to know a lot of the stories if you keep up with news and current affairs in general. So, the topic will be familiar.
This podcast is aimed at beginners, but definitely not absolute novices.
Those who are learning German and already have some vocabulary or listening immersion are the ideal target audience for this show.
Lower intermediates will probably find it a little bit too basic.
Learn German Podcasts for Intermediate Learners
These shows all assume a level approaching B1 or higher.
Here, you will find more content exclusively in German, or a fairly even mix of English and German together.
Perfect for those of you who struggle with people talking too fast in real life.
If you want to listen to native speakers speaking slower than they would do in everyday conversation, or on the radio and TV, these are great choices!
9. Slow German
These short, 5-10 minute episodes are broadcast completely in German, featuring slowly-spoken reports on various topics.
There's a huge amount of content in their back-issue library, with over 100 episodes to keep you busy.
10. Deutsch mit Schmidt | Advanced German Language Learning (B1, B2, C1)
This weekly podcast focuses on building and expanding vocabulary for intermediate and advanced German learners.
Episodes are short, 3-4 minutes long and focus on the usage of just 2 specific words each episode (so they're covered in detail!)
Having a bite-sized format is great for digesting what you've learned.
The show also has a bunch of downloadable resources, available for anyone who makes a donation to the show on Patreon.
11. Coffee Break German
This podcast offers slightly longer-than-average 20 minute episodes, published weekly, that are a great company for your coffee break.
This is a cool format for lower-intermediate learners: An English narrative mixed in with some longer German conversation for those not yet comfortable with following 100% German audio.
It also mixes in some grammar topics.
12. The German Podcast – Listening Practice with a Native Speaker
Popular YouTuber VlogDave has also launched a podcast.
After initial introductions, the show is completely in German and is aimed at advanced German learners (B2 / C1).
This newish show is a chat about a cultural topic selected by the host, with a format where he's speaking German, but somewhat slower than native German TV and radio presenters.
Episodes are pretty long, between 45-60 minutes.
13. Learn German Podcasts | Expertly German
This is a relatively new podcast launched in mid-2020. Serving a niche for advanced students, who want to learn German by podcast specifically for business purposes.
These pretty short episodes are typically only between 5 and 10 minutes.
The show focuses on news in German, grammar as well as conversation.
14. Easy German Podcast
This podcast is broadcast 3 times a week and is aimed at intermediate learners.
The narrative is spoken at regular speed but they offer a full transcript and a vocabulary helper that shows vocabulary and translations during playback.
Episodes are typically around half an hour in length.
These are perfect for more dedicated students who perfer podcasting as their means of mastering the German language, due to the frequency that episodes are published.
BONUS Podcast
15. I Will Teach You A Language
Whereas the lists above contain useful learn German podcasts, learning a language is more than just that.
Accountability, motivation, tips, tricks and tactics are also vitally important.
That's why I've included this one.
Polyglot host Olly Richards, of the popular I Will Teach You a Language blog, hosts a show which is a mix of solo shows and special guest appearances.
These range from popular YouTubers to other influencers in the language learning space.
Aligning Expectations
Podcasts are a great way to both learn basic German, as well as learn advanced German.
The obvious downside is that it only really gives you one skill: Listening.
Learning a language requires you to also master speaking, reading and writing. Podcasts aren't going to teach you that.
It's also easy to be distracted learning German by podcast. If you're multi-tasking, your 100% focus is not always going to be on the content.
So, while it may be a great component of your German learning plan, it should be part of a more comprehensive strategy.
Our article on learning German for free will point you to other helpful resources to complement the podcasts.
If you're on the lookout for more intensive, structured tuition, without the need to travel to classes, then we highly recommend the online courses from our friends at Smarter German.
Their A1 to B1 course provides comprehensive, intensive language tuition using fun, innovative teaching methods and comes with hundreds of happy student testimonials.
Disclosure: Some of the links contained in this article are affiliate links, meaning we receive a small commission for any sales which result from these clicks. This does not in any way affect the price you pay for of any of the products or services. Thank you for supporting us - we appreciate it!
Looking for helpful content on another topic?