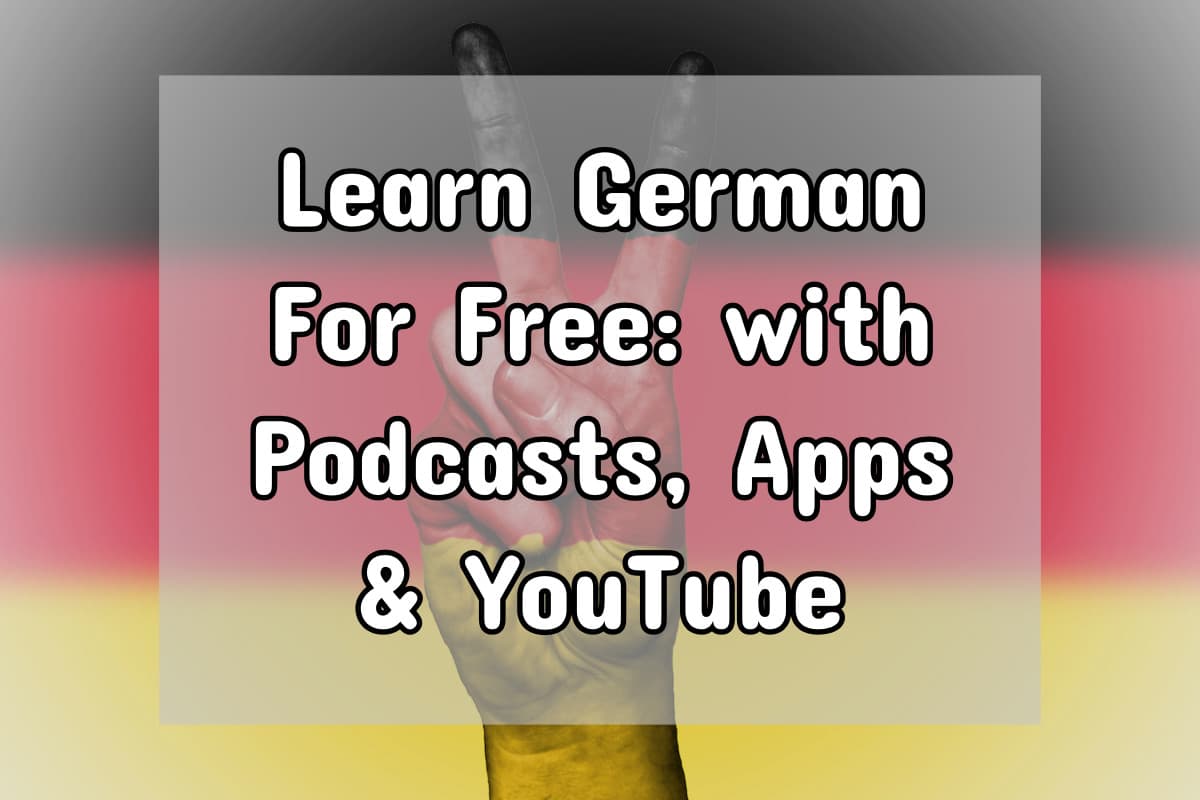 Learn German For FREE: Achieve B1 Without Expensive Courses
If you've been battling with this and have not learnt much (or any) German yet, here are a couple of videos related to this topic which will hopefully convince you that:
a) yes, you DO need to learn in most cases, unless you're just here in Germany for a short time; and
b) the only thing preventing yourself from doing this is YOU! Not your job, not your kids, not your social commitments…it's definitely possible!
Learn German Podcasts: 13 Great Resources To Check Out
Podcasts are a fantastic resource simply because they are so versatile. You can take them everywhere because our phones go everywhere with us, just like learning via Apps.
So, you can use these 12 podcasts whilst commuting, at the gym, or even ironing, or cooking dinner. Which all means turbo-charging your day and turning idle time into a learning experience.
Stop looking at cat videos on Facebook, and get studying instead!
Here are 13 great podcasts which can help you to learn German for free.
All links are to Apple Podcasts. If any of these are not downloadable via Android, just drop me an email and I will update the post to reflect this. Thanks!
PODCASTS For Beginners
These resources range from those suited to absolute beginners, as well as a couple for those who already have some basic grasp of the language and are looking to extend their vocabulary and grammar outside of a formal classroom environment.
A great place to start for absolute beginners. As the title suggests, this is more about learning essential phrases and doesn't touch on anything grammar related, such as verb conjugation and sentence structure. A good audio complement to your general phrasebook or dictionary app.
For most language learners, grammar is the toughest challenge and German can be pretty unforgiving for native English speakers, with several grammatical structures which seem completely alien to us. This is a good resource as an introduction to some of the common topics you'll need to grasp in German grammar if you want to be clearly understood, especially in written communication. It can be a bit dry at times but the concepts are well explained in an easy to understand way.
The 101 series is a popular podcast series also available in several other languages. This is great for a quick bite-sized portion of German on your way to work. Also contains some episodes with videos. A good mixture of vocabulary, grammar, and trending topics.
Brought to you by the same people behind One Minute German, this looks at more idiomatic phrases in the German language, and is also aimed at complete novices.
Another learn German podcast aimed at complete beginners, narrated in English and very similar in content to number 1. They only made 10 episodes, so you should be able to tick this one off your list during a regular week of commuting or a couple of gym sessions.
One of many fantastic learn German podcasts which Deutsche Welle offers for learners of all levels. Their resources are head and shoulders above anything else you can find kostenlos on the web for learning German. Probably not surprising when you consider their budget compared to other players in this space. This podcast covers a broad range of basic grammar and useful vocabulary for everyday situations. Aimed at beginners.
This podcast, although aimed at beginners, is more suited to those with a little bit of immersion and practice. Perhaps those already living in Germany with a grasp of some simple vocabulary and verb conjugation. The content goes beyond simple phrases and is more geared towards basic conversations.
PODCASTS For Intermediates
These podcasts in my opinion all assume a level approaching B1 or above, and thus contain more content exclusively in German. Perfect for those of you who struggle with people talking too fast in real life, and want to listen to native speakers speaking slower than they would do in everyday conversation, or on the radio and TV.
Short episodes of 5-10 minutes, aimed at intermediate-advanced learners with slowly spoken reports on various topics. Broadcast completely in German. There is a huge amount of content in the back-issue library, with over 100 episodes to keep you busy, as well as a few episodes sprinkled in-between which are aimed at absolute beginners.
A fabulous resource which gives video and bilingual subtitles to each cast. This podcast is pitched at intermediate learners and through its format, focuses on comprehension and vocabulary building. These are short bite-sized episodes which are great for when you don't have much time on your hands. Another neat feature is their series of episodes which give content relevant towards the German citizenship exam (Einbürgerungstest).
Exactly what it says it is: Slightly longer than most learn German podcast episodes out there at about 20 mins per episode. This is a cool format for lower-intermediate learners. It gives an English narrative mixed in with some longer German conversation for those not yet comfortable with following 100% narrated audio in German. It also mixes in some grammar topics in a less dry way than many other resources out there.
Podcast from the Goethe Institut aimed at intermediate-advanced learners with interesting topics spoken slowly. Broadcast completely in German, it's similar in content to Slow German. The Goethe Institut also has extensive resources to rival the cyberspace offerings of Deutsche Welle for learning German online.
Very short episodes of approx. 3 minutes. Aimed at lower-intermediate learners and narrated completely in German.
A new, weekly podcast aimed at intermediate learners (the narrative is spoken at regular speed but offer a full transcript and a vocabulary helper that shows vocabulary and translations during playback). The episodes are typically much longer and are for more dedicated learning.
If motivation and accountability are the major struggles for you, then I strongly recommend you read this post too, to help you keep things on track and stay on your journey!
Save