Arranging to rent an apartment in Germany will be at, or very near to, the top of every new arrival's "to do" list. After all, you can't stay in that Airbnb forever!
Unless you have the luxury of being able to arrange this ahead of your move, or unless you have the services of a relocation agent at your disposal, it's best to come prepared with some background knowledge of how the market works and what to look out for.
The type of website or service you use to find somewhere to live will very much depend on your circumstances, the amount of time you plan to spend in Germany, your income level and the city / region you plan to relocate to.
Apartments for rent in Germany: The different housing options
So, before we get into tips, tricks and advice for finding housing in Germany, first let's run through the different options available in the local real estate market here.
These are listed from cheap apartments for rent, to more expensive options at the end,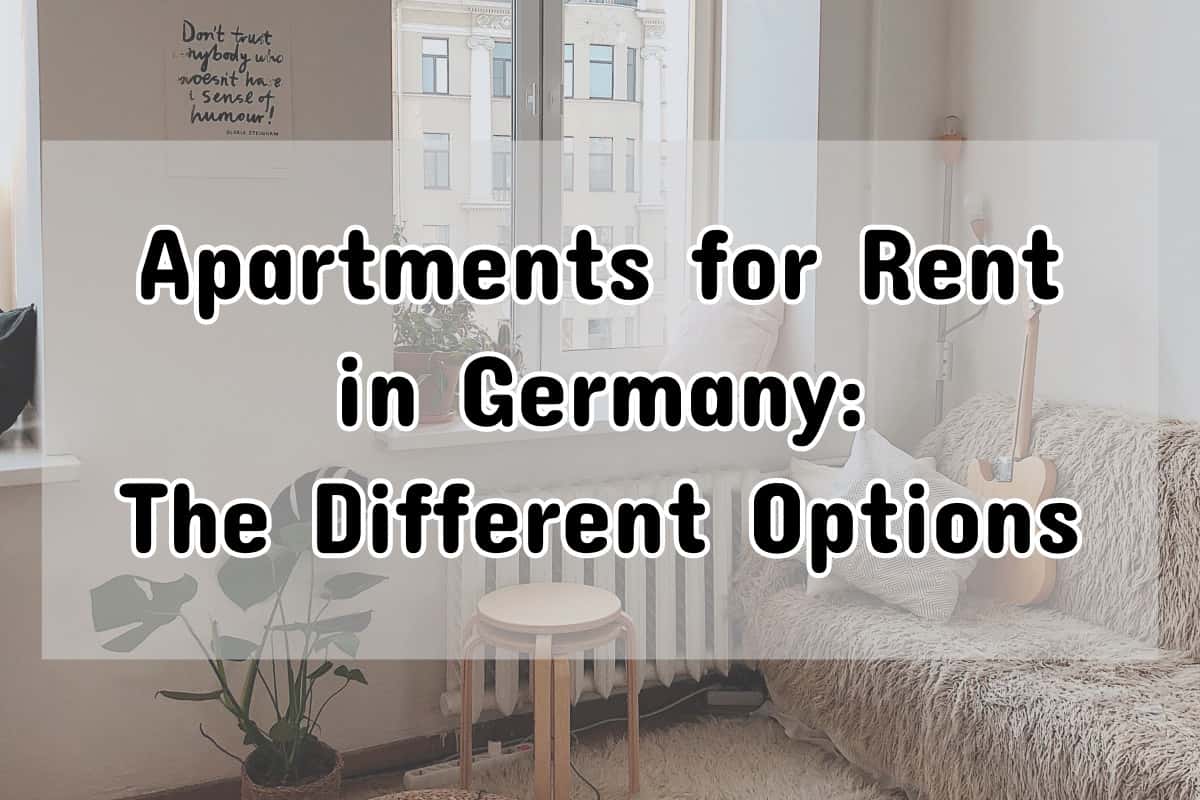 Serviced Apartments
Typically a serviced apartment will be the best option for someone looking for apartments in Germany who intends to stay for a relatively short period of time, especially if cost is not the primary concern. If you are being seconded to Germany for a few months and your employer is covering your living expenses, this is a much better option than being stuck in a hotel.
A simple Google search for "möblierte Wohnungen" (furnished apartments) or "Wohnen auf Zeit" (temporary accommodation) will give you plenty of different companies offering serviced apartments for rent in Germany, in whichever city you're looking .
However, if your employer isn't covering the cost, you will probably find a fully serviced apartment from a specialist, professional company out of your price range. Renting a furnished apartment from a private landlord is most likely your better option…
Nationwide, Homelike is one company which seems to cover the whole country and specialises in offering furnished apartments for short-term business travellers and temporary accommodation.
Furnished Apartments & Short-Term Lets
Somewhat cheaper but not as hassle-free as a serviced apartment, next on the list is a furnished apartment provided as a short-term let. As opposed to concierge apartments, these are typically flats which are rented from a private landlord, sometimes with the help of an estate agent or relocation service which takes a commission (which the landlord is liable for – see note below on commissions).
Typically a furnished apartment will have beds, wardrobes, white goods, a fitted kitchen and a sofa. It won't usually have those items which come in a serviced apartment such as towels, pots & pans, TV / DVD player etc. These will be more expensive than a standard apartment but would normally have a janitorial service (Hausmeister) on call without having to go through the landlord to get small maintenance jobs done.
Home Company operates nationwide offering furnished apartments and short-term lets. Whereas Nestpick is essentially a search engine which aggregates offers from partners elsewhere on the internet into one convenient place.
Many other operators abound at city and regional level. Google is your friend.
Short-Term Subletting
If you're on a tighter budget (the above solutions are more geared towards business executives and those on higher incomes who just need somewhere to stay in the short-term while figuring out their next move), then short-term subletting is probably your best bet while you find your feet and evaluate the options regarding longer-term apartments for rent in Germany.
Finding a sublet as your first housing option in Germany is often a great idea, as long as you take the necessary precautions. Finding an apartment proper and signing a contract in your own name can be pretty tough in cities where demand for housing is high.
Why? Because you have no credit history in Germany or references from previous German landlords. Therefore if a landlord can take his pick of several potential tenants then sadly, you're unlikely to be top of the list.
The main difference between subletting and the above options, other than cost of course, is that you would pay rent to the current tenant in most cases and you would have to deal with any maintenance issues yourself through their landlord. You should expect to save some money by transacting directly with the person who is subletting the apartment, rather than having to go through an agency. At the end of the day, if a landlord has to pay an agent, then most likely you will pay for that indirectly through a higher monthly rent.
Because subletting is usually a win-win situation, there may be some negotiation potential here. Sublets typically occur when someone leaves a property for a temporary reason (taking a sabbatical from work, travelling the world, moving with their partner on a trial basis etc), but they still want to hang onto their old appartment as a back-up plan should they wish to return.
Therefore, if a tenant is looking to sublet for a relatively short period, the opportunity cost of him/her not being able to find somebody to sublet to is that they have an empty apartment for a certain period of time that they will have to foot the bill for whilst they are away. It's therefore worthwhile trying to negotiate them down a bit, unless there are several people interested and the apartment / room is in a very popular and sought-after area.
The golden rule here is to ensure that the person subletting has permission from their landlord to sublet.
There are countless tales of woe on Facebook groups and expat forums about people being ripped off by landlords or tenants whom they are subletting from. Approach this from an automatic sense of caution rather than an automatic sense of trust. Maybe this sounds harsh, but if you're subletting cash in hand, no questions asked, then in the eyes of the law, you have no rights.
Buyer beware!
If necessary, ask the person you are considering subletting from for a copy of their rental agreement. Check this with a friend, colleague or lawyer. Ask for a letter or email from their landlord proving that he/she has consented to them subletting. If their contract does not permit them to sublet, in the worst case, you could find yourself evicted by the landlord, having already paid out your rent money up front to the person who has (illegally) sublet the apartment or room to you.
Sublets are usually found in Facebook groups, expat forums, co-working spaces. what's-on magazines and their websites and, especially in university towns, on notice boards in popular bars and cafes.
Finding a sublet before moving to Germany will probably be difficult unless you already have some contacts or can speak pretty good German.
Standard Rented Apartments
Standard, unfurnished apartments are the most common form of apartments for rent in Germany.
The problem which most newbie expats face is that unfurnished really does mean unfurnished. That means no light fittings, no curtains, no white goods, no fitted wardrobes…and the killer which you may already have heard…often no KITCHEN!
The leading search websites containing the most listings are:
There are others but most of them are powered by the search algorithms of those listed above. Indeed, Immowelt is also the parent of Immonet. These sites all have detailed search functions and primarily cover the market for "standard" apartments i.e. those which typically are unfurnished and are not shared accommodation or short-term lets.
On all of these sites, in almost all cases you will see a price for "Kaltmiete" and "Warmmiete". Miete is the German word for rent. Kalt (cold) is the price of the apartment without any bills or service charges (which are known as Nebenkosten). Warm is the total cost including everything covered by the apartment building's service charge. On top of this, you will still need to factor in electricity, phone, internet and cable TV. You as the tenant have the choice regarding the provider.
Top-floor attic apartments are usually a little cheaper: They can be hot as hell in summer and are also less attractive if there's no lift in the building. Ground floor apartments are also cheaper, due to them being easier to break into and in general having less privacy. If you're cool with either of these options, it will expand your choice because many Germans will automatically exclude these from their search.
In large cities, buildings with allotted parking or an underground garage are very sought after. New builds, as well as flats with large balconies and bathrooms with windows, also usually command a premium.Once you've secured an apartment, make sure you also remember to get covered with some home contents insurance.
We recommend Coya

and Lemonade

. They are both distruptive startups who have entered this space, offering fully flexible home contents insurance, without the need to sign a long-term contract.
Renting Rooms In Shared Accommodation
A shared house or flat is called a Wohngemeinschaft, or WG for short. Your best best for finding shared accommodation is the website WG Gesucht which has a search function in English. Typically you will have communal use of the kitchen, bathroom and living room (if there is one…often in student flat-shares there is not). Electric, water, heating and other communal charges such as garbage collection, external maintenance etc are usually split evenly, whereas the rent itself is usually dependent upon the size of your room in relation to the others in the apartment.
If you are studying, or are happy to live with students, you can also check out the studenten-wg or wohngemeinschaft websites, bulletin boards or the university's own intranet. Most Germans with a university education will be able to speak enough English to converse with you by whatsapp or email if you enquire. Furthermore, because a lot of Germans are very aware of how essential English is in the corporate world, you being a native / fluent English speaker may well be seen as a positive characteristic of a prospective housemate!
Flat-sharing is less common in rural areas and small towns. Whilst popular in large cities and among students, it is not common nationwide. The most obvious reason for this is the demand vs. supply equation and thus affordability. There are lots of good quality, affordable studio and 1 bedroom flats available for long-term rent, unlike in the UK. Secondly, young Germans will typically opt to live with their parents for longer until they can afford to rent a place on their own rather than flat-sharing. It's a subtle cultural difference which manifests itself in there being more one-person households in Germany among the younger generation than other comparable nations.
Service Charges
Serviced apartments and short-term lets will almost always show the monthly rent including all service charges. The same can generally be said for renting a room in a shared flat or house and for subletting from an in-situ tenant. As explained above, this is known as Warmmiete.
In most cases, standard apartment rentals will be shown as the basic rent (Kaltmiete), with an estimate of what the service charges will be. This, however, depends upon how much water and heating you consume and is usually based on the previous calendar year. A family of 4 will obviously use more utilities than a single person, so it's worth enquiring who the previous tenants were to gauge how accurate this is!
For a more detailed review on service charges, we have put together a separate blog post to explain the annual service charges statement, known in German as either the Betriebskostenabrechnung or Nebenkostenabrechnung. 
Commissions
A quick note on commissions. Previously, there was an INSANE system, whereby the prospective tenant had to pay the agent's commission, which was typically 2 months' rent. Non-Germans just could not get their head around this concept.
A letting agent, clearly acting in the interests of the landlord he was commissioned by, billed the tenant for a successful conclusion of the rental agreement. This was also one of the biggest tax fiddles in Germany. As these commissions were usually requested in cash, it doesn't take a genius to assume that lots of these transactions would simply be "forgotten" by the agent when they submitted their annual tax return.
Not really any surprise that real estate agents had a pretty bad reputation and were seen as parasites because of the huge commissions they earned for doing relatively little, especially in areas where apartments pretty much rent themselves due to location and supply shortages.
This all changed with a new law which came into force on 1 June 2015 and is colloquially known in German as the "Bestellerprinzip", roughly translated as "contractor principle".
The landlord now has to pay any letting agent's commission, which brings Germany in line with pretty much every other developed nation.
Whilst this means that up-front costs have reduced for the tenant, one must also draw the conclusion that the landlord will, where possible, try to amortise the cost of this service into the rent he/she is charging. Technically speaking, he/she can't legally do this but in reality, how else are they going to recover this cost and how can you prove a landlord has factored this into the rent being charged?
A byproduct of this change in the law is that agents are now less flexible with arranging specific appointments at the tennant's convenience, and may now push for more group viewings instead. Now that the prospective tenant is no longer seen as being the agent's customer, insofar as he is not paying the agent's commission, the real estate agent is in most cases just going to do whatever makes their life easiest.
If any landlord tries to get you to pay a finder fee or is openly amortising this fee into the monthly rent, they are scammers and you should avoid them like the plague.
NOTE: For buying apartments and houses, it is still the norm that the Buyer pays the estate agent's commission.
For those of you considering purchasing somewhere, we've already covered in another article the basics of mortgages in Germany.
Looking for helpful content on another topic?