Moving to Germany and finding a regular job isn't easy.
Yes, the immigration laws are quite liberal if you're a skilled professional with relevant work experience and a degree level education.
But while this is all well and good in theory, it's meaningless if you don't have a job offer.
To get an EU Blue Card or a standard work permit, you need a job offer to begin with.
And if you don't speak at least intermediate level German, getting that job offer is going to be tough, unless you work in the tech industry, or another STEM-related profession.
So, what if you're not a software developer, a cybersecurity expert or some or other highly specialised worker?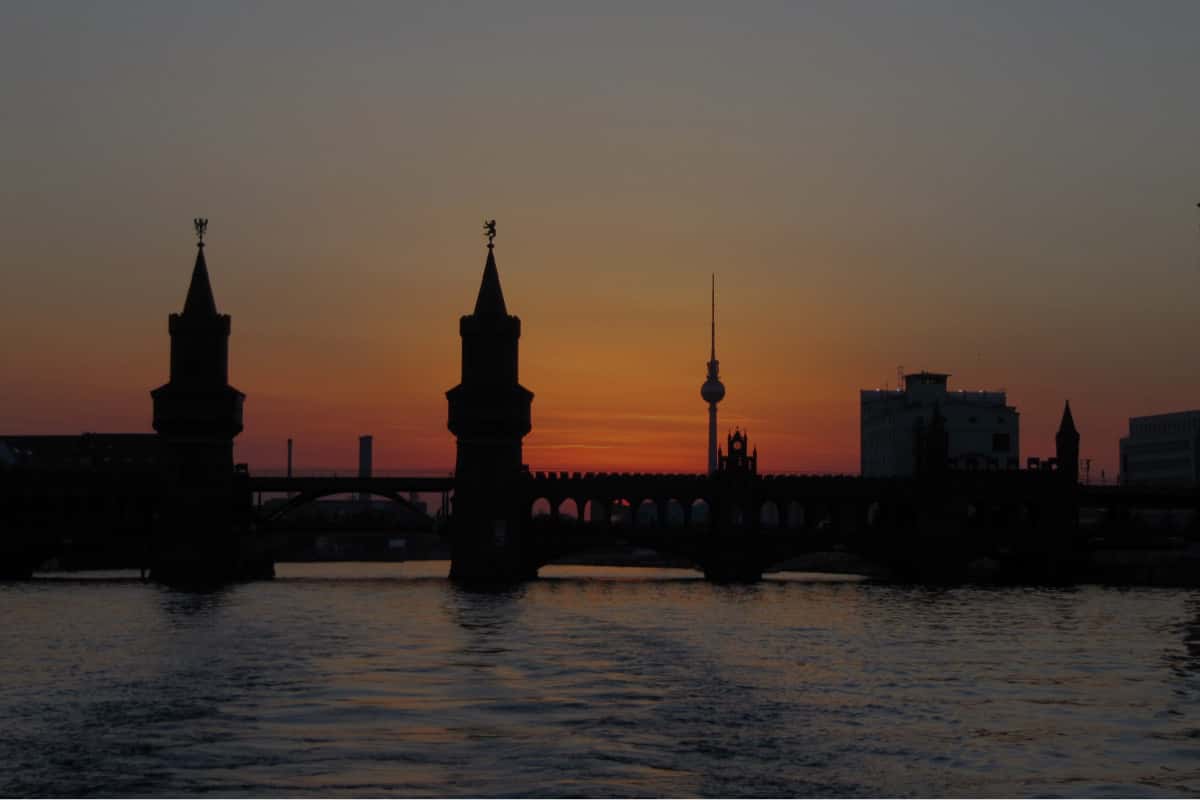 No Job Offer or Language Requirement Necessary for the German Freelancer Visa
Well, there's another way.
The residence permit allowing you to work as a freelancer in Germany is the easiest route for anyone who doesn't have qualifiactions or work experience in the types of professions that the Germans have skills shortages for.
If you're not one of the fortunate ones, and you're also not an executive in a multinational company who has the opportunity of an expat assignment, then don't despair!
Being self employed in Germany is an incredibly attainable way to move to Europe and tick all those cities off your bucket list!
Let's ignore the residence by investment and "golden visa" programs which are aimed at high net worth individuals. They're likely irrelevant to you.
I'm assuming you're earning a solid, middle class wage in your home country. Maybe as  an employee or perhaps you're running your own freelance / small business.
Are these skills marketable and can they be performed remotely? Or can they easily be performed on the local economy in Germany?
Then the German government is happy to welcome you to live and work in Germany as a freelancer.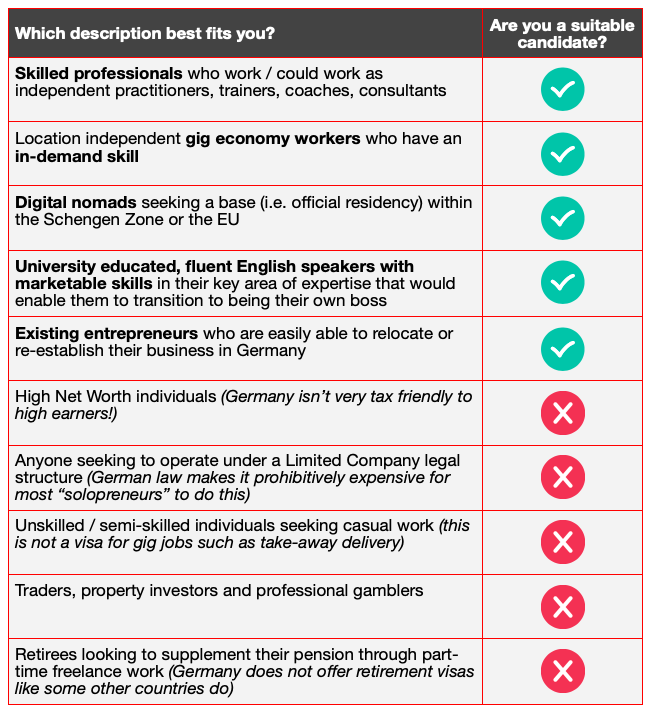 Unlike entrepreneurial or startup visas for many other developed countries, the bar for gaining a German residence permit for self employment isn't set unrealistically high.
Sure, they definitely want startup founders and innovative entrepreneurs with some capital to come too.
But they also realise that young(ish), healthy, energetic and hardworking individuals, who can earn money without being dependent upon an employer, are highly likely to be an asset to the economy.
In very simplistic terms, the German government will want to see evidence of the following before granting you a Freelance Visa:
Adequate health insurance
Enough money in the bank to support yourself until your business is sustainable (or some kind of guarantor if you don't)
A track record of successfully running a small business, or;
A business plan that's convincing enough to persuade them you're smart enough to start from scratch
Yes, there are other requirements you'll have to comply with too, depending on where you're applying for your residence permit.
Let's not forget that this is Germany – the land of the infamous red tape.
But fundamentally, the above 4 criteria are what they will scrutinise when considering applications for the Freelance Visa Germany.
As long as you comply with the administrative requirements wherever you're applying, and can prove that you tick all the boxes above, then you shouldn't have too many issues obtaining a residence permit to be a freelancer or self-employed in Germany.
Where to apply?

This depends on your nationality.
Citizens of these countries may apply within Germany during their 90 day visa-free stay as a tourist:
Australia
Canada
Israel
Japan
New Zealand
South Korea
USA
Your application will then need to be submitted to the Ausländerbehörde (office responsible for dealing with the affairs of foreign nationals) in the municipality where you're residing.
If you're a citizen of any other non-EU/EEA country, then you must apply to the German diplomatic mission in your home country.
The only exception is if you're legally in Germany on another visa or temporary residence permit i.e. job seeker visa, language student visa.
You can't apply on a tourist visa unless you have a passport from one of the 7 countries mentioned above.
Make sure in all cases that you allow plenty of time for your application to be processed. Especially if your application is sent for further review, it can take 3-4 months in some cases.
What's required for my application?
Applications may be treated differently, depending on where you're applying and also based on what category you fall into.
Each of these could necessitate slightly different requirements, based on your individual circumstances. Which one of these are you?
Artists / Performers
Traditional freelance professions
Small businesses / sole trader businesses
Let's take a simple example.
Artistic photographers (artists) aren't going to have a solid business plan at their fingertips, whereas wedding photographers (traditional freelancer) would be expected to provide this because they're clearly a business with fairly predictable revenue.
WHAT HELP CAN I GET TO APPLY FOR THE FREELANCE VISA GERMANY?
Advantages:
It's cheap
You'll learn a lot along the way if you enjoy the challenge of learning by doing
Disadvantages:
A lot of content on the internet is incorrect, out of date, or is a personal narrative of someone's own experience.
Advice on Facebook Groups, blogs and YouTube is only really suitable for general orientation purposes.
It will end up being more expensive  if you have to hire an expert to help put right your mistakes, or even worse, if you get into trouble with the taxman.
Advantages:
You have an actual human you can speak to who understands the system and is available to offer advice.
Disadvantages:
It will cost you anything between €500 and €1,000
A lot of what they will give you are just templates. You won't get detailed 1:1 consultations unless you pay a premium.
Most of them are Berlin-based, and they typically don't know the system and the requirements elsewhere.
3. Take our Online Course
Advantages:
A fraction of the price of an Agency, without any significant downside
You get all the templates for the important stuff like letters of intent, German-style CV format, motivational letters, revenue projection
Save yourself the worry and anxiety of not knowing whether you've ticked all the right boxes
Disadvantages:
As a virtual business, I don't offer in-person 1:1 support (although I do offer consultations via Skype for anyone who wishes to purchase this as an add-on to the course!)
Is this only available in Berlin?
It's a common misconception that this is only applicable to Berlin.
This, my friends, is an urban myth.
Immigration law in Germany is federal law. One city or state cannot make its own rules. Make no mistake. All residence permits are available nationwide.
The only anomaly is that Berlin is so used to dealing with these applications (because they get so many) that the experience of dealing with the Landeseinwanderungsamt (the department that deals with immigration affairs) in Berlin will likely be somewhat more predicatble. It's a well-trodden path.
The German residence permit law which these requirements are enshrined in is found in Article 21 of the Act on the Residence, Economic Activity and Integration of Foreigners in the Federal Territory.
Why is there so much conflicting information?
Because everybody's application and circumstances are different.
The key factors which will determine your own experience will depend on:
Where you apply
Which one of the above sub-categories you belong to
For granting residence permits in Germany, there is no central government department which processes them. It's all done at the municipal level.
The municipalities must obviously comply with the law, but the law is quite opaque when it comes to specifying the actual documents that are required for the application.
Throughout Germany (and its overseas diplomatic missions) the same residence permit form is used. But the questions you get asked at interview and the documents you get asked to provide will differ.
If you want to get an idea of what you may be asked to provide, depending on where you're applying, you can grab our FREE checklist below!
How long does it take?
Haha, the million dollar question.
Firstly, it depends which one of the 3 categories above you fit into.
Secondly, it depends on where you're applying for your German freelancer visa or self employment visa.
If you're an artist / performer or you belong to one of the traditional freelance professions, then the application is much faster.
The freelancer visa in Berlin is typically granted on the same day, assuming all your documents are tickety boo.
Smaller municipalities on the other hand may in some cases need to send your documents to the regional capital for processing.
Applying from a German diplomatic mission overseas will naturally mean the whole process takes longer, because applications are sent to Germany.
If you're unlucky and fall into the third category of small businesses / sole trader businesses, then your application will likely take around 3 months. This is because these applications have to be sent to the Federal Agency for Employment for them to sign off.
What they will typically check is how your activity could impact, i.e. benefit, the local economy of the region where you're applying. If this sounds daunting, don't worry. If your business plan and revenue projection is solid, it's unlikely you'll be denied.
Looking for helpful content on another topic?