Opening a a bank account when you arrive in Germany will be one of your top priorities. You need one to get your salary paid, to withdraw money without being charged ATM fees every time, and to set up direct debits to pay your bills.
It's something you'll ideally need to get sorted during your first few weeks here.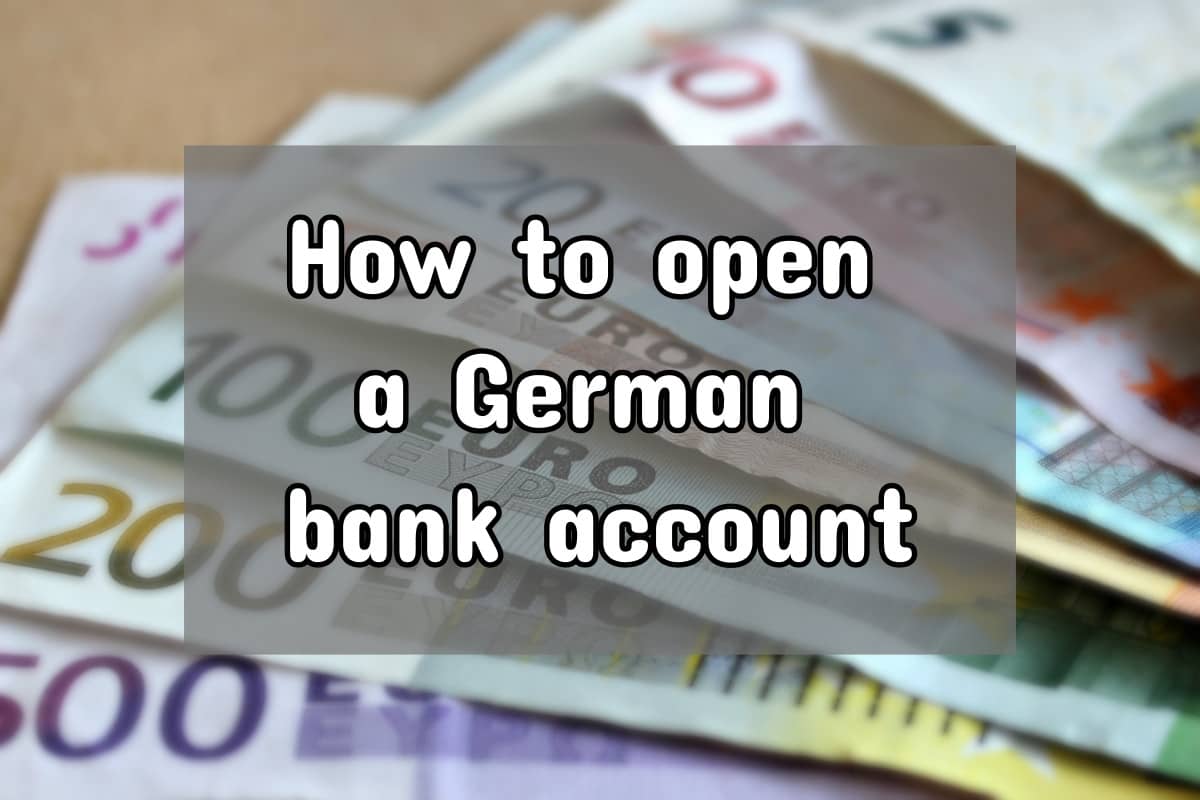 How to open a German bank account for expats
The choice you have when considering which type of account can be bewildering, and there are many poor deals out there.
Many banks actually make you pay them for the privilege of you having an account with them. Unthinkable in most English speaking countries!
In this article, we walk you through the different types of banks and the process of how to open a bank account in Germany.
Our other related articles give a comparison of the 4 most popular banks for expats.
An easy alternative to seamlessly get up and running
Transferwise offers a great alternative if you need banking facilities in Germany but aren't able to open a German bank account due to no Meldebescheinigung to prove your address in Germany.
In major cities like Berlin or Munich where housing is in short supply, you may end up spending months in temporary or sublet accommodation.
It can be difficult to open a German bank account without your anmeldung, or proof of address.
The Transferwise multi-currency borderless account is your solution and it acts just like a bank account in many ways:
Receive your salary (you get a German IBAN number so your employer will treat it the same).
Make bill payments and receive money in Germany
Hold a balance in multiple currencies at the same time.
Transfer money between different currencies at no commission or fee.
No traditional bank in Germany offers this!
They also provide you with a pre-paid MasterCard, allowing you to make everyday purchases, as well as commission-free purchases in multiple currencies.
The main differences vs. a regular bank account are that you can't set up direct debits, standing orders or have an overdraft facility.
First of all, here's a rundown of the 3 main types to choose from:
Sparkassen & Volksbanken
These are local banks, with a strong focus on small and medium-sized businesses, regional economic development and long-standing customers. The Sparkasse open bank account is one of Germany's most popular. In UK terms, they are similar to building societies, whereas in US terms, they are similar to credit unions.
While the Volksbank or Sparkasse brands and logos are the same nationwide, each regional / city Sparkasse or Volksbank operates as an independent entity.
So while there are some standardised products and services offered across the whole network, but each bank is its own legal entity and thus determine their own set of charges and T&Cs.
Both of these chains have large branch networks, stretching into city suburbs and also operating extensively throughout rural areas. Don't expect to pop in there at lunch time or on Saturday morning to do your banking though…
Nationwide Banks with Branch Networks
These "big boys" tend to have a stronger focus on wealth management, real estate and investment banking.
All of these banks will have you covered if you're keen on using your bank for more advanced products and services such as stock, options, currency or futures trading, or investment funds. The major players who fall into this bracket are:
Deutsche Bank
Commerzbank
HypoVereinsBank
Postbank
Their branch networks are less dense than Sparkassen and Volksbanken and tend to be concentrated in larger towns and cities, usually in the centre or in the larger suburbs.
Online and App-based banks
Just like most other European countries, Germany has a wide selection of banks operating exclusively online.
Online banks typically have lower charges than brick-and-mortar banks, and telephone customer service is usually available for longer hours than banks with a branch network.
Because these banks do not have branches of their own, if you need to withdraw cash they usually offer one of these two options, sometimes even both:
Option 1:
They partner up with, or are part owned by one of the traditional banks, meaning that customers can use their cash machines free of charge.
comdirect bank, for example, is a partial subsidiary of Commerzbank, and thus their customers can use the network of ATMs owned and operated by the Cash Group alliance.
Advantage being it's just like using a normal brick-and-mortar bank in that sense.
Option 2:
Through their issuance of a MasterCard or Visa, they offer free withdrawals to their customers using their credit cards at any cash machine which has the Visa or MasterCard logo, which in Germany is pretty much any international ATM i.e. any major bank plus local Sparkassen and Volksbanken. It's then debited typically at the end of each month automatically from your account.
DKB  for example does this.
Great in that you can use a much bigger network of ATMs without charges. Not so great if you're bad at managing money and want to keep track real time of what you're spending.
Verifying your identity: PostIdent or Video Call
For those German bank accounts which operate exclusively online, there is no way during the application process that you are able to physically verify your identity.
Online banks used to use the PostIdent facility for this, where you would go to the post office and show your passport to a clerk, who would then sign and stamp a form and send this off to the bank.
Most online banks nowadays use various third-party apps and services to verify your identity via video call through your smartphone or laptop's camera.
N26, comdirect and DKB use this method.
The video chat function is done by means of a smartphone app for iOS or Android.
There are a few players in the market offering this which act on behalf of the bank.
It's an outsourced service in most cases.
Why has my application to a certain bank been rejected?
A common frustration in the process of how to open a German bank account is that some banks may refuse to accept applications from foreigners who have just arrived in Germany.
There is are 2 simple reasons for this:
Some accounts, as part of their terms and conditions of being free-of-charge, stipulate that you must have a monthly salary being paid in. If you don't have a fixed employment contract, that's obviously not possible.
Others simply may want to see some credit history before they will accept you.
If the institution offering the most suitable account for your requirements rejects your application, wait for a few months or a year, then try again.
If this scuppers you, then go with Transferwise's borderless account and use this while you build up a credit history.
Is it free to withdraw cash from anywhere?
Unfortunately, no it isn't.
German banks do not have an agreement or understanding that their customers can use each other's ATMs for free.
There are 4 main networks of cash machines:
Volksbanken
Sparkassen
Cash Group (Deutsche Bank, Commerzbank, HypoVereinsBank and Postbank)
Cash Pool (an alliance of mainly foreign-owned banks, as well as some smaller German players).
In small towns and villages, there will often only be a Sparkasse or a Volksbank ATM. Fees usually range from €3 to €5 if you use an ATM which is not part of your bank's network or alliance.
Therefore the advice is: if you're travelling into the boonies for a long weekend (hiking, spa, ski trip, camping), grab cash before making the trip to avoid being stung by ATM service charges.
Will They Provide Customer Service In English?
Of course, as a new arrival, it's perfectly understandable that you probably can't speak fluent German.
N26 offers their App in English automatically if this is the operating language of your smartphone.
Deutsche Bank generally has English speaking staff in their branches in major cities.
Commerzbank also has an English language app.
Other than that, when opening a German bank account, you're very restricted in this regard.
In most cases it's down to good fortune whether there is an employee in a branch or on the other end of the customer service phone line who speaks English.
Which bank should I go with?
Well, that depends on a few criteria.
Definitely check out our article where we compare the most popular choises for German bank accounts for expats.
Before you do though, it's worth considering what is important to you as a customer.
Do you want access to a branch network?
Do you want to do more or less everything on your smartphone or tablet App without having to log in on a computer?
Do you want to have your credit card with the same institution as your main bank account?
Do you have a regular salary which will be paid in?
Do you want other services from your account?
This will influence the choices which are out there.
If you want access to branches, low overdraft charges, or the ability to have an account for casual use rather than somewhere your salary is paid into, this is going to limit the choices you have.
All retail banks have to make money from something at the end of the day.
Disclosure: Some of the links contained in this article are affiliate links, meaning we receive a small commission for any sales which result from these clicks. This does not in any way affect the price you pay for of any of the products or services. Thank you for supporting us - we appreciate it!
Looking for helpful content on another topic?