Whether you're looking for part time work, or full time employmnet, virtual job boards are the best place to start your job search.
Traditional outlets such as newspaper ads, or postings on corporate websites' career pages, are dwindling in popularity due to scarcity of talent and the war to hire the best candidates.
Having their ad seen everywhere is key, both for internal HR managers and specialist recruitment firms alike.
Here are the top 10 job portals in Germany (based on monthly traffic) from Crosswater Job Guide's statistics:
1. Indeed
2. StepStone
3. Arbeitsagentur
4. LinkedIn
5. Meinestadt.de
6. Jobrapido.de
7. Kimeta
8. Xing Stellenmarkt
9. Monster Deutschland
10. Stellenanzeigen.de
We go into each of these sites in more detail below, to give you a more focused strategy of where to look, how they differ from one another and which ones are the best for some of the specifics you may need.
If you're looking for specific advice on job searches in Berlin or Munich, then check out the articles below.
Finding an English speaking job in Munich
Finding an English speaking job in Berlin
We've also covered more generic tips around searching for English speaking jobs in Germany too.
The Top 10 Job Portals in Germany (based on search traffic)
According to Crosswater Job Guide, there are over 1,200 active job search websites in Germany. You could easily become overwhelmed quickly without knowing where you're likely to get the most value from your search.
One thing that you'll need to do BEFORE you start applying for jobs in Germany is to ensure you have optimised your CV and cover letter according to the German format. If you haven't optimised your resume, then your application will almost certainly land straight in the trash.
1. Indeed
Indeed has grown exponentially over the past 10 years or so to become one of the most important jobs portals in Germany. Back in 2009, when I was looking to change my employer in Germany, Indeed was barely on the radar. Now, they get the most monthly search traffic in Germany.
The look and feel of Indeed is pretty basic. Honestly, I prefer the UX on most of the competitor sites, but Indeed also has some additional useful functions.
Indeed has also created a very useful crowdsourced database of employees' ratings of their employers. If you're considering applying for a position, even if it's not advertised on Indeed, it's definitely worth checking out this function just based on the sheer number of reviews on here.
Other than filtering by job title and location, you're also able to sort based on relevance of the position (based on the keywords you searched for) and date the position was advertised. There's no option unfortunately to search by language of the job ad.
You can also upload your CV and store this inside the platform if you register, to save uploading each time you apply for a new job.
As a Mainz supporter, we'll overlook the fact that Indeed is the shirt sponsor of local rivals Eintracht Frankfurt…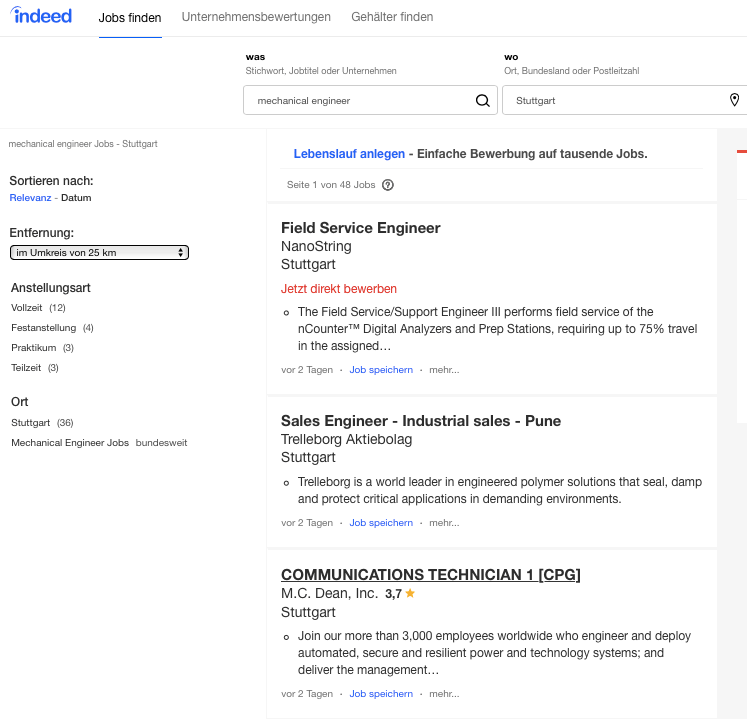 2. StepStone
Almost since looking for jobs on the internet became a thing, StepStone has seemingly been the front runner for job portals in Germany.
While Indeed may have pipped them when it comes to monthly visitors, I suspect you'll end up spending more time on StepStone's site simply because the experience is way more pleasant and there are some really neat features on here.
It's the only top job search portal that allows you to filter out job ads in English, without having to look at the more niche search engines which scrape English speaking jobs from other portals and job boards on the internet.
Furthermore, it also has a pretty detailed salary comparison tool, helping you get an idea of what the average salaries are for the roles you're interested in. If you take the personalised survey, you'll get an output which takes into consideration the location of the job, your relevant work experience and the seniority of the position.
Otherwise, the basic salary search by job title will give you a lower and upper range.
Just like on Indeed, you can register and upload your CV directly onto the StepStone platform.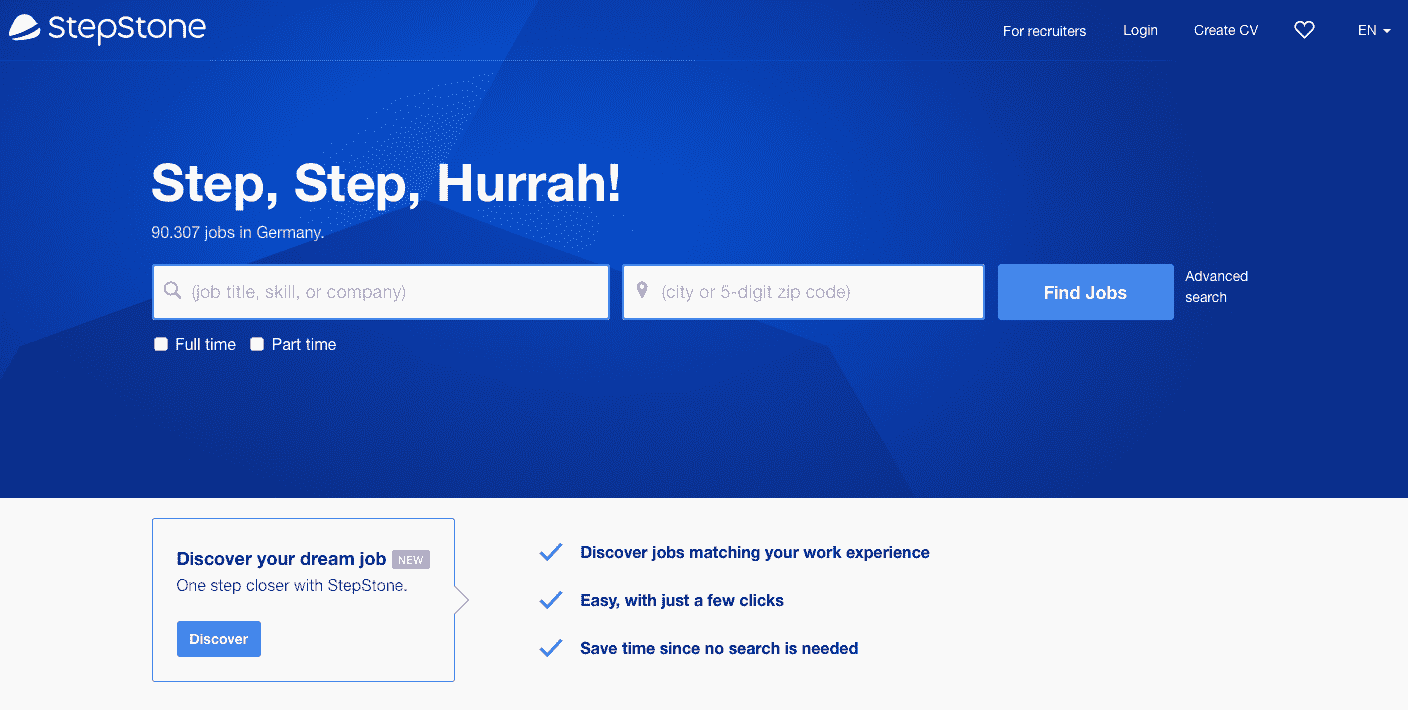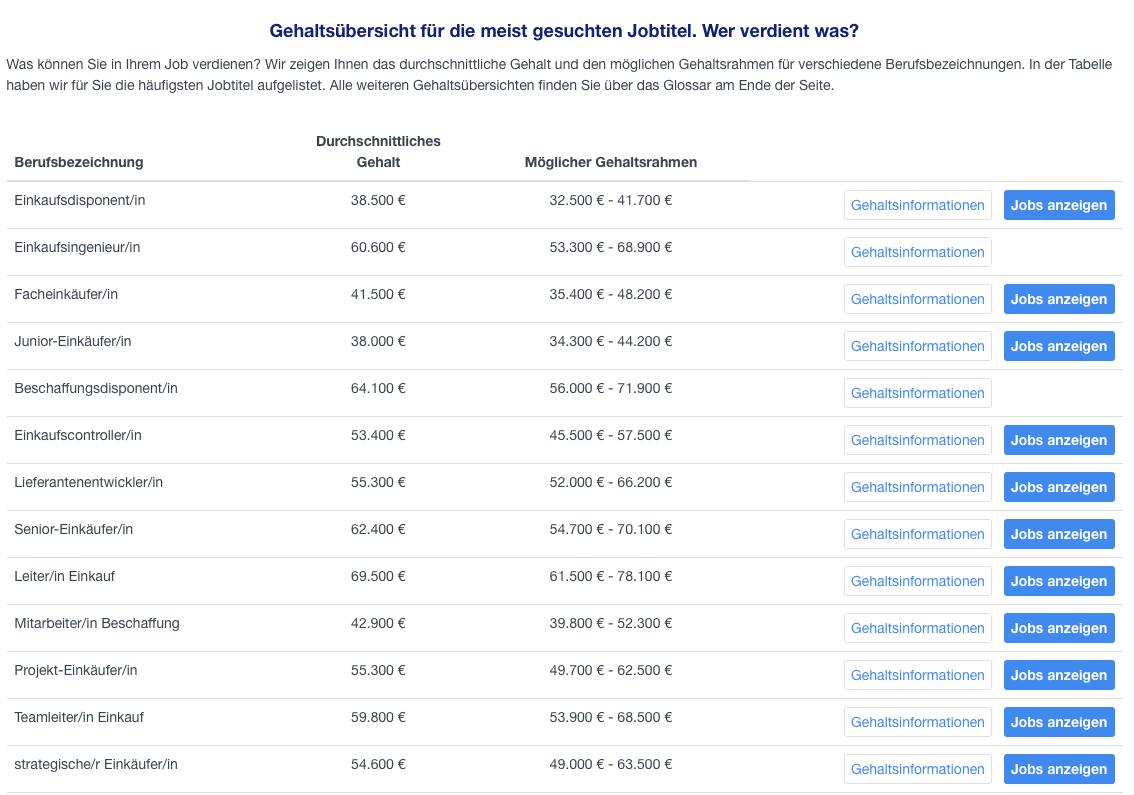 3. Arbeitsagentur
The Federal Agency for Employment (Bundesagentur für Arbeit) makes it into the top 3 with their own database of unfilled vacancies.
This one is the odd-man-out of the top 10 job portals in Germany: these are jobs which are actively posted by the job centre, based on companies who have informed them of their open vacancies.
As a government department, there is no active commercial model in play here. Consequently, the BfA's search portal also contains every conceivable job you could think of, from temporary, unskilled work right the way through to top managerial positions.
The site and portal itself has some English language functionality. You can navigate through the JOBBÖRSE in English. You can also search for open positions by entering English job titles, which will be automatically translated into German. Search results will then appear in German, too.
To submit online applications through the platform, you'll need to be registered in the Arbeitsagentur's system. Smaller companies who may not be able to afford paying for job ads on the bigger recruiting sites are the diamonds in the rough who you'll likely find through here.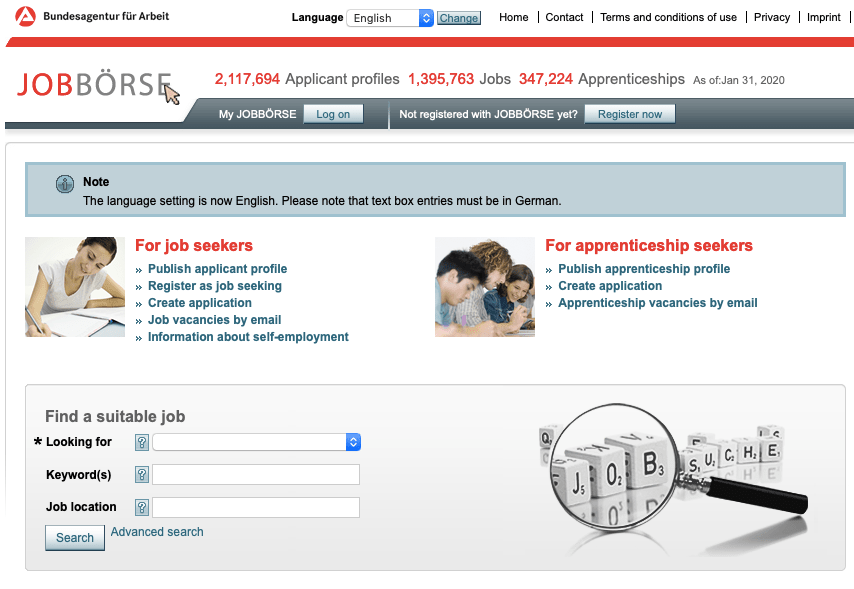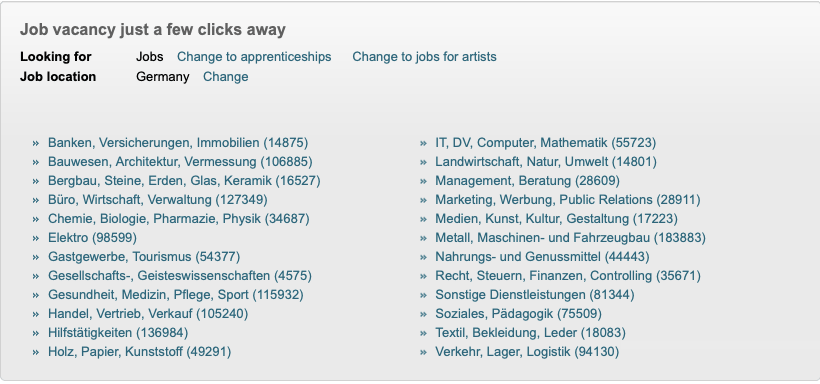 Job Seekers - Boost your chances of success!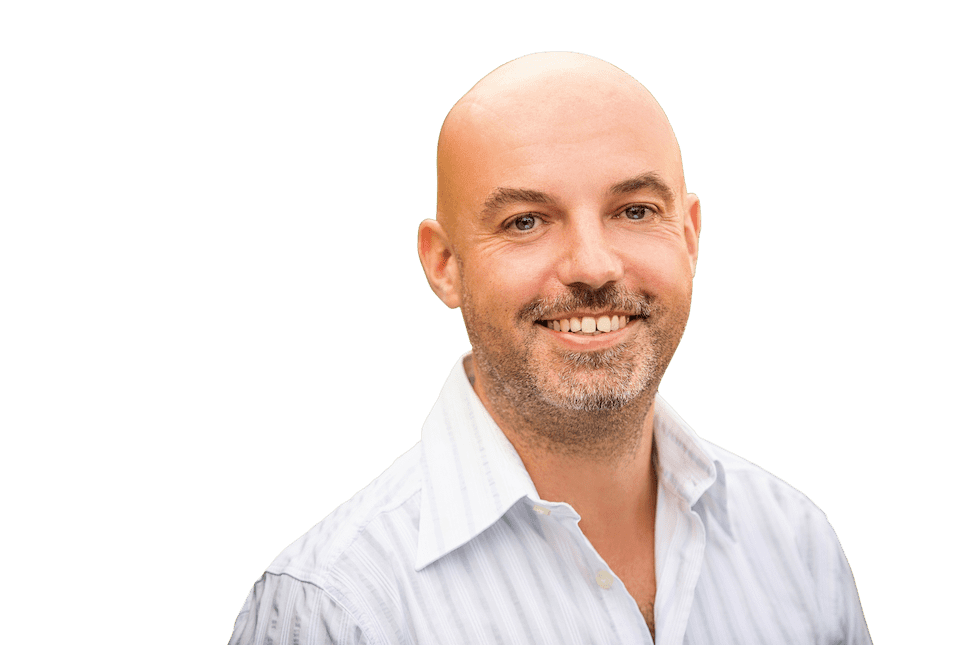 Looking for a job in Germany?
You need to have a stellar CV, cover letter and optimised LinkedIn profile.
Your international format CV won't cut it. Cover letters in Germany are also an art.
Our templates and my coaching for job seekers like you will help you to get more interviews!
LinkedIn
I've spoken about this before in our main article on how to find English speaking jobs, as well as the individual articles I put together for Berlin and Munich.
LinkedIn is GOLD for job seekers. It's like your online CV and personal record of achievement. LinkedIn may not be as popular in Germany as many other countries due to its domestic rival, Xing, but nonetheless it offers a huge opportunity to reach approx. 9 million active users in Germany.
What's more, because of Xing's presence and previous dominance within German-speaking Europe, I really see this as an advantage if you're an avid LinkedIn user. The content published tends to be a lot more English language driven as a result.
LinkedIn (perhaps unsurprisingly, given its parent company is Microsoft) is much better in my opinion than some competitor sites when it comes to search using relevant keywords.
Where LinkedIn really comes into its own though is through being able to find recruiters and headhunters in the industry you're seeking a job in. If a couple of them like your CV and experience, they'll do your work for you. They'll put you in touch with recruiting managers, help you with introductions to hiring companies and generally be like a virtual assistant for your job search.
Remember though, this will only happen if you're of some commercial value to them though…they're in it for the commission!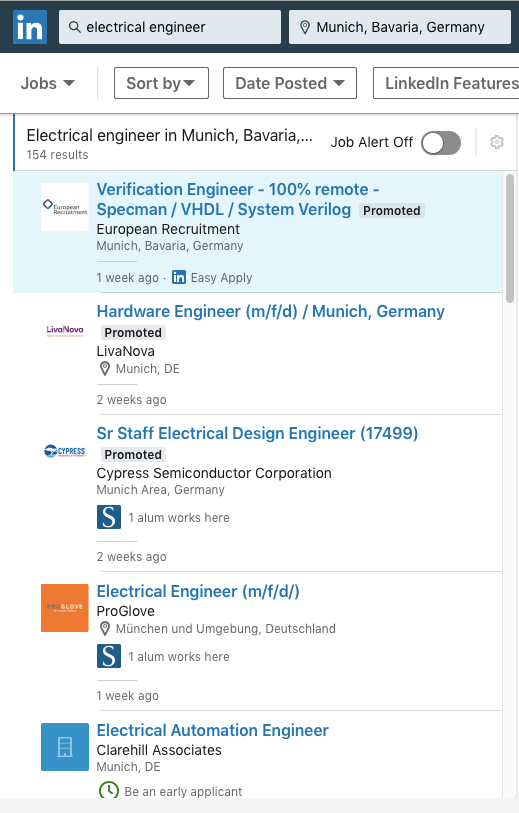 5. Meinestadt.de
This is the only one of the top 10 jobs websites in Germany (based on website traffic) which focuses primarily on jobs for non-graduates. If getting ANY job as a means to intensively learn German is your strategy, and you're focused on a specific location, Meinestadt.de could offer you some unique opportunities not found on the other sites.
It's also worth noting that Meinestadt isn't JUST a jobs portal (the clue is in the name), nor is it their primary focus. It's essentially a directory and a portal for your local area. As such, they also offer pages with property for rent, a dating portal and cars for sale.
Think of it as kind of a Craigslist or Gumtree equivalent in German.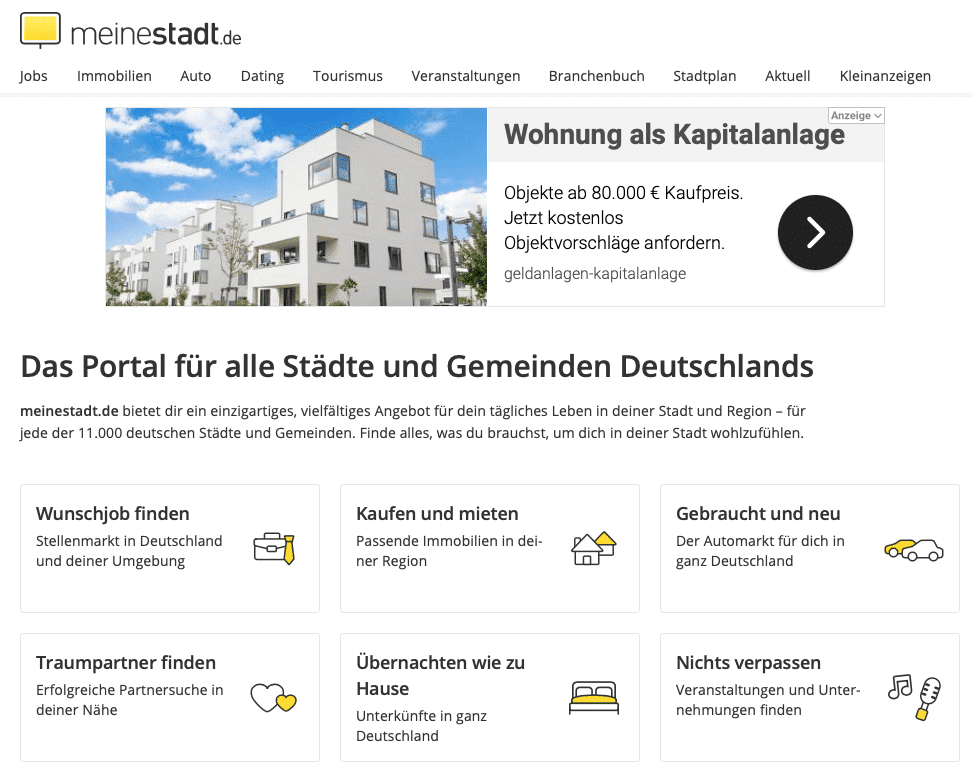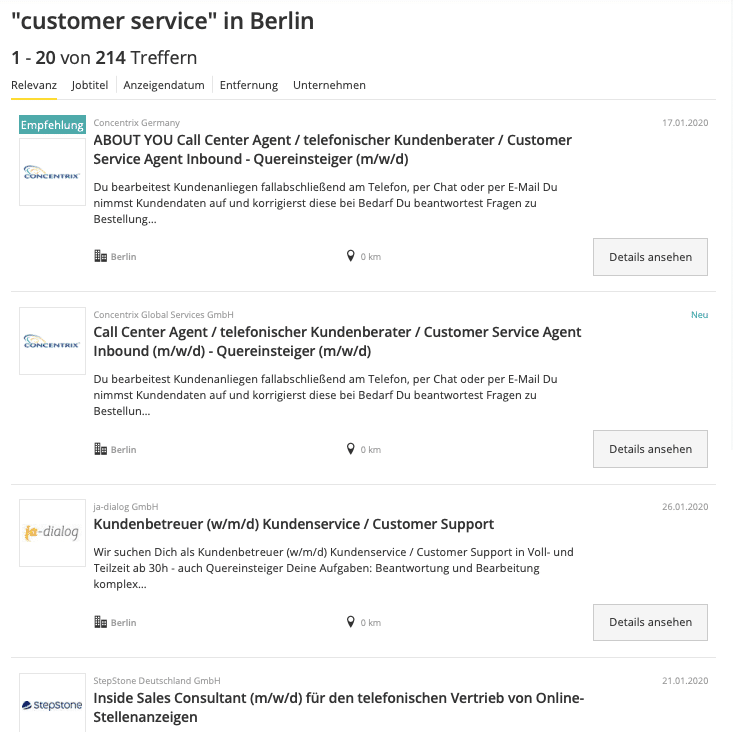 6. Jobrapido.de
The highest traffic jobs search engine, Jobrapido is definitely worth a look because it's not just a me-too version of the job marketplaces listed higher up in the rankings.
What's the difference between a jobs board / jobs marketplace and a jobs search engine site? Well, jobs marketplaces are typically responsible for their own content. Hiring companies or agencies pay them to post jobs, or the different jobs marketplaces syndicate each other's content.
Job search engines work a bit differently. They scrape the internet for job ads, and as such, they often feature different open positions than the job marketplaces. Their crawling technology has the ability to scrape job ads from companies' own web pages, so if a hiring company is not posting on one of the major job marketplaces, then you may spot some unique content on sites such as this.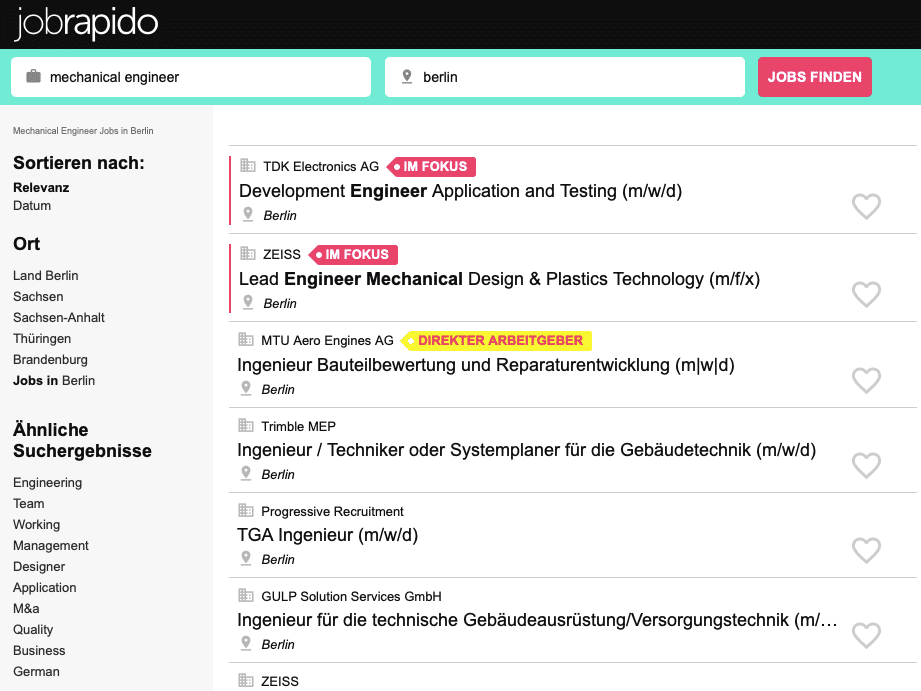 7. Kimeta
Similar offering to Jobrapido above, Kimeta is also a jobs search engine and has a very similar feel and UX. This and Jobrapido are the only search engines among the top 10 job websites in Germany.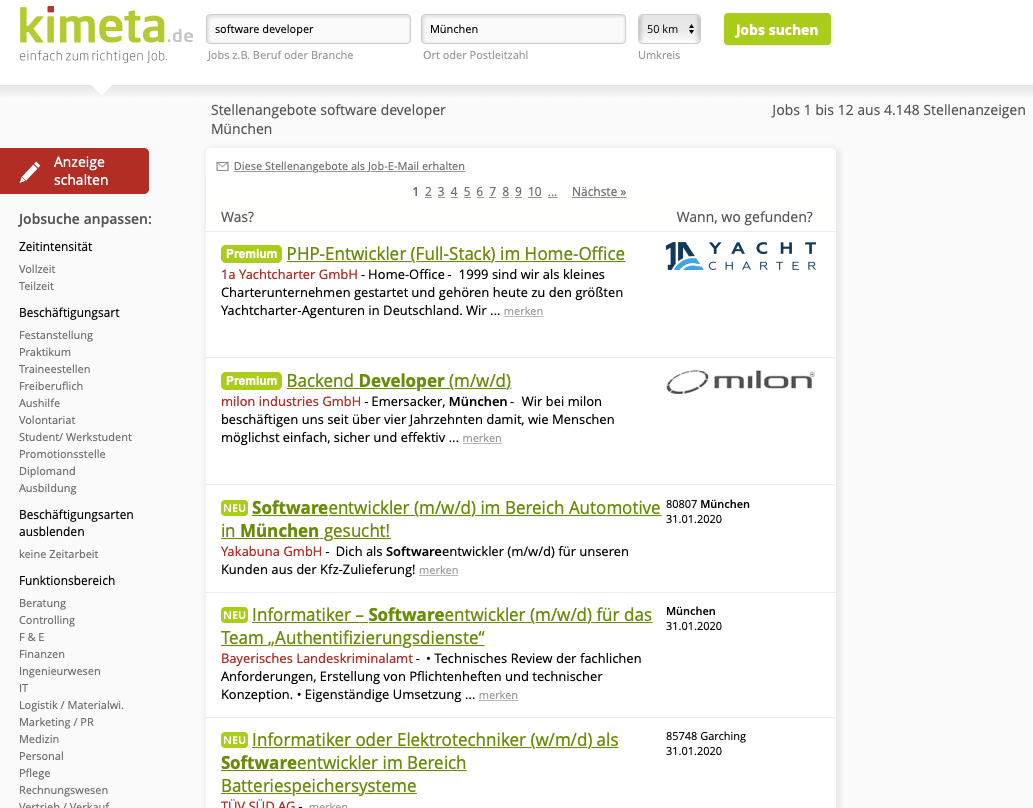 8. Xing Stellenmarkt
Xing is a native German competitor to LinkedIn and, up until recently, was only available in German. I suspect because they're under intense pressure from their huge American competitor, also in the German-speaking market, they have recently raised their game. Not only do they have their site completely in English as well as German, they have also made some significant improvements and invested heavily in their job search function.
The result is that it gets over 2 million page views and easily makes the top 10.
SaveSave
9. Monster Deutschland
When I first moved to Germany, this was one of the major players. Since then, Monster has fallen from the lofty heights it once enjoyed and these days is offering nothing special or unique. Chances are, if you've used StepStone or Indeed, you're unlikely to need to search for very long on Monster.
SaveSave
10. Stellenanzeigen.de
Another one worth a look, but again, unlikely to offer a hugely unique offering versus the major players. One cool feature with Stellenanzeigen.de, however, is their option to filter by popular companies. Great if you've specifically got your eye on a particular company who you'd love to work for.
SaveSave
BONUS SECTION
Experteer
Even though this isn't one of the top job portals in Germany by traffic or job postings, it deserves a special mention because German job ads typically don't indicate the expected salary range. This is especially annoying because you could risk wasting time applying for something below your expectations.
The advantage of Experteer is that it only advertises roles which pay above €60,000 per year. The downside is that it's a premium site costing €11.90 per month. But then if you're targeting a salary of over €60k a year, then stop being a tight arse and get your credit card out!
Because Experteer tends to play at the higher end of the market, there also tends to be more job descriptions in English.
Others
Two others worth a mention are Neuvoo and ZipRecruiter. Even though these don't make it into the top 10 based on monthly website traffic alone, they are both pretty big fish internationally. Therefore definitely worth a look, especially if you're seeking a job with an international company.
SaveSave
Looking for helpful content on another topic?