Virtual job boards are a boom industry which shows no sign of slowing down. Traditional outlets such as newspaper ads, as well as postings on corporate websites' career pages, are dwindling in popularity due to scarcity of talent and the war to hire the best candidates.
Having their ad seen everywhere is key, both for internal HR managers and specialist recruitment firms alike.
If you're looking for specific advice on job searches in Berlin or Munich, then check out the articles below.
Finding an English speaking job in Munich
Finding an English speaking job in Berlin
We've also covered more generic tips around searching for English speaking jobs in Germany too.
The Top 10 Job Portals in Germany (based on search traffic)
According to Crosswater Job Guide, there are over 1,200 active job search websites in Germany. You could easily become overwhelmed quickly without knowing where you're likely to get the most value from your search.
We've therefore broken down the top 10 players (based on monthly traffic) from Crosswater Job Guide's statistics, to give you a more focused strategy of where to look, how they differ from one another and which ones are the best for some of the specifics you may need.
One thing that you'll need to do BEFORE you start applying for jobs in Germany is to ensure you have optimised your CV and cover letter according to the German format. If you haven't, then your application will almost certainly land straight in the trash.
1. Indeed
Indeed has grown exponentially over the past 10 years or so to become one of the most important jobs portals in Germany. Back in 2009, when I was looking to change my employer in Germany, Indeed was barely on the radar. Now, they get the most monthly search traffic in Germany.
The look and feel of Indeed is pretty basic. Honestly, I prefer the UX on most of the competitor sites, but Indeed also has some additional useful functions.
Indeed has also created a very useful crowdsourced database of employees' ratings of their employers. If you're considering applying for a position, even if it's not advertised on Indeed, it's definitely worth checking out this function just based on the sheer number of reviews on here.
Other than filtering by job title and location, you're also able to sort based on relevance of the position (based on the keywords you searched for) and date the position was advertised. There's no option unfortunately to search by language of the job ad.
You can also upload your CV and store this inside the platform if you register, to save uploading each time you apply for a new job.
As a Mainz supporter, we'll overlook the fact that Indeed is the shirt sponsor of local rivals Eintracht Frankfurt…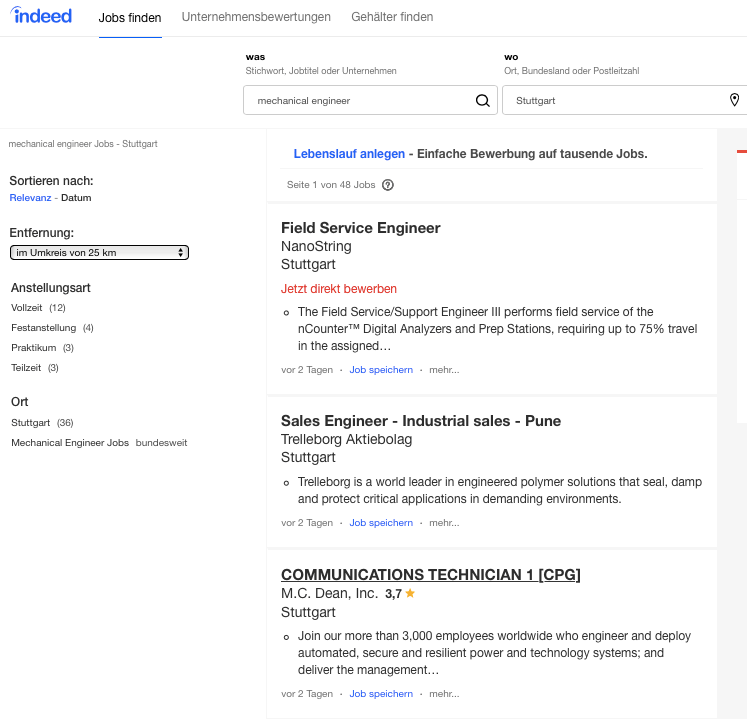 2. StepStone
Almost since looking for jobs on the internet became a thing, StepStone has seemingly been the front runner for job portals in Germany.
While Indeed may have pipped them when it comes to monthly visitors, I suspect you'll end up spending more time on StepStone's site simply because the experience is way more pleasant and there are some really neat features on here.
It's the only top job search portal that allows you to filter out job ads in English, without having to look at the more niche search engines whic