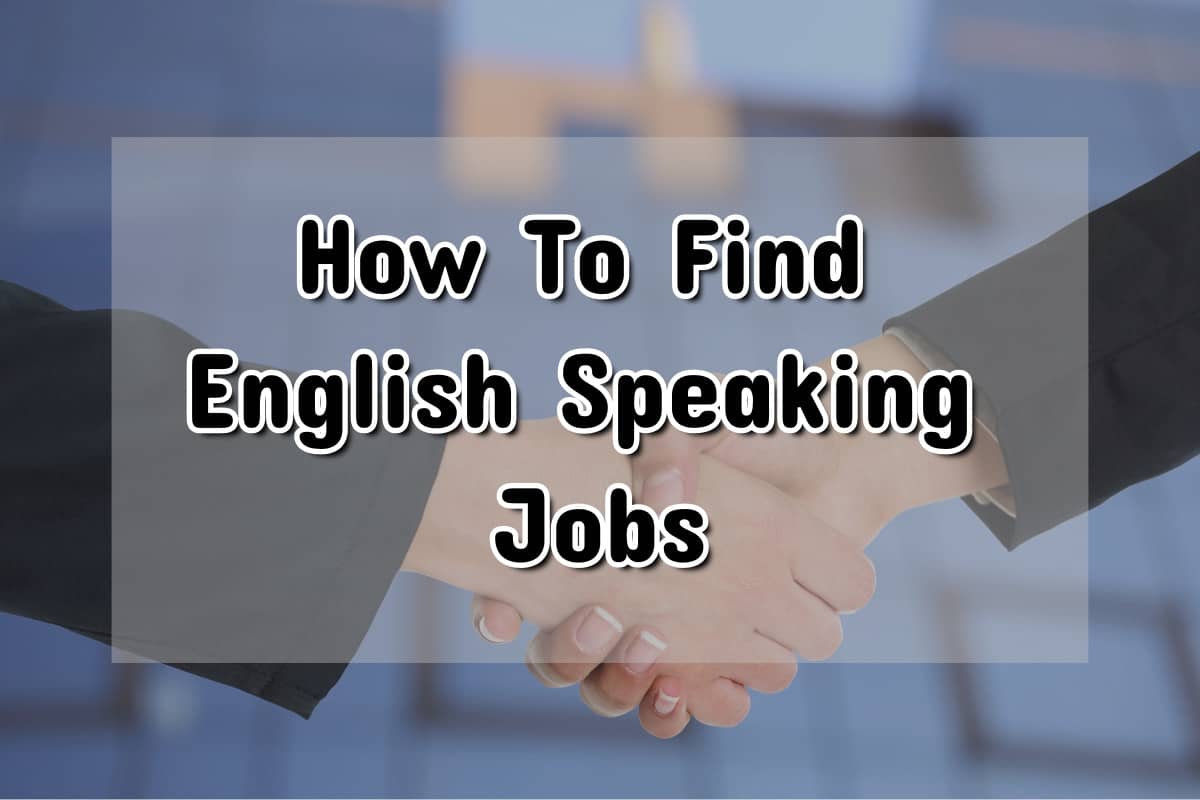 The good news is that YES, it's POSSIBLE to find English speaking jobs in Germany. The not-so-good-news is that finding an English-speaking position depends on how in demand your skills, educational background and professional training are.
There are of course self-employment options such as working from home, or online teaching jobs. But in this article we'll focus on full time and part time work for a German employer.
You need to have realistic expectations.
If you consider how few jobs are available in the UK, US or Australia without fluent English skills, then it's not surprising to discover that the majority of jobs in Germany will require you to speak German.
It seems so obvious we shouldn't need to say it, but sadly there's still a perception that Germany is like Dubai or Singapore.
Newsflash, it's not. So I'm afraid you will need some solid preparation and a well thought out strategy.
If you're willing to put in some hard work, then you'll discover there are still plenty of opportunities, especially if you're a professional with in-demand skills that the German economy needs.
English Speaking Jobs in Germany: This isn't Dubai or Singapore…
The language of industry and commerce in Germany is overwhelmingly German.
If you're in a client-facing role, or if the roles and responsibilities of your job bring you into contact with blue collar German workers, you'll need business fluency in German.
Otherwise, how are you going to communicate?
The first thing you should consider in your job search is: Why should a German employer hire you? What makes you special?
It's about THEM, not about how well qualified or experienced you are. If you need a work permit, then you'll need to offer something that the local labour market is short of.
There is certainly no shortage of English-speaking HR Managers, or Digital Marketing Executives, or Sales Professionals.
But look towards STEM professions (Science, Technology, Engineering and Mathematics), and the situation is very different.
What's Your Strategy? Not Got One…You Need One
Looking for opportunities which are "off the beaten track" is also more likely to net you success than applying speculatively to well-known companies which openly have a hiring in English policy.
For the gentlemen reading this, we all know how hard it was to date the most popular girl at school. The same logic applies to finding English speaking jobs in Germany!
Don't chase what everyone else is chasing. Be more creative and strategic to bag that perfect job in a competitive market.
For any job seekers looking in Munich or Berlin, we've got you covered with more in depth strategies and guides for these cities:
Finding an English speaking job in Berlin
It Depends On The Seniority Of The Position
This is arguably the most critical factor.
The rule of thumb is: The more senior the role, the less important it is to be fluent in German, especially in multinational, foreign-owned companies. 
Why is this?
More senior level positions tend to play in a more international environment. If the company is multinational, these positions will interact with their peers in many different countries rather than in a single production facility or local headquarters.
Entry-level positions and jobs which require a lot of day-to-day interaction with blue collar workers are much more likely to require German language out of necessity.
It Depends On The Role And The Industry
Some industries and job types are by nature less dependent upon language skills.
You're less likely to need fluent German if you work as a programmer or software engineer than if you work in a client or customer-facing role such as Sales & Marketing or Project Management, dealing primarily with German-speaking clients.
It goes without saying that any position requiring communication skills or interaction with clients, customers, and external suppliers is going to be trickier if you don't speak the native language.
Outside of the private sector, academia, international charities and non-governmental organisations (NGOs) are also good hunting ground for English speaking jobs in Germany. These are liberal and multicultural organisations which often have to search further afield than the local candidate pool to recruit real experts in their field.
It Depends On The Size Of The Company
Larger multinationals are more likely to adopt English as the international language of business. This not only applies to foreign corporations but also some larger German firms too.
Medium sized, family owned businesses are much less likely to offer jobs in English, although ironically, these are the very companies that are most struggling with a skills gap for essential vacancies.
It Depends On Your Experience
It's going to be easier for a candidate with 5+ years of work experience to find an English speaking job than a fresh university graduate.
Again, this goes back to why should a company hire you? What's in it for them if you need a work permit and aren't fluent in German?
The exception to this rule is that you do see some entry-level positions advertised, especially in industries which require English-speakers to deal with the international market or which may operate in an English speaking environment.
Employers will usually want to see some relevant qualifications and some work experience though, so the market is tough for recent graduates with very little practical experience.
Get A Head Start On The Competition!
We've touched on the fact that this is a competitive market.
So, what to do?
Do whatever you can to look where your competition isn't looking. Applying for the exact same jobs everyone else has seen on well-known job search sites is like being in the express lane towards lots of rejection letters!
I'm not saying don't apply AT ALL for any roles you see on job sites or on LinkedIn, but certainly don't follow this as your sole strategy. Why? Because I guarantee everyone else is looking there too.
Your Network is your Net Worth
Everyone has a valuable network of contacts, even if they don't realise it.
Look further than your "obvious" contacts. Who else do you know who could help you? Maybe they know someone who knows someone who can hook you up.
This is what is known as a dormant network: A "sleeping" network, which you may not even know exists but has the potential to be extremely powerful in your search.
Some examples….definitely a non-exhaustive list.
Your former university professor or tutor
Fellow alumni who may have contacts in Germany
Friends / relatives of your partner
Any German friends or followers you may have on social media
Your German language tandem partner
Why not grab a pen and paper and just brainstorm for 5 minutes who could be in your "sleeping network"?
All of these are avenues worth exploring. It's amazing how small the world is. Someone you least expect could have invaluable contacts for you. 
Remember, your job search toolkit doesn't begin and end with your resume. I can't stress this enough: Your network is your NET WORTH.
Finding A Job in Germany – Useful Sites and Resources
OK, so we've explored some of the strategies and tips, tricks and hacks.
We've given you a realistic expectation based on your skills, experience, mindset and qualifications.
Now it's time to look into websites and resources which will prove useful in searching for English speaking jobs in Germany.
The Top 10 Job Search Sites and Portals in Germany
The list covers a mix of aggregators and search engines and are the top 10 job search websites and portals in Germany by traffic.
If you're looking for more details on all of these sites, then check out our separate, more detailed article on the top 10 job sites in Germany.
LinkedIn
Using LinkedIn
LinkedIn is a useful tool in Germany because it also has a strong, domestic competitor called Xing.
What this means in practical terms for the non-German speaking jobseeker is that LinkedIn jobs tend to be more scaled towards larger, international companies (although this is by no means a hard and fast rule), whereas Xing is more geared towards medium-sized, German speaking companies.
LinkedIn is at its most powerful as a tool for connecting with headhunters, some of whom will be recruiting for English speaking jobs in Germany. You just have to build up a presence and increase your number of connections to link in (see what I did there?) with them.
A Very Quick Guide to LinkedIn Strategy
Treat your presence on LinkedIn a bit like building up a following on any other social media platform.
If you want to build influence, invest time into regularly updating your profile, having a professional photo, writing blog posts on LinkedIn on topics relevant to your professional career, and cultivating your network.
Join Groups which are relevant to your profession or which may provide useful additions to your network.
The Expats In Germany Just Landed network is a good place to fish for potentially valuable contacts as a good starting point. (I also post blogs in there from time to time!).
Want to connect with someone? Write a short message with your invitation telling them why you would like to connect, otherwise your request will likely be ignored.
The LinkedIn search function is your friend here to identify headhunters in your profession or industry.
Spend 30 minutes or so typing in different keywords into the search, for example "pharmaceutical jobs Frankfurt". 
Keep a record of the names of the headhunting firms, recruiters and their websites, so you can look at their websites and ascertain which ones are the best to shortlist and follow up with.
Engage and connect with them, and interact with their content.
Don't comment with "interested" when someone posts a job opportunity.
You're the jobseeker. YOU need to reach out to THEM. Commenting "interested" = LAZY.
Employer & International Candidate Matching Services
Developed out of necessity, these are a smart and innovative concept, potentially very useful to international jobseekers looking for English speaking jobs in Germany.
Employland allows candidates to create profiles for free and have them matched together with potential employers. At the point of a successful conclusion of an employment contract, the employer pays a fee. The whole process is free of charge for the candidate and also includes all of the necessary immigration permits and paperwork for the candidate to legally work in Germany.
ImmigrantSpirit works in a similar manner. Candidates can register on the site for free and submit their CV and covering letter and Immigrant Spirit will match them with potential employers. During the first year of employment, Immigrant Spirit offers coaching to help with the immersion to German business culture and life in Germany.
Germany-USA Careers Service is also along similar lines but a) is based in the U.S. and thus aimed primarily at Americans looking to work in Germany and b) also helps Germans (and Austrians and Swiss) make the journey the other way across the Pond. GUCC aims foremost to place Americans with U.S. companies and government agencies which have a presence in Germany.
Experteer
Even though this one is a German language site, it deserves a mention on its own because of a certain nuance of the German jobs market. Job adverts in Germany generally don't indicate the expected salary range. 
Experteer bucks this trend as a portal for senior roles paying above €60,000 per year. The downside is that it's a premium site costing €11.90 per month, but then if you earn over €60k a year, I guess you can afford it! There are also a fair amount of job descriptions in English on the site.
Sites Aimed at English Speakers / Expats
Europe Language Jobs
Europe Language Jobs is a portal especially for bi- and multi-lingual job candidates who are looking for international roles where they can utilise their language skills.
It is easy to filter your search to just include jobs in Germany, which require English language.
Bear in mind though that if you ONLY speak English, then this may not bring up much in your search. They also have a YouTube channel.
EnglishJobs.de
A user-friendly site posting English speaking jobs in Germany, EnglishJobs.de allows you to search by major city or Bundesland. Most of the open postings on here are geared towards engineers, developers and programmers. This site includes a mix of original postings as well as jobs originally posted on other portals.
ExpatJobseeker.de
Fairly similar set-up to the previous site, however ExpatJobseeker.de seems to be much broader and less focussed on IT jobs. This site features some of their own postings as well as jobs advertised by the jobs search engine Indeed.
Clicking on the Companies tab gives a cool opportunity to find out who has advertised English speaking jobs with them in the past. 
The Local
Advertising itself as Germany's news in English, The Local is first and foremost a news site for expats. The Local also has an English jobs section, although this is a search-bot function which gathers job descriptions from other sites which are posted in English, rather than original content. 
JobsIn…..
The JobsIn family of sites offer job postings in English for several German cities. Each one has its own unique URL. Here are the links for Munich, Düsseldorf, Cologne, Frankfurt, Hamburg, Berlin and Leipzig. This site is a search algorithm of jobs which have been advertised on other sites, pulled together into one place.
Germany StartUp Jobs
Germany StartUp Jobs is predominantly for roles in the tech / IT field but has some other job categories too. There is a particularly strong focus on jobs in Berlin, which isn't surprising given that it's mainly jobs in tech industries which are listed.
Berlin Top Jobs
A platform for jobs in English in Berlin, Berlin Top Jobs focuses on 12 categories – Customer Service, Data and Analytics, Design and UX, Finance and Legal, Human Resources, DevOps and, IT Support, Marketing, Operations and Logistics, Product Management, Project Management, Sales and Strategy, Software Development. There is a dedicated section for internships and student jobs too.
National Newspapers
The two biggest in terms of job postings are the Frankfurter Allgemeine Zeitung (or FAZ for short) and the Süddeutsche Zeitung, published in Munich. The Berliner Morgenpost is also useful for Berlin and surrounding area. Again, these are aimed at fluent German speakers but there is the occasional English-language job ad in there as a diamond to be found, especially if you are looking for more senior roles.
Facebook Groups
Now, you're probably not going to find your dream career here, but there are a few groups on the Book of Face which act as bulletin boards for those offering and those seeking English speaking jobs in Germany. Be warned that most of these are for fairly casual and entry-level jobs.
The ones listed below are those with the most members and which appear to be the most active.

These groups below are focussed on the start-up scene and may be good hunting ground for those of you in a more techn tal marketing.

Looking for helpful content on another topic?