A note on Germany's new immigration laws: In March 2020, Germany implemented new laws around immigration. As such, you may find conflicting information elsewhere online.
If you want to move to Germany for work, but don't already have employment arranged, then the German Job Seeker Visa could be for you.
This visa allows non-EU/EEA citizens to live in Germany for up to 6 months while looking for work. This provides an opportunity to seek employment and attend interviews in person – which, for a country cautious to embrace online applications, is incredibly important.
Hats off to the German government for their vision here…there aren't too many similar immigration policies worldwide!
However, it's not for everybody.
German Job Seeker Visa Requirements 
If you come to Germany unprepared – or you simply can't find employment – it may prove to be a very expensive lesson in how to waste six months.
Therefore it's essential to have the right prospects and the right mindset before you begin this process.
To ensure you waste no time, we'll answer all the important questions:
Who qualifies for this Visa?  

How can you best prepare to apply? 

And what sort of mindset do you need to succeed?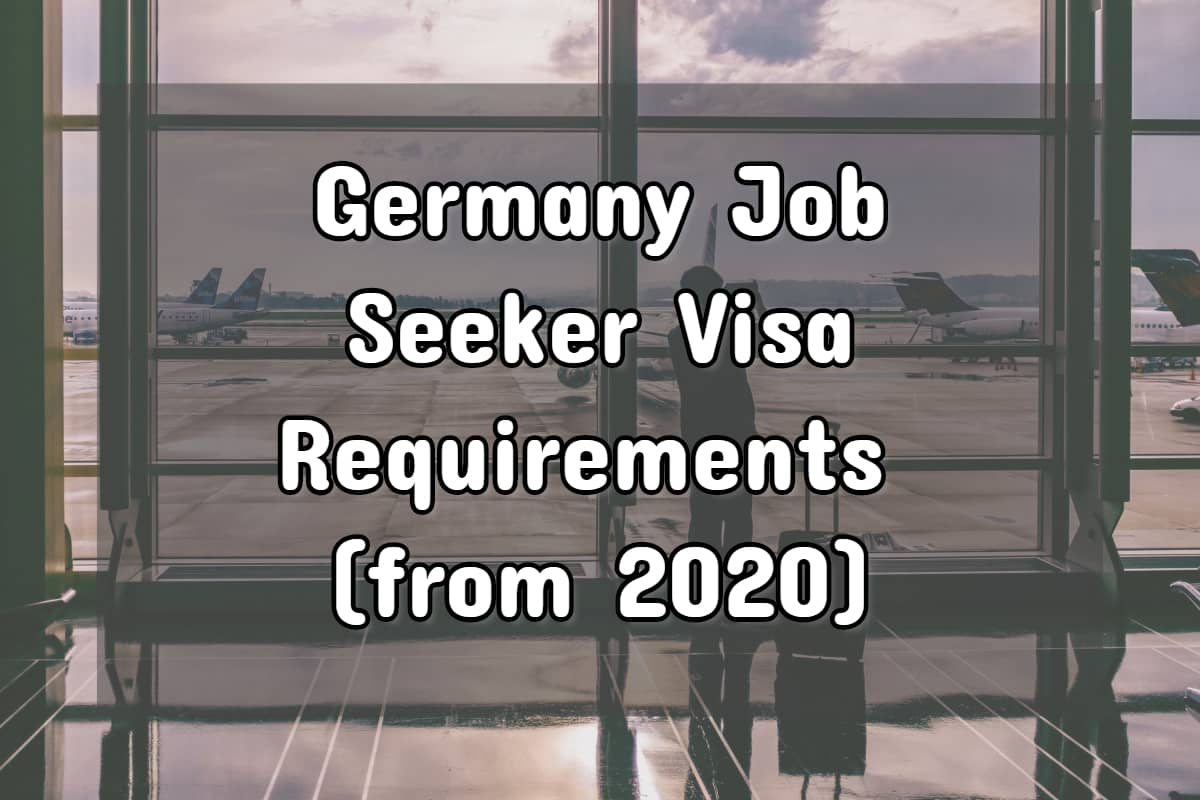 What do you need for your application? 
The basic requirements to qualify for the JSV are fairly simple:
A higher education qualification equivalent to a bachelor's degree
or
A formal vocational qualification and the ability to speak intermediate level German
Proof that you can support yourself financially while seeking employment
Valid health insurance for the duration of your six month job seeking period
An up to date CV and covering letter
Your home country's German embassy or diplomatic mission may have additional requirements. Be sure to check this out with them well ahead of time, so you can be absolutely confident in your application.
But let's take a closer look at the basics.
We'll break down the above list point-by-point, so skip ahead if the first section doesn't apply to you.
Higher Education Qualifications 
You'll need at least a bachelor's degree (or equivalent), comparable to a German issued degree.
Some diplomatic missions may also insist on a certificate of equivalence from the Central Office for Foreign Education (Zenralstelle for ausländisches Bildungswesen or ZAB in German), based in Bonn. If they do ask for this certificate, the cost is €200.
In this instance, you may also want to check out our Guide To Foreign Qualification Recognition.
It's also worth noting that the job you're seeking must also be relevant to your field of studies.
This may seem limiting, but realistically, it's unlikely that you'll have much success applying for jobs you're not qualified for. So this shouldn't be a huge issue.
Vocational Qualifications – New Rules for 2020 
In the past, you needed to have a higher education qualification (ie. degree) when applying for the German Job Seeker Visa.
As of March 2020 German immigration laws have changed, opening up the JSV as a path for workers in non-academic fields, too.
However, if you don't have a degree you will need a vocational qualification in your chosen field, and you're also required to have intermediate German language skills.
"Intermediate" should be taken to mean at least B1 level. But quite honestly, the more comprehensive your German skills, the better.
It's important for vocational workers to have German language skills.
This is because vocational jobs tend to involve more conversing with German-speaking colleagues and customers. After all, there's a big difference between an international corporation, and a small local business where they only speak German.
If you need to improve your German, check out our guide on how to Learn German for Free.
Proof of Funds 
You'll need to prove that you have enough money to support yourself for six months in Germany. The figure is set at €4,320.
It clearly looks suspicious if the money magically appears in your account just before your visa appointment. So, if you can afford it, try to have this money sat in your account for 2-3 months prior to applying.
Alternatively, you could put the money into a blocked account (Sperrkonto). This ring-fences the funds until you arrive in Germany. It's not essential that you do this, but it may well strengthen your application.
It's also worth noting that €4,320 is the bare minimum you'll need. This figure is actually based on a student's basic requirements. Which should give you an idea of the (fairly sparse) lifestyle standards you can expect on this budget.
Health Insurance 
You will need to have sufficient medical insurance to cover you for the duration of your visa i.e. for 6 months.
You don't need an insurance policy aimed at German residents or long term expats (which are substantially more expensive). A policy aimed at travellers or tourists is usually enough. However, there are some rules to be aware of:
Coverage must be provided uninterrupted for the 6 month stay.
The insurance should cover medical expenses including those of medical repatriation, medical emergency and/or hospital emergency.
The minimum amount of required coverage is €30,000.
Whoever you choose, we would definitely recommend you go with a Germany-based insurer. They'll understand the rules and requirements, and if it's necessary, they are able to communicate in German with the German authorities.
CV and Motivational Letter 
Your motivational letter and CV (or résumé, for American readers) should conform with the German format.
There are some key differences here compared to the standard Anglo-American practices, and you will need to be aware of these.
We go into much more detail on how to write a winning German CV in this article on German Job Applications.
We also provide templates for a CV, and a cover letter for your eventual job applications, as one of our digital products for job seekers in our online store.
How to prepare for your Visa application
As with most things in life, solid preparation and planning will increase your chances of success.
There are a number of practical things you'll need to have ready. We've broken these down into an easy checklist:
Deposit funds into your account 2-3 months ahead of time
Adapt your CV to German standards
Write a motivational letter that demonstrates that you are employable and have a reasonable chance of finding work i.e. what's in it for them to grant you a visa
Scope out insurance providers and getting a policy in place
Polish up your German language skills
Gather any additional documents required by the German diplomatic mission in your home country
German Job Seeker Visa: Application Cost and Processing Time 
Congratulations! Once you have all of these together, you should be ready to make your application.
The application fee is €75, so you will need to have this ready too.
Once you've made your application, the processing time is usually around one week.
However, you're not out of the woods yet! Another absolutely essential part of preparation is to have a strategy.
You only have six months to land yourself a job in a foreign country. So starting your search the day after you land is a big mistake.
It is crucial to have a plan, and to hit the ground running with the right mindset.
Mindset Must-Haves for a successful application
Networking
You need to network and build up contacts during (or even before) your visa application process. Getting your visa will likely take several weeks, if not months, so don't waste this time!
Check out popular websites where you could pick up useful contacts or gain leads on vacancies in your chosen field.
LinkedIn is an incredibly valuable site for this.
There are literally hundreds of articles out there on how to optimise your LinkedIn profile.
Some other sites where you can build up your knowledge base and network are:
• Twitter
• Toytown Germany (online forum for English speaking expats)
• Quora
• Facebook Groups for your nationality in Germany. Just do a search for X in Germany. There is a group for Indians for example in pretty much every major German city.
So do your research and equip yourself to succeed!
To research and locate jobs that suit your skills and experience, check out the top 10 most popular job search websites in Germany.
Understand your field
To get an idea of salaries in your field of work, use the website Gehalt.de or the salary section of Stepstone.
These are both great recruitment websites which have a section that scrapes the data for the average salary in most professions.
The only catch is that you will need to enter the German for your profession.
If you're keen to work out what a good salary is relative to cost of living, we've of course covered this too.
Be prepared to adapt and improvise
The perfect job may not present itself in the first six months. But another less desirable position might.
Considering that you only have a limited time until your Job Seeker Visa runs out, it pays to embrace imperfect options, and to keep your expectations as flexible as possible.
Achieving permanent residence should be your primary goal. Finding your dream job can wait until later. It pays to be as positive, agile, and adaptable as possible.
Ultimately, a less-than-perfect job is still better than a one-way ticket home.
Is the German Job Seeker Visa worth it for YOU?
As we mentioned at the start of this guide, this visa is not for everyone.
It may not be a suitable option for you, and if this is the case then you should know that and plan accordingly. It could save you a lot of time and money applying for a visa which may be useless to you!
Looking for helpful content on another topic?